'Top Chef Amateurs' Producer Thinks a 'Below Deck' Challenge Is a 'Great Idea' (Exclusive)
Bravo fans have often mused about how a Below Deck and Top Chef mashup would make for incredible television and Top Chef Amateurs Magical Elves' executive producer, Cat Sullivan agrees. "You know, I think that's a great idea," she told Showbiz Cheat Sheet. "I think we should do it. I haven't thought about it, but I would love to see a Below Deck versus Top Chef challenge. And see how those Below Deck chefs do against Top Chefs. That would be very funny."
'Below Deck Mediterranean' and 'Top Chef Amateurs' EPs share a love for comedy
Sullivan and Nadine Rajabi, executive producer for Below Deck Mediterranean both have the same passion for comedy in the reality platform. Sullivan said she strives to create reality content that is both sincere and fun. "I kind of just keep on going in my lane of doing heartfelt, comedic driven competition series," she said.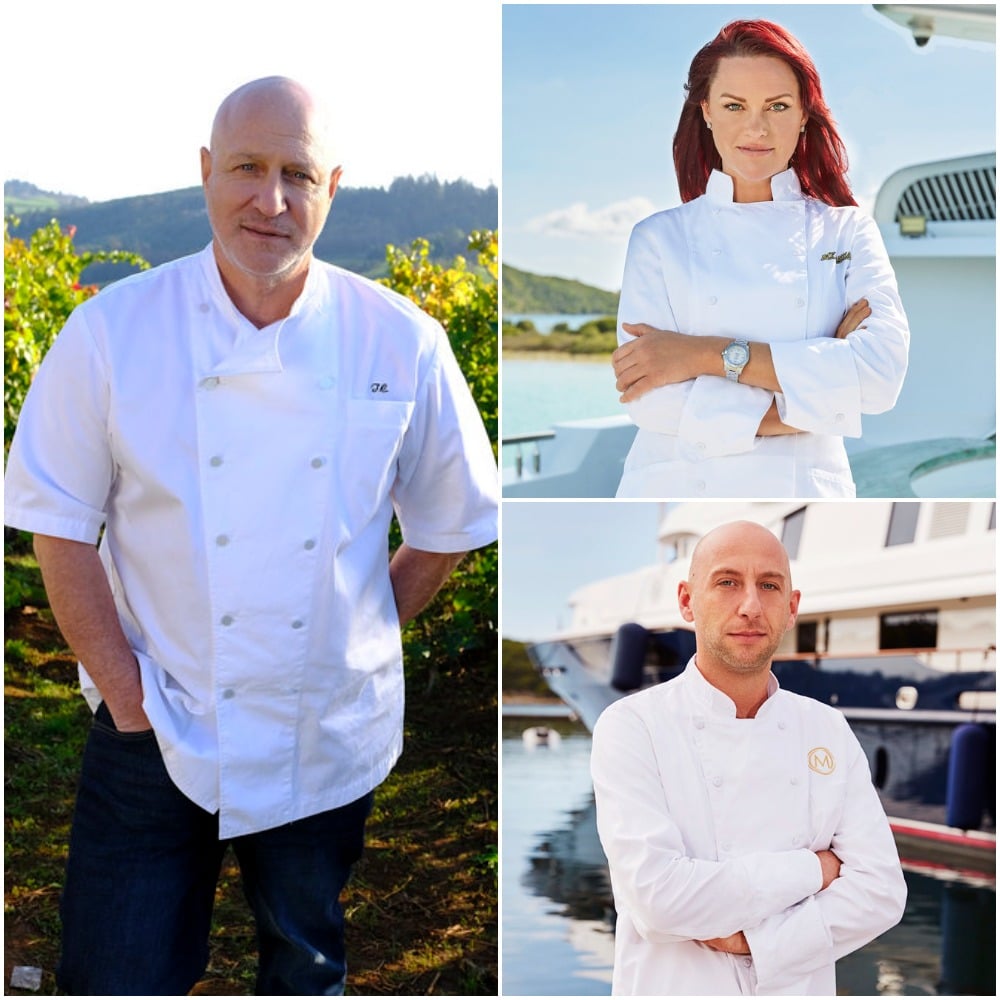 Some of the more Below Deck Med comedic moments are not lost on Rajabi. "But I also live for the moments where after you drop off the guests and [the crew] has their nights out. And they come back to the boat and they've all been drinking. I mean talk about watching funny drunk people." she said on the Bleav No Script No Problem podcast.
She added, "I wish people could watch the raw footage because the stuff you see in people's bunks or what they're doing. I literally just cry laughing. I'm laughing with them."
Chef Tom Colicchio joked about being the new 'Below Deck' chef
Top Chef judge Tom Colicchio joked that he was going to be the next chef on Below Deck Season 8. "Besides being in the kitchen, one of my favorite things is to be out on the water," he dished in a Bravo social media post. "Open ocean, salt air. I just absolutely love it. And that's why I'm going to be the executive chef on the next season of Below Deck."
RELATED: 'Below Deck Mediterranean' Season 5 Was the Toughest for Producer Nadine Rajabi
Colicchio did a great job looking completely serious in the video but of course, the post was an April Fools joke. "April Fools!" he said. "No, but I will be judging this season of Portland's Top Chef tonight. See you there." Bravo also leaned into the gag with the content caption. "Breaking News! #TopChef's lead judge @TomColicchio is pulling up anchor for a new adventure at sea, as the Executive Chef on #BelowDeck.
'Below Deck' and 'Top Chef' collaborated before?
A Below Deck chef versus Top Chef mashup wouldn't be the first time the two shows collided. Captain Sandy Yawn from Below Deck Mediterranean and Captain Lee Rosbach from Below Deck made a guest appearance on Top Chef Season 16.
Rosbach and Yawn headed up a challenge on Lake Cumberland in Kentucky. Top Chefs had to throw the perfect houseboat party as their elimination challenge. Rosbach and Yawn toured the houseboat and then welcomed their teams to their respective boats. "Not a lot of counter space," Rosbach observed and shared with his team. "You'll have to adapt."
RELATED: The Dark Side of 'Top Chef: Just Desserts' Season 1: Morgan Wilson, Seth Caro, and Johnny Iuzzini
Yawn's boat kitchen was no roomier. "This style galley is a family-style galley," she said. "So when you guys see your competition it may be a little tight."