'Top Chef' Judges Padma Lakshmi, Tom Colicchio, and Gail Simmons Reveal the Worst Dishes They've Ever Had on the Show
Top Chef's season 18 competition ran into some speed bumps due to the Gabe Erales controversy, but the TV series remains a fan favorite. Padma Lakshmi, Tom Colicchio, and Gail Simmons have been part of the Bravo franchise since season 1 as tasters, critics, and supporters. Season 1 arrived in 2006, so just imagine how many delicious — or unpleasant — meals they've munched on through the years. The three judges recently revealed which dishes tasted the worst.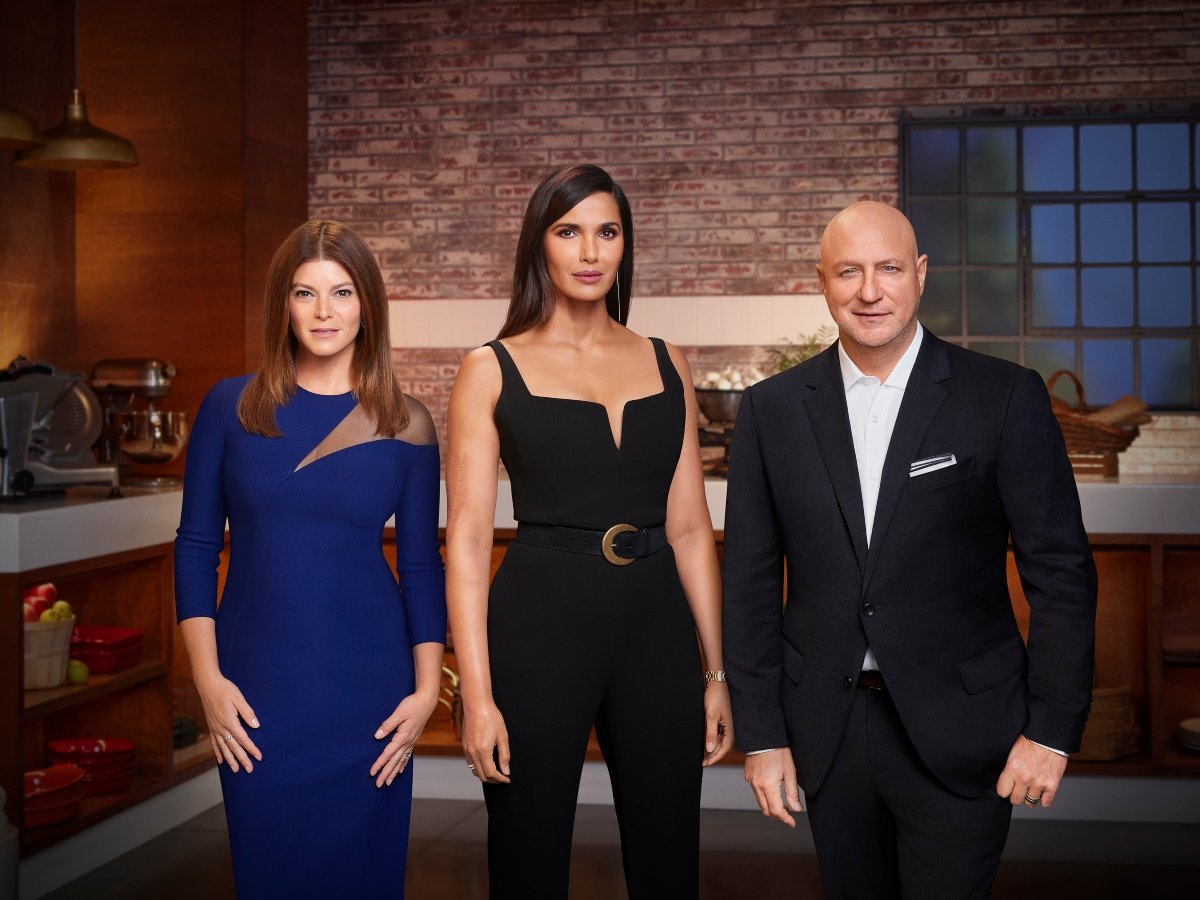 'Top Chef' judge Padma Lakshmi reveals her least favorite dish
Padma Lakshmi is cool, calm, and collected as the host of Top Chef, but she's not afraid to deliver constructive criticism. Most fans know she's a big fan of spicy foods and has a love for tequila, but which dish on Top Chef did she find the most unappealing?
During a recent appearance on Watch What Happens Live, Lakshmi told Andy Cohen it was something from season 2. "Ilan Hall, second to last episode we were going to Santa Barbara. He made me a chocolate ganache with a morsel of liver in the middle of it. So disgusting," she recalled.
Coincidentally, Hall once named the same meal as the most inedible when he spoke to Entertainment Weekly back in 2007. "The only thing I tasted that I thought was really disgusting was the [chocolate candy with chicken livers] dish that I made for Chef [Eric] Ripert in the Quickfire. That was absolutely disgusting. Other than that, I tasted what other people did, but I tried to really stay focused on what I was doing," he said. Hall managed to redeem himself when he won the competition that season.
Chef Tom Colicchio spit food out
OG chef Colicchio has seen his share of delectable and unsavory dishes, though he's admitted it's rare to eat bad food. However, the two dishes that stick out for him came from early seasons of Top Chef. One was a season 6 ceviche prepared in the Las Vegas desert. The temperature outside was over 100 degrees.
"I spit out two things. One was a warm clam and lychee thing that I actually managed to spit out before the cameras caught me. And then there was another one; we were in the desert, in Las Vegas in Nevada, and I tried to hide behind a cactus," said Colicchio. He said the cod ceviche mix that was "disgusting." Camera footage captured him spitting it out.
Gail Simmons remembers watermelon doozy that didn't work
Season 2 rings bells for Simmons too, and she named a plate from chef Sam Talbot as her least favorite. In episode 10, he put together something with watermelon and blue cheese. On Chopped, one might be able to make it work, but it didn't happen on Top Chef.
"I remember Sam Talbot on season 2 giving us a warm blue cheese, soupy watermelon thing that I thought was kind of putrid, as much as I love him," she said. Talbot didn't wind up winning his season, but he did earn viewers' adoration for being nice guy and won the "fan favorite" title.
RELATED: Gail Simmons Describes How 'Top Chef: Just Desserts' Made Her Fall Apart: 'Emotionally I'd Be Like a Puddle'