'Top Chef: Portland' Host Padma Lakshmi and All-Star Gregory Gourdet Vaguely Address Controversial Winner Gabe Erales: 'We Are in a Vicious Cycle'
Top Chef: Portland was supposed to be a return to form as the series tackled the food world during a global pandemic. With a diverse group of chefs from all over the country, the series took a sweet turn as they focused on the titular locale. The series was an overwhelming success, but after allegations of its winner, Gabe Erales, harassing employees, many wondered why the show presented him as a feel-good story.
Who were the 'Top Chef: Portland' finalists?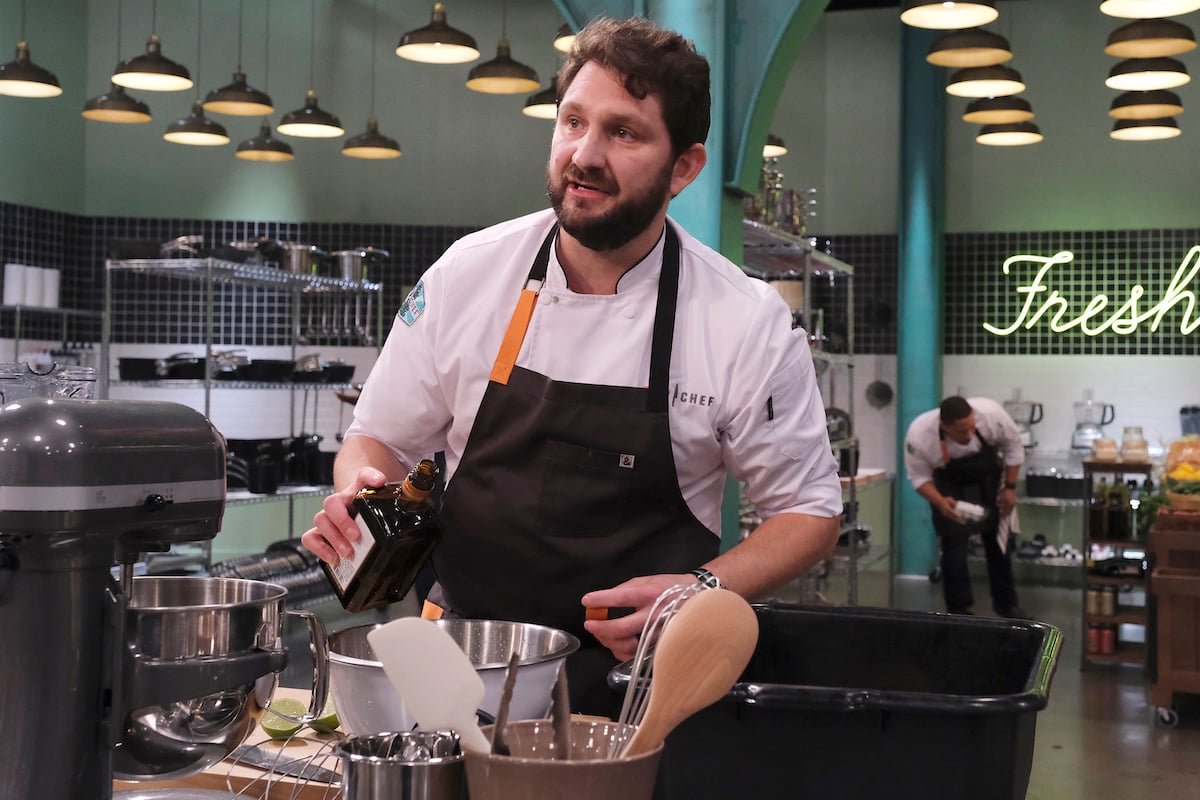 Bravo's cooking competition has been on the air for 18 seasons and, despite an endless roster of Housewives, it remains one of the most popular shows on Bravo's lineup. Taking the culinary delights of Food Network and adding Bravo's patent melodrama, Top Chef is the food show for people who want a side of drama with their beef Wellington or chicken cordon bleu.
Top Chef: Portland was considered one of the best seasons ever. While the series has always adjusted to the times, the COVID-19 pandemic meant they had to get creative in their latest season. As such, they went to Portland and tried to shine a light on its eclectic, growing food industry as they grappled with the global catastrophe around them. Fans lauded the season for its feel-good stories and tones.
The show's final three, a Houston-based chef named Dawn Burrell, Austin's Gabe Erales, and Seattle's Shota Nakajima, all provided the type of heartwarming stories and competitive drive that Bravo fans love. Still, they added a little sweetness to the flavor mix, as well. Unfortunately, this didn't cover up the sour taste that lingered in the background in the months between filming and airing.
Gabe Erales found himself in hot water
According to Oregon Live, Erales was crowned the winner and while it was supposed to be a triumphant ending to one of the series' best seasons, it did not end that way. According to Oregon Live's report, Erales' hometown paper, The Austin Chronicle, reported that the Chef was no longer employed by his restaurant, Comedor, due to misconduct with one of its employees. The winner allegedly carried out a sexual relationship with an employee and cut her hours not long afterward.
Comedor released an email stating that the chef was canned due to repeated violations of its conduct policies. While the details were not precise, Erales' story slowly came to light. Erales claimed that while he did have a consensual relationship with the employee in question, her cut in hours was not harassment but job performance. Unfortunately for him, others saw it a different way.
To Top Chef's credit, the controversy happened after filming wrapped. However, while the producers heard about Erales' firing, they didn't feel the need to bring it up on the show that focused on the feel-good aspect of the story. Herein lies the controversy. Bravo was left playing cleanup, as many questioned why they would keep such a terrible story hidden under the mask of positivity. Unfortunately for the network, the internet lit up with reports of Erales' behavior.
While many stayed silent, series staples Padma Lakshmi and Gregory Gourdet responded in the vaguest of terms.
Padma Lakshmi and Gregory Gourdet respond
Gregory Gourdet was a guest judge on the season. As an All-Star, Gourdet is one of several success stories that the show has produced. However, after Erales' appearance, Gourdet voiced his regret on Instagram, acknowledging that the adverse event helped shine a light on a problem that goes beyond the show and into the industry at large.
"The restaurant industry has a long way to go, and I wonder if we will ever get there. First step — let's stop industry worker abuse. I've been part of systems where everyone didn't feel great or supported. I fully accept how my role caused people harm. I'm working hard to do my part to move things forward through communication, living amends, support, team promotion and the rethinking of what a restaurant structure can look like," he wrote.
Gourdet's comments echoed those of series staple Lakshmi. Eater notes how Lakshmi took to Twitter to speak about her own experiences not only with Erales, but in the industry as a whole.
"As someone who has been sexually harassed, this topic is a serious one and merits openness. We filmed Top Chef in October of last year & were not aware of the allegations now coming out about Gabe. This should be investigated & the network should consider its best action," she wrote, adding in a later tweet that, "no one has alleged sexual harassment on the record or otherwise to Bravo/Top Chef, and we judges didn't have any indication of inappropriate behavior from Gabe during his time on set."
The ordeal painted the series, its production, and those behind the scenes in a negative light, with many calling for the network to rescind Erales's $250,000 grand prize, a demand that has not yet been met as of writing.
While they couldn't have done anything about the allegations in October 2020, the network had plenty of time to figure out how to address them afterward. By not doing so at all, the series opened itself up to valid criticism that could haunt them for years to come.