Top Chef's Padma Lakshmi Reveals the Secret Sauce Behind the Show's Success [Exclusive]
Consistently top-rated on Bravo, Top Chef has managed to achieve the impossible in reality television – deliver a high drama, high stakes show without the low blows often seen to grab ratings. Host/judge Padma Lakshmi revealed the magic behind the series.
Lakshmi's elegance and "supertaster" palate have made her one of the main draws to the show. She explained to Showbiz Cheat Sheet exactly why she thinks the series has remained extremely buoyant on Bravo – and it has everything to do with the culinary creations on full display.
'Top Chef' fans return for the food, Padma Lakshmi shares
"I think because it's really about food," she said. "I think it's compelling to see people strive to be the best they can be doing what they love to do. And cooking is a science, but it's also an art and it's about taste and judgment and also execution, and there's knives and there's fire. You know, I think everyone wants to see someone who is really striving to do their best. Whether it's in music or anything else. And I think we all have familiarity. So it's a good combination for those people who promote the show."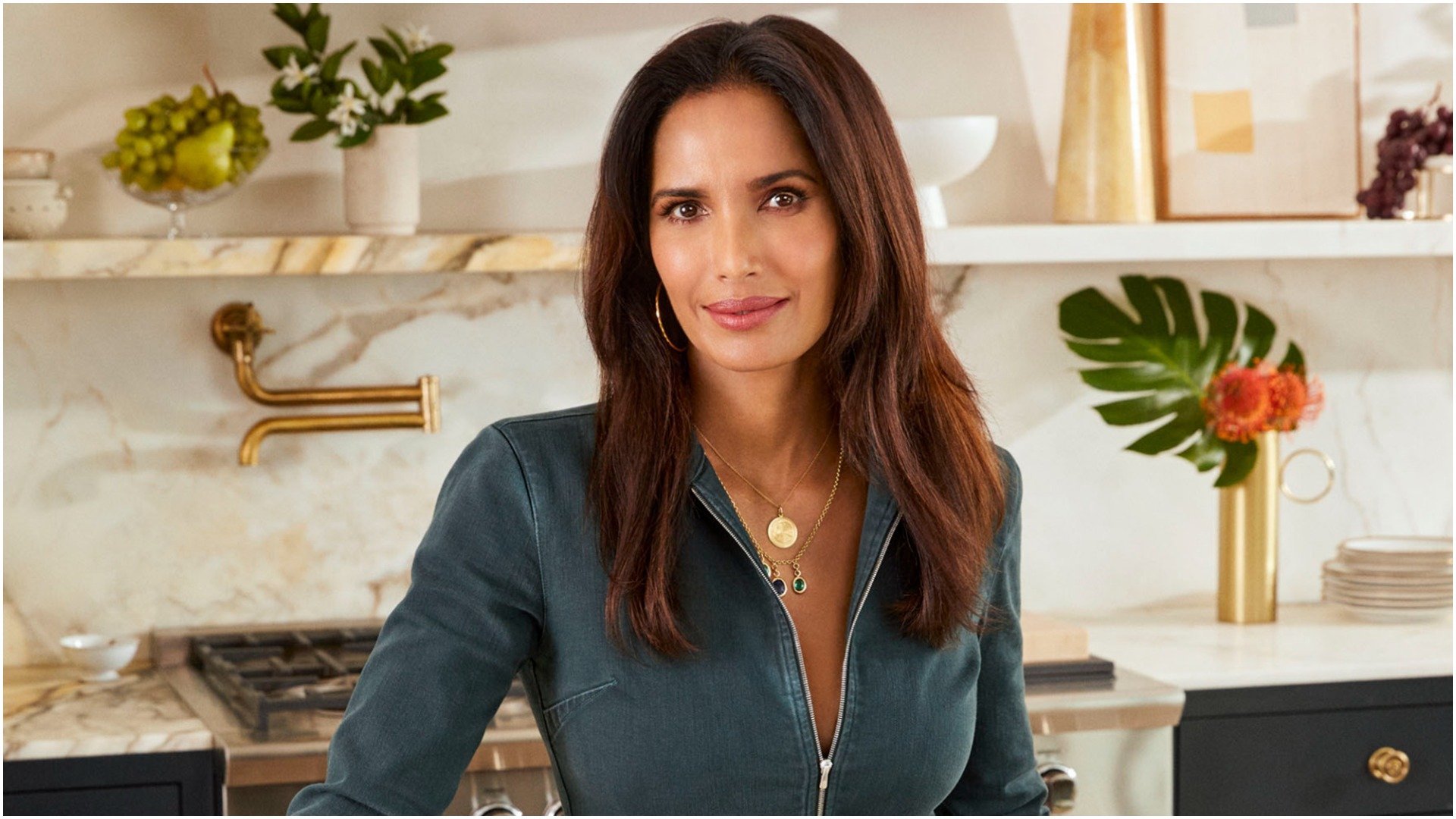 But beyond watching masters at the top of their game, Lashimi said the Top Chef judges, cheftestants, and producers form a strong bond and a family. She'll always stay in touch and follow Top Chef cheftestant careers.
"There are a lot of chefs on Top Chef that I am close with now that their season is over," she said. "A lot of people come to mind like Melissa King and Greg Gourdet. Kristen Kish and Kevin Gillespie. Carla Hall … you know, for their own identities as chefs and friends, as people."
Has Padma Lakshmi picked up any cooking tips from being on the show?
While Top Chef is about witnessing culinary artists at work, has Lakshmi gleaned any tips or cooking insights from being the host of the series since 2006? No "hacks" but she noted one way the cheftestants make their lives a little easier. "A lot of things can be made ahead of time or just done on the weekends," she said. "That's a hack for a home cook. That is the chef version translated because that's what a chef does, right?"
RELATED: 'Top Chef' Host Padma Lakshmi Had to Wait 23 Years to Get a Painful Diagnosis That Changed Her Life: 'I Started Getting Really Pissed'
She pointed out how preparation is any chef's best friend. "Everything's chopped and ready to go so they're relaxed," she said. "So that's what I tell anyone who asks, 'How can I make cooking less daunting?' I say, 'Well, just get all your ingredients first before you turn on the stove. Read through the recipe or whatever that you can do. You can roast your onions. You can make little sauces and put them in your fridge.'"
She shares secrets to a relaxing (and delicious) dinner party
Lakshmi also takes Top Chef insights to heart when she hosts gatherings at her home. "My biggest tip is when you're deciding what to serve for food, make sure that at least 70% of your food is made ahead," she advised.
"Don't choose different dishes that have to be finished at the last minute. Do like a room temperature rice pilaf. Do something else that you can stretch and it might even get better sitting around for an hour or two. That way you can get most of what you need to get done. You can go have a shower, put on your makeup, and maybe even have a first glass of wine while you're lighting the candles. And then when your guests come, they can help you finish up or just do a salad. So you are relaxed."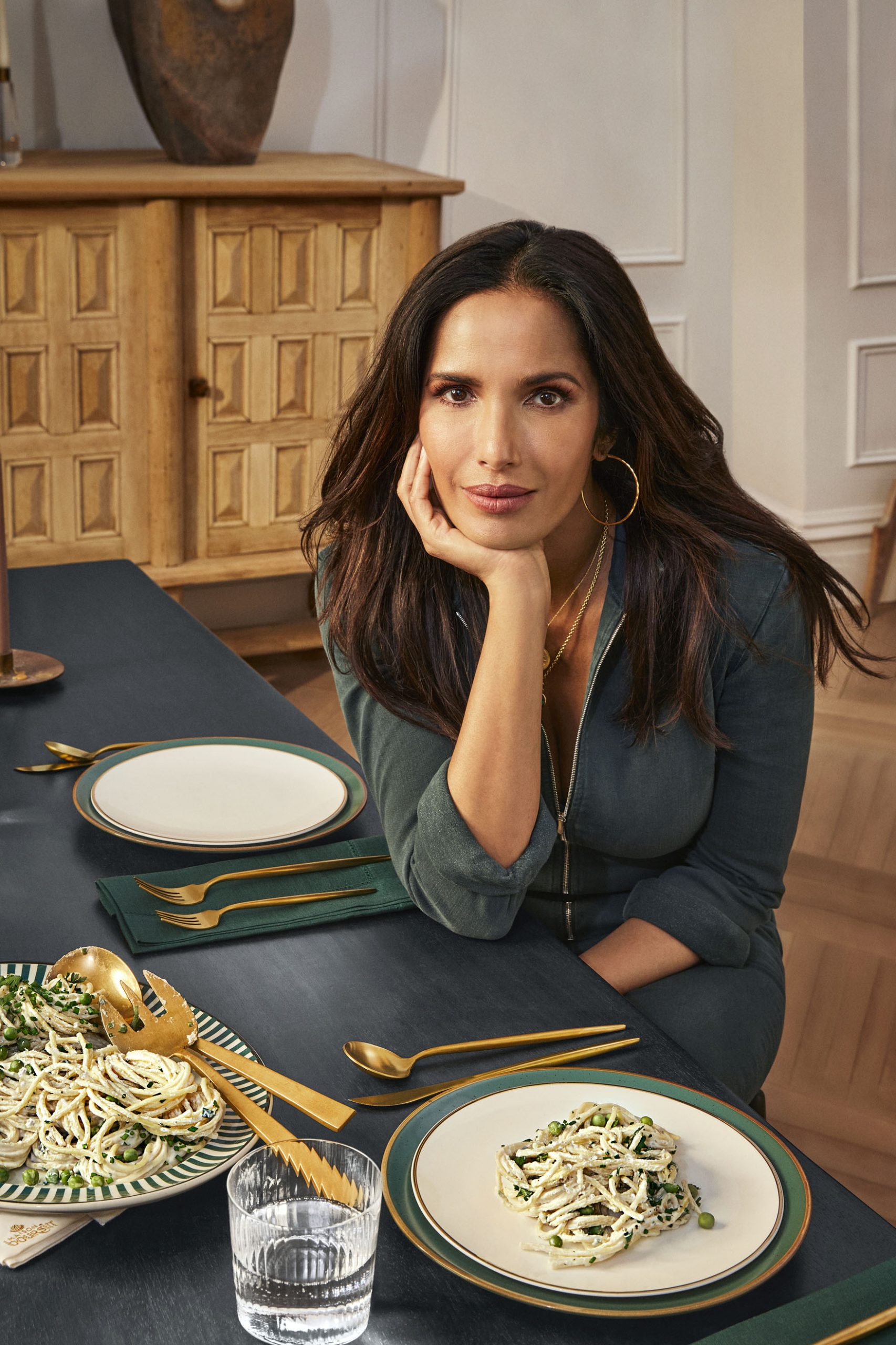 One of Lakshmi's go-to ingredients to add special flavor and taste is integrating Boursin Cheese into her gatherings, which can be enjoyed alone or to create a decadent flavorful dish. Lakshmi loves elevating pasta with her signature "Padma's Boursin e Pepe." She blends 2 boxes of Boursin Garlic & Fine Herbs, chives, parsley, and English peas with spaghetti and tops it with freshly grated parmesan cheese.
She promises anything made with Boursin is a showstopper for guests or the family. "This is a great dish," she said. "It's really easy on weeknights you could do this. It's so yummy."
Follow Boursin's social channels: Twitter, Facebook, and Instagram)and Padma on Instagram to be the first to get updates.
For more on the entertainment world and exclusive interviews, subscribe to Showbiz Cheat Sheet's YouTube channel.
RELATED: 'Top Chef' Judges Padma Lakshmi, Tom Colicchio, and Gail Simmons Reveal the Worst Dishes They've Ever Had on the Show