'Top Gun: Maverick': The Darkstar Plane Is Closer to Reality Than You Might Think
Tom Cruise felt the need for speed in 1986's Top Gun. The long-awaited follow-up, Top Gun Maverick, delivers speed from the get-go. The sequel went supersonic at the box office and delivered Cruise's best opening weekend, and it also had the actor's character, Pete "Maverick" Mitchell go hypersonic in a mysterious airplane. The movie focuses on Cruise's relationships with a young group of fighter pilots as they embark on a dangerous mission, but the mysterious yet fictional Darkstar plane is closer to reality than you might think.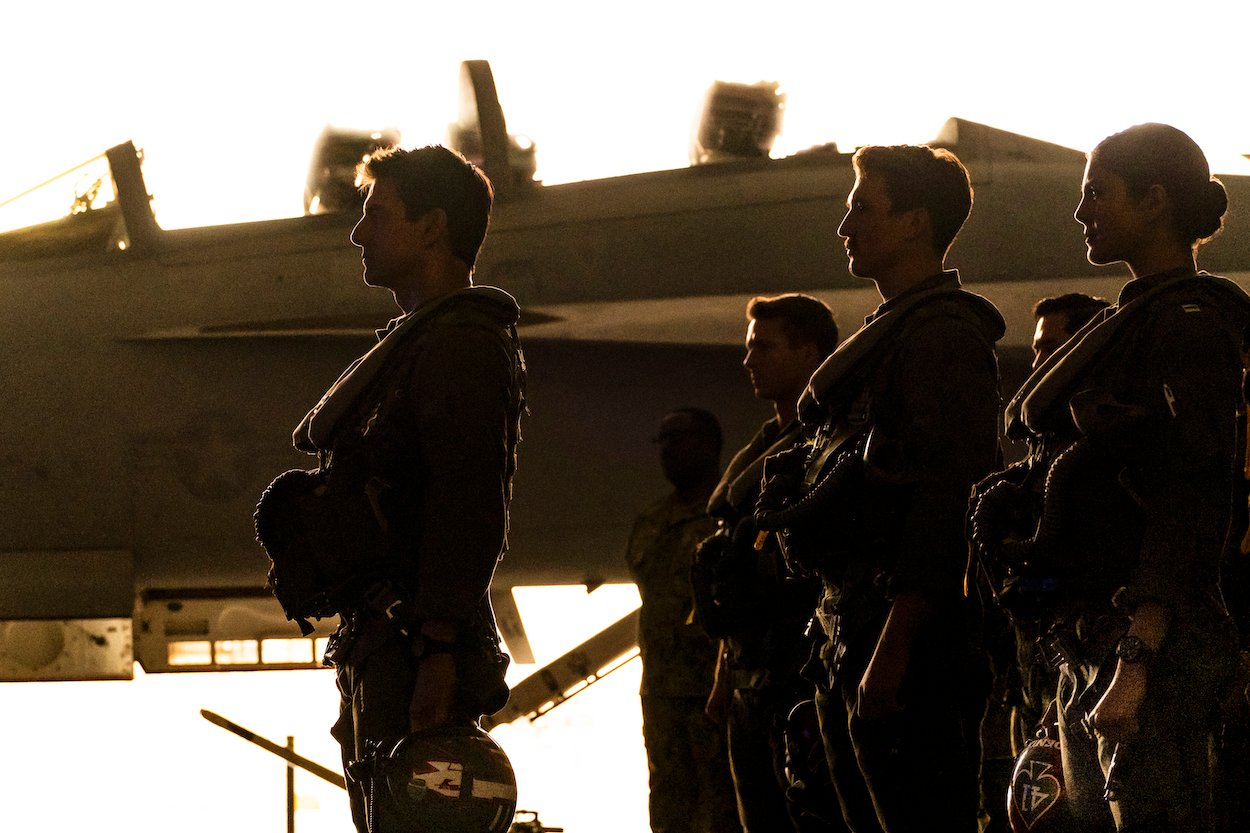 Tom Cruise pilots the Darkstar plane early in 'Top Gun: Maverick'
In the original Top Gun, Cruise's character takes his F-16 close to ground level and buzzes the flight control tower. Top Gun: Maverick pays homage to its predecessor early in the movie.
The final official trailer showed a snippet of a mysterious triangular airplane flying low over a desert landscape at dusk. We soon learn Maverick, who prefers to stay active in the cockpit as a test pilot rather than advance in rank, flies the plane.
We see the plane — dubbed the Darkstar — for only a moment. It's a hypersonic plane, so it's gone in a flash. Maverick and his team pilot the more conventional F/A-18s for much of the movie, but is the Darkstar real? It's a complicated answer.
Is the Darkstar a real plane?
When it comes to real-world, active-use military aircraft, no, Maverick's Darkstar plane isn't real. Cruise didn't pilot a plane with cutting-edge technology. And even if it existed, we probably wouldn't find out about it from a Hollywood movie.
Yet the team that develops fighter jets worked on creating a plane for the movie. What we see on screen isn't real now, but it could be at some point.
Manufacturer Lockheed Martin, which created the legendary SR-71 Blackbird airplane, announced it was working on the SR-72 in 2013 (per Air Force Magazine). But as with most things related to military technology, the rest — design, capabilities — was kept under wraps. One known element? Lockheed Martin planned for Mach 6 (six times the speed of sound) flight.
While an SR-72 isn't real and its prototype isn't what we see on the screen, Lockheed Martin's Skunk Works team made it look that way for Top Gun: Maverick. A team of designers, model-builders, and engineers constructed a working model of fictional aircraft and made it as close to reality as possible.
As the Lockheed Martin website explained, "Darkstar may not be real, but its capabilities are. Hypersonic technology, or the ability to travel at 60 miles per minute or faster, is a capability our team continues to advance today by leveraging more than 30 years of hypersonic investments and development and testing experience."
Maverick may have a lot of things wrong with it from a military expert's point of view, but the filmmakers did their due diligence to create a realistic fake plane.
'Top Gun: Maverick' kept the flight scenes and technology as real as possible
The Darkstar plane in Top Gun: Maverick isn't real, but the technology and design are closer to fact than fiction. But the rest of what the audience sees in the movie is real.
Cruise pulled his producer and acting superstar card and insisted on using real planes for the in-flight scenes in the movie. He's famous for doing his own stunt work, and he insisted his co-stars do the same for Maverick. So they had to undergo G-force training to make sure they could handle themselves when up in the air. Miles Teller was pushed to his limits and Glen Powell puked in the cockpit.
Even the scene where Maverick and Jennifer Connelly's Penny set sail was real, though Cruise demanded a reshoot, according to Connelly.
The Darkstar plane in Maverick isn't real, but it's not 100% fiction, either. And movie fans can rest assured that every effort went into making the blockbuster movie look and feel as real as possible.
RELATED: Glen Powell 'Violently Puked' Back Into His Own Face While Inverting in 'Top Gun: Maverick'