'Top Gun: Maverick' Director Joseph Kosinski Reveals 1 Connection to the Original You Probably Missed
Top Gun: Maverick pays tribute to the original movie in a few ways, and not just by having Tom Cruise star. The opening title sequence, Kenny Loggins' "Danger Zone," and a beach football scene (in place of volleyball) are just a few of the most noticeable ones. But director Joseph Kosinski revealed one connection Maverick has to the original Top Gun that you probably missed unless you have a keen eye.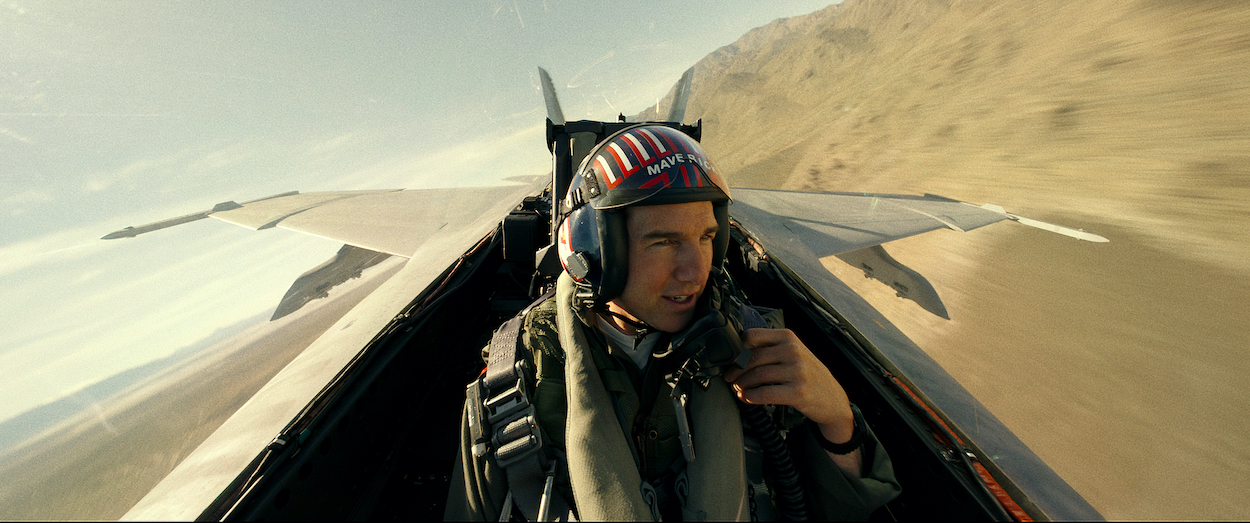 'Top Gun: Maverick' and the original share several similarities
The opening credits, Loggins' anthem, and beach sports aren't the only Maverick callbacks to the original. There's also a singalong in a bar, a reimagined version of Maverick buzzing the tower, and Cruise riding his motorcycle down a runway as a fighter jet takes off.
Miles Teller's character provides a bit of an homage, too. He plays the son of Anthony Edwards' Goose, and Teller took his preparation seriously. He grew out his own mustache (which looks eerily similar to the one Edwards donned) and chose his "Rooster" callsign carefully as a tribute to the first movie.
Director Joseph Kosinski wanted to create a new story with Top Gun: Maverick — it's how he convinced Cruise to sign on — but there's one connection to the original he included, and chances are you probably missed it.
RELATED: 'Top Gun: Maverick' Pays Tribute to More Than the First Movie's Director
'Maverick' Joseph Kosinski reveals one connection to the original movie that you might have missed
In the 1986 original, director Tony Scott shot footage of the flight training scenes from a Nevada mountain peak. From that vantage point, he could shoot down into the surrounding valley at the jets. 
Kosinski kept the connection to the original by shooting from that same spot.
"I did have a couple of the camera operators who worked on the original film. I had a number of the crew members from the original film on our film, and one of them was the ground-to-air operator. He told me a lot of their ground-to-air stuff was shot on a specific mountain peak in Nevada, looking down into the training valley. We went back to that exact peak. I stood up there with him and our four cameras with really long lenses, and we shot our ground-to-air stuff from the same place 35 years later, which was pretty awesome."

'Top Gun: Maverick' director Joseph Kosinski
Kosinski may be referring to camera operator David B. Nowell. Nowell serves as aerial unit director of photography for Maverick. He was an aerial camera operator for Top Gun.
Kosinski's shooting location is a subtle connection to the original Top Gun and one that you probably missed.
RELATED: 'Top Gun: Maverick' Pays Tribute to More Than the First Movie's Director
A lawsuit could slow 'Maverick's success before it starts streaming
Top Gun: Maverick gave Cruise his best opening weekend ever, but a lawsuit against Paramount alleging copyright violation could be a storm that darkens the movie's calm skies. The lawsuit won't impact Maverick's impressive box office haul so far. The studio has several lines of defense should it go before a judge, too. 
While the legal drama plays out, movie fans with a need for speed have to see Maverick in the theater. The movie might not start streaming until closer to the end of the summer.
As CNET explains, Top Gun: Maverick should land at Paramount+ when its streaming run starts. The film's streaming date could come as soon as July 9 if Paramount sticks with its 45-day, theater-only approach before putting new movies on its platform. But the studio may be inclined to keep Maverick in theaters longer to earn more money.
For now, the best way to see the hidden connection between Top Gun: Maverick and the original movie is to check it out in the theater.
For more on the entertainment world and exclusive interviews, subscribe to Showbiz Cheat Sheet's YouTube channel.
RELATED: 'Top Gun' vs. 'Top Gun: Maverick': Which Tom Cruise Movie Is Better?