'Top Gun: Maverick': Tom Cruise Gave an Amazing Response to Miles Teller Getting Sick While Filming
One of the many impressive aspects of Top Gun: Maverick is how the cast did film parts of the movie in the airplanes. Many of them got nauseous from the experience, but Miles Teller got sick in a disturbing, but somewhat cool way. When Miles Teller shared details of his illness with Top Gun star Tom Cruise, Cruise gave a perfect response. 
Tom Cruise and Miles Teller have a great dynamic in 'Top Gun: Maverick'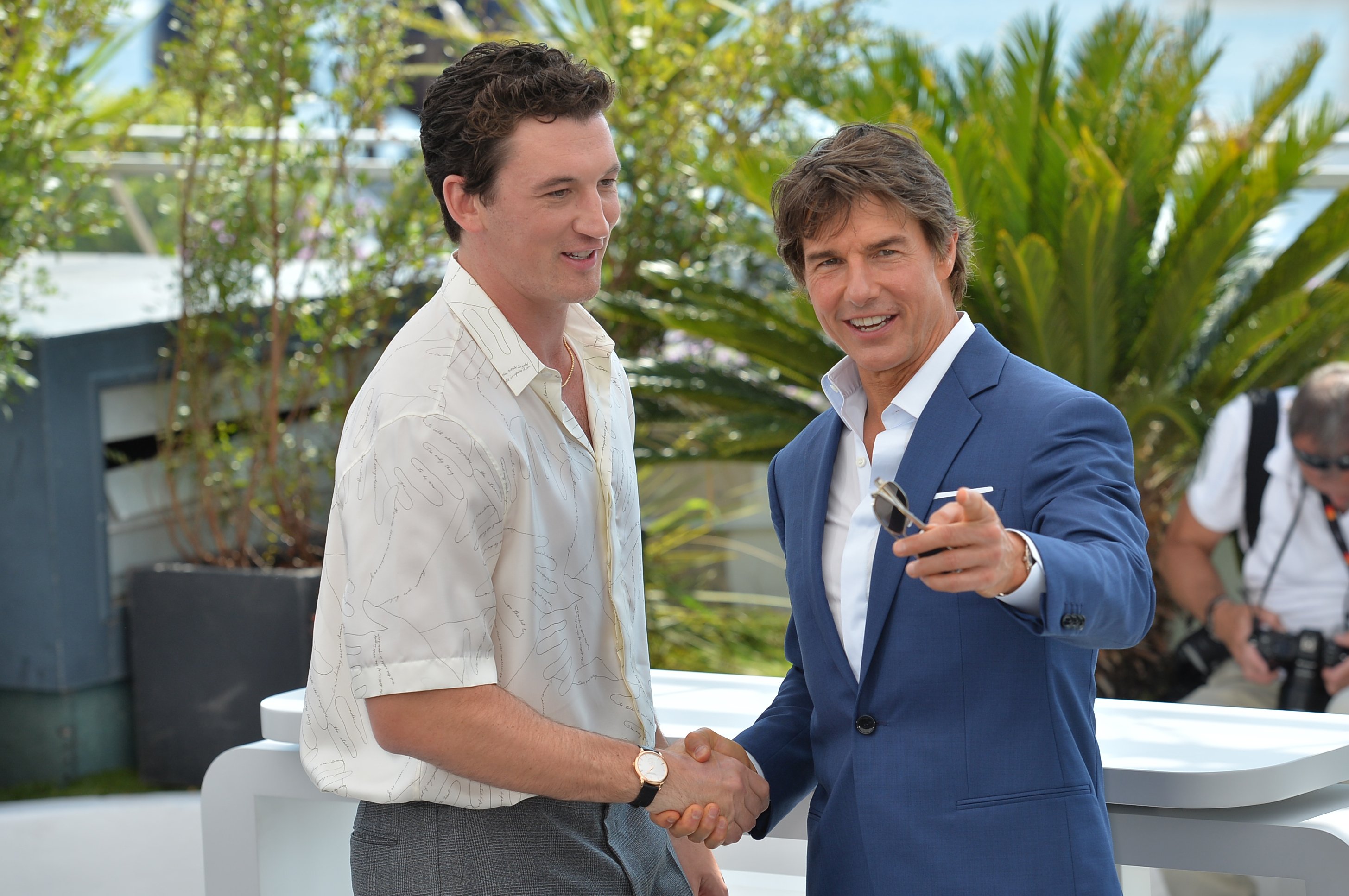 In Top Gun: Maverick, the characters played by Tom Cruise and Miles Teller have a connection that gives the movie an emotional core. Teller plays Bradley "Rooster" Bradshaw, the son of Goose (Anthony Edwards), who flew with Pete "Maverick" Mitchell (Cruise) in the original 1986 movie.
Rooster holds a grudge against Maverick as he blames him for his father's death and is angry at him for trying to keep him out of the Navy. The tensions are high between the two, especially as Maverick tries to train Rooster for a dangerous mission. The two characters eventually settle their differences and become good friends by the end of the movie.
Tom Cruise had a perfect response to Miles Teller having an allergic reaction
Everyone wants to have a great story from working with Cruise and Teller definitely has one. In a recent appearance on Late Night with Seth Meyers,  Miles Teller shares how he became very sick after doing some aerial training for Top Gun: Maverick. He says it was an allergic reaction, but it turned out to be something more surprising. 
"We got done, they're called a sortie where you go up and you do some stuff, and so we landed and I'm just like 'Hey, I'm not feeling too good,' and I was really hot, and I just started itching like crazy," Teller explains. "So I get out of the jet and I'm just covered in hives, like head to toe. Instantly, I go to a doctor. I do like a blood analysis. I'm in an oatmeal bath that night…So I go to the doctor and my bloodwork comes back and I have flame retardant, pesticides, and jet fuel in my blood."
Jet fuel being in your blood is probably not the safest thing in the world. However, Teller was able to turn this frightening experience into an awesome one through an amazing and hilarious response from Cruise.
"But then I thought, wait a second. This is actually kind of cool," Teller continues. "So then I go to set the next day and Tom's like 'So, how did it go Miles? What did they find?' And I was like 'Well, Tom, turns out I have jet fuel in my blood.' And without even skipping a beat Tom goes, 'Yeah, I was born with it, kid.'
How much has 'Top Gun: Maverick' made at the box office?
While Miles Teller had some complications while making the movie, Top Gun: Maverick has been nothing but a success. It's received overwhelming praise from critics and audiences and has now become the highest-grossing movie of 2022 domestically, making $409 million, according to Box Office Mojo. Top Gun: Maverick is also one of the most successful Tom Cruise movies.
Top Gun: Maverick is now flying in theaters. 
RELATED: 'Top Gun: Maverick' Director Gave Miles Teller a Photoshopped Mustache for His Pitch to Tom Cruise