Tory Lanez Is in More Legal Trouble With Megan Thee Stallion
Tory Lanez may be one of the most popular rappers as of now but he's still in hot water as it relates to legal matters with his former friend and fellow rapper, Megan Thee Stallion. Stallion accuses Lanez of shooting her last fall, which he denies. But a prosecutor is now alleging Lanez is in contempt of court for violating a protective order Stallion has in place.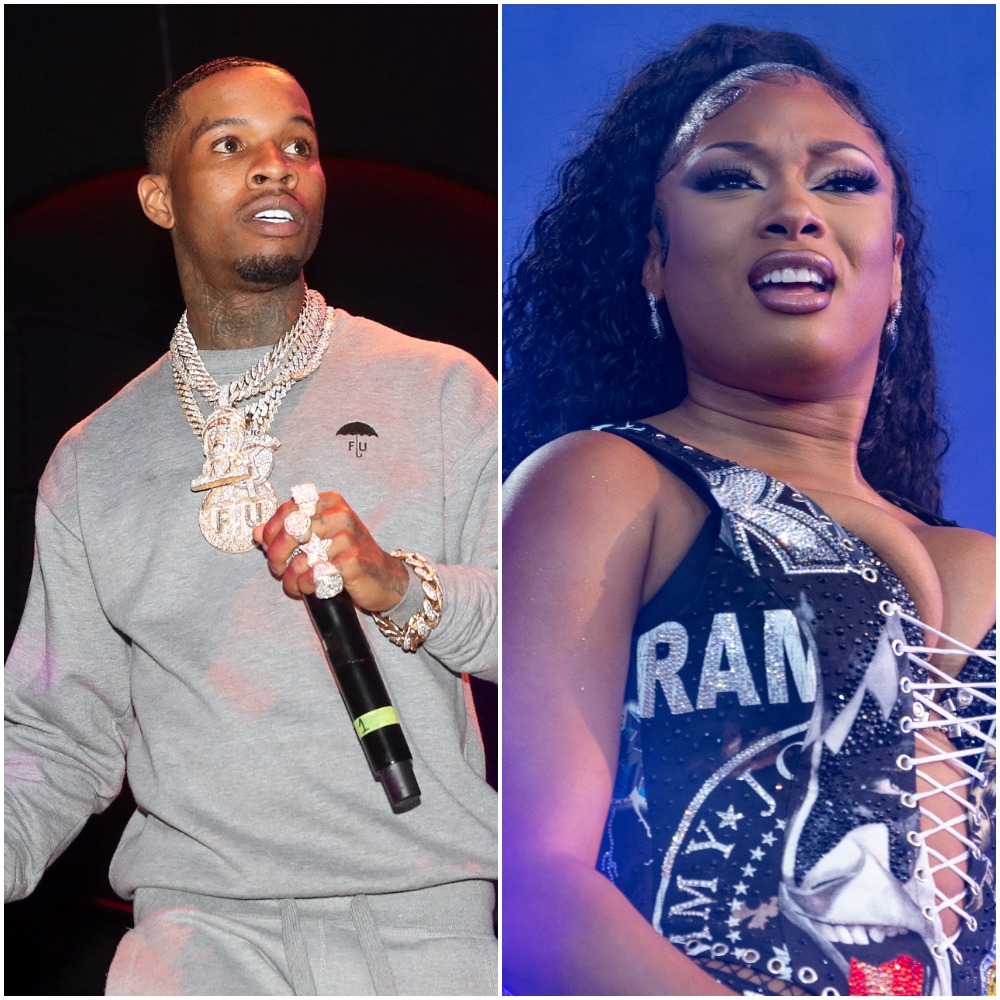 Tory Lanez reportedly violated his protective order
Lanez is in more legal drama related to his issues with Stallion. Both rappers appeared at the Rolling Loud music festival recently. Lanez surprised fans as a special guest alongside DaBaby.
Video footage surfacing on social media ​​shows DaBaby on stage with someone wearing an oversized costume, hyping the crowd up as they anxiously await the surprise. "I'll give somebody out here a million dollars if they can guess who in here," DaBaby said as Lanez showed himself from the costume. Lanez also made an appearance during Kodak Black's set at the festival.
Related: Tory Lanez Was Accused of Being Aggressive Toward an Ex Before Reported Shooting Incident With Megan Thee Stallion
Despite fans' excitement, the performance reportedly violates a protective order currently in place. Lanez is ordered to stay at least 100 yards away from Stallion.
Prosecutors are accusing the "Most High" rapper of being in contempt. They also want his bail to be revoked or increased. If a judge revokes his bail, Lanez could be jailed until the trial for the case begins.
Lanez's team is alleging that even though he and Stallion were both at the festival, he stayed far enough away from Stallion.
The rapper denies shooting Megan Thee Stallion
Stallion spent weeks mum on who the shooter was. It wasn't until she grew with what she considers Lanez and his attempts to paint her as the villain continued and she took to Instagram live to name him as the shooter.
Lanez denies such and he's pleaded not guilty to one felony count each of assault with a semiautomatic firearm – personal use of a firearm – and carrying a loaded, unregistered firearm in a vehicle. Still, Stallion was granted a protective order.
Related: Reports Surface That Tory Lanez Has Been Deported Back to Canada Following Megan Thee Stallion Shooting
Lanez has even boasted about being innocent in his music. According to a source, an argument erupted between Stallion, Lanez, and Stallion's best friend Kelsey on their way home from a party at Kylie Jenner's house.
Lanez allegedly flirted with Jenner, causing Stallion to become jealous. Stallion also reportedly discovered Kelsey was sleeping with Lanez. Lanez and Stallion allegedly were having an intimate relationship as well. All three reportedly nearly came to blows in the car before Lanez allegedly shot Stallion twice in her foot.
Tory Lanez's career continues to rise in spite of the controversy
Though it's widely believed that Lanez did indeed shoot Stallion, the repercussions haven't been detrimental to his music career.
According to Rap-Up, the Toronto native is currently celebrating his first-ever streaming album When It's Dark. He claims he sold 1 million copies in just 57 seconds.
He shared the news on Instagram, exclaiming, "A f—— million copies! I just went f—— platinum!" he yelled. "I just sold the equivalent units at $1. Sold a million copies flat and I made a million dollars in less than a fu**ing minute. Y'all try to hold me back. You can't f—— stop me, my n—-."
Stallion hasn't commented on the alleged violation.