Has 'Total Divas' Been Cancelled?
Total Divas is one of the E! Network's most popular reality TV shows. The series, which debuted in July 2013, follows several WWE female wrestlers' work and personal lives. Total Divas is credited with helping to draw attention to women's wrestling and launching the success of Brie and Nikki Bella. The show ran for nine seasons, with its last episode airing in December 2019. For fans wondering if there will be a season 10, well, it appears it won't be happening.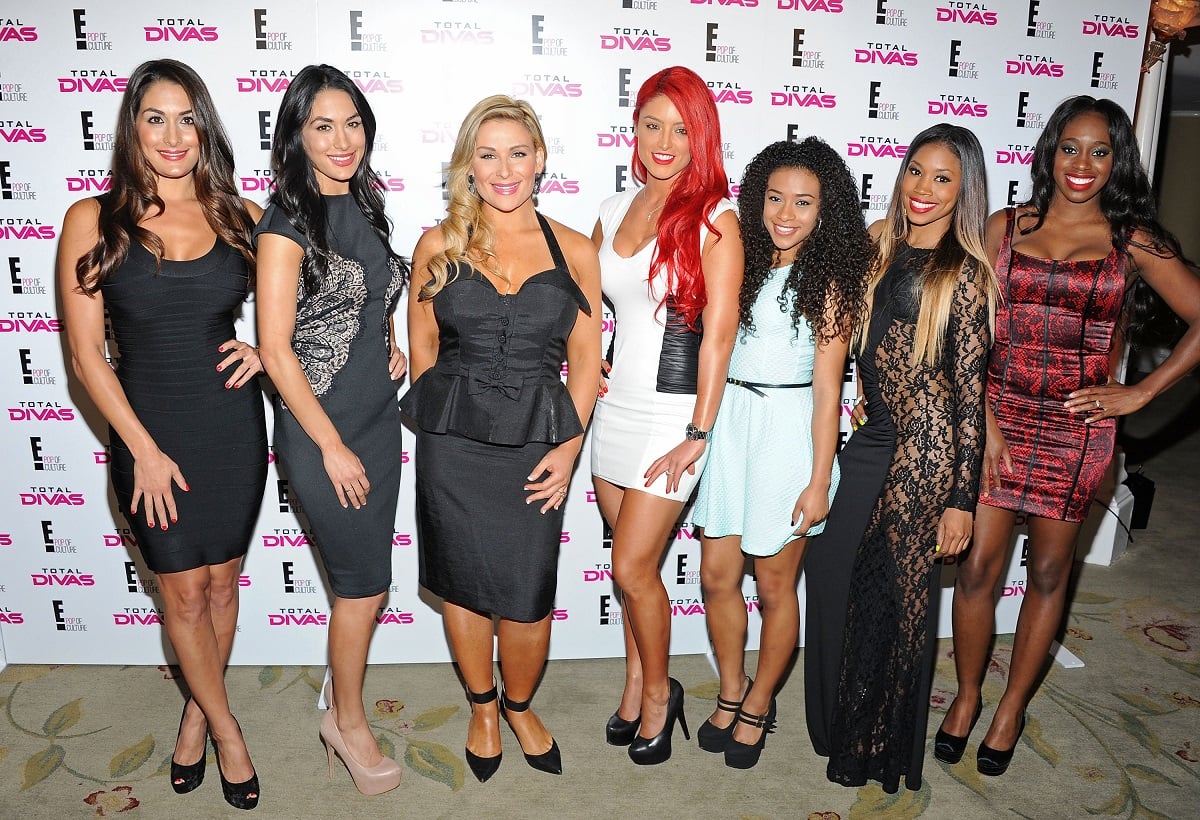 Is 'Total Divas' cancelled?
Season 9 of Total Divas was one of its biggest. The series added a few new cast members, including WWE's top star and former MMA fighter Ronda Rousey. One of the biggest storylines was Rousey trying to make friends with her co-workers, including Sonya Deville. The show also focused on Rousey being torn between her wrestling career and a desire to start a family.
RELATED: What We Know About WWE and 'Total Divas' Star Sonya Deville's Alleged Stalker
Despite the addition of Rousey, ratings for Total Divas weren't that great. But that didn't stop fans from believing the show would be renewed. However, things aren't looking good for the wrestling reality show. Although no official announcement has been made, according to Essentially Sports, the show and its spinoff Total Bellas have been cancelled.
The premise of 'Total Divas'
News of Total Divas' possible cancellation is going to upset longtime fans of the show. Since its premiere in 2013, the show and its cast have garnered a huge fan base. The original cast included: Nikki and Brie Bella, Natalya, Naomi, Eva Marie, Jojo, and Cameron. However, there would be plenty of casting changes throughout the years, including the addition of Paige and Summer Rae.
Film crews followed the women as they dealt with the stresses of life on the road along with chaos in their personal lives. Although their personal lives were the main focus of the show, it also delved into the challenge the women faced being in a male-dominated sport. One pivotal moment from earlier episodes showed Nikki, Brie, Naomi, and Cameron upset over their tag match being cut due to time constraints. Aside from screen time, another issue the ladies faced was injuries. As seen over the course of the seasons, wrestlers such as Paige deal with injuries, which altered their careers.
Memorable 'Total Divas' moments
Total Divas has provided viewers with plenty of sweet, funny, and dramatic moments throughout the years. Of course, there's been plenty of catfights between the wrestlers. There was the time Summer Rae showed up at Natalya's house to slap her. Also, who could forget the frequent arguments between twins Nikki and Brie?
But one of the biggest storylines during Total Divas' run is Nikki's relationship with John Cena. Although Cena portrayed a good guy on WWE television, his treatment of Nikki left Total Divas viewers angry. One infamous moment had Cena presenting Nikki with a 75-page legal document to sign before moving in together.
There have been lots of memorable moments throughout the course of Total Divas. Although the show will no longer be on the air, fans can still watch these iconic scenes thanks to re-runs.