'Toy Story 2' Almost Never Made It To Theaters — Find Out How Tom Hanks and Tim Allen Changed Disney's Mind
The Toy Story franchise remains one of the most popular among children and adults alike. The lucrative series includes four films that have collectively earned Disney billions of dollars. Yet, as successful as these films are, one of them nearly never made it to theaters.
Tom Hanks recently revealed that Toy Story 2 was originally slated to be released solely on DVD. However, he and Tim Allen managed to talk Disney executives into giving the movie a theatrical release.  
'Toy Story 2' was originally scheduled for a DVD-exclusive release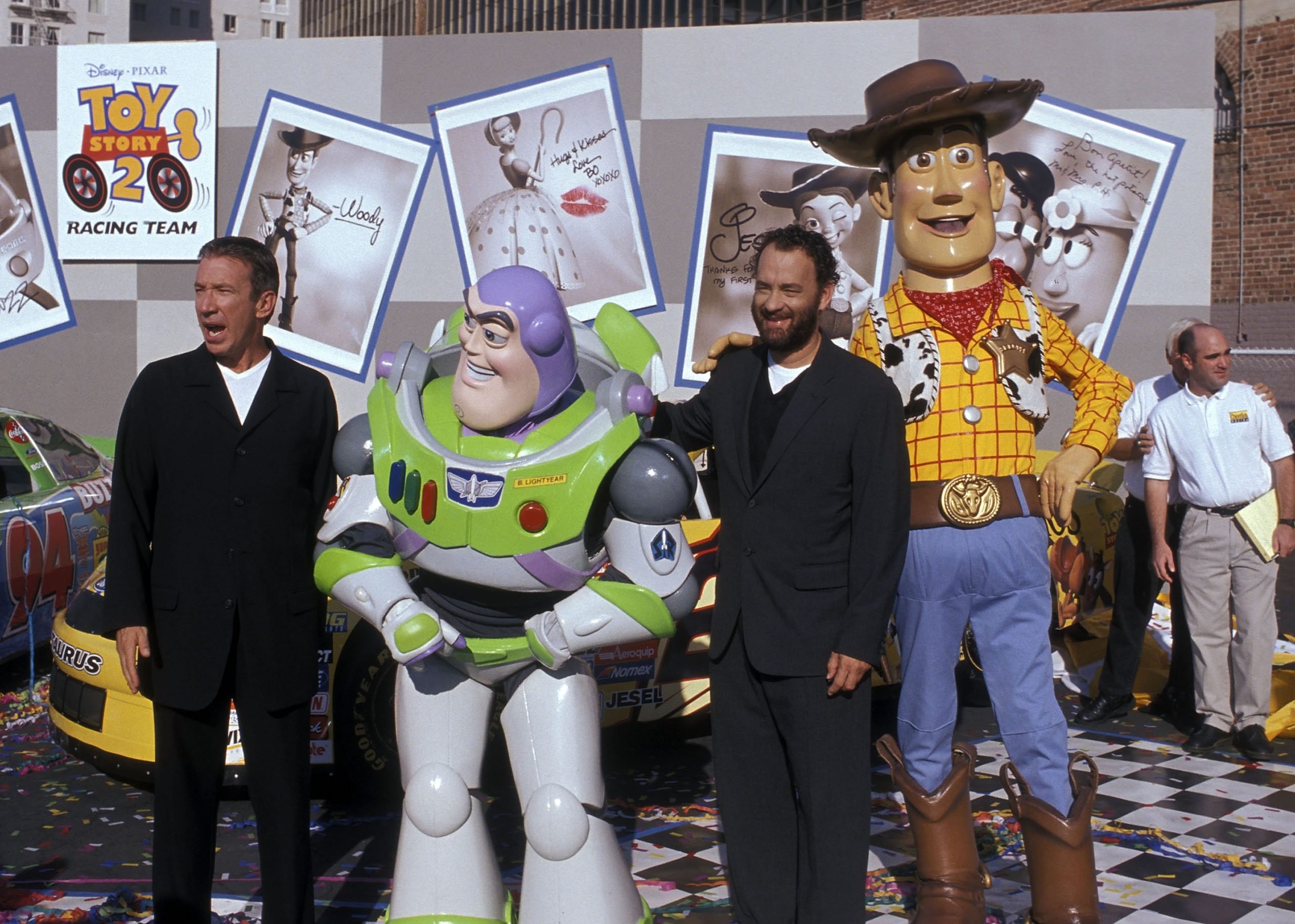 Toy Story 2 was a hugely successful film, grossing over $497 million at the box office, according to Box Office Mojo. However, during the initial stages of production, the film was never intended to be released in theaters. Disney executives wanted to minimize costs and put the movie out on DVD only.
"When we did the second one, the Disney brass had this whole kind of like, formula that said the thing to do after you have a really big movie is to do a cheaper version of it and just put it out on video, because everybody who loved the movie will buy the video. …" Hanks said.
Tom Hanks and Tim Allen lobbied to get 'Toy Story 2' in theaters
When Hanks and Tim Allen showed up to work on Toy Story 2, they both wondered why such a great movie would be limited to a DVD release. The two decided to confront Disney executives about the decision, lobbying for a wider theatrical release. 
"We ended up both communicating to the brass, 'Why just take the easy money and go into DVD? I understand it'll be profitable, I get that, but the second one, from a script, story point of view, is as great as the first one was. What's the deal here?'
Hanks then revealed that after their conversation Disney decided to increase the film's budget so they could give it a wider release. 
Disney executives weren't sure about making 'Toy Story 4'
As the franchise continued to grow, more Toy Story films were developed. However, when conversations began about producing Toy Story 4, Disney executives weren't sure how to proceed. According to Hanks, executives felt a sense of "responsibility" to create something special. 
"Now it's coming on like to more than 15 years since we worked on the first one," Hanks said. "So the question is to whether or not there could be a fourth one, I think was weighed with the responsibility of making a fourth one. I think they were saying we don't know … we don't know if we can equal the first three with a fourth one. And I said, 'I get that. Alright, I get that. But then they came to us, and they said, 'We think we have something.'
The 'Toy Story' franchise is extremely successful 
With all films combined, the Toy Story film franchise has become one of the most successful of all time. Together, the films have grossed over $3 billion worldwide according to Forbes, and the franchise has earned even more from lucrative licensing and merchandising deals. 
Toy Story has sustained its success for nearly three decades. Toy Story 4 grossed over $1 billion after its 2019 release, becoming the eighth highest-grossing film of all time, according to CNBC.