Travis Scott's Brown Batman Suit Goes Viral, But Is There Really a Brown Batsuit?
Halloween revelry filled the air and internet streets, and photos of celebrities in costumes packed timelines everywhere.
You can always count on someone showing up as Batman, and Travis Scott was one of many who decided to dress up as the caped crusader this year.
His take on the beloved DC superhero included head-to-toe brown attire, a look that many were not accustomed to seeing. The reactions were brutal, but it led some fans to ask whether a brown-outfitted Batman even exists.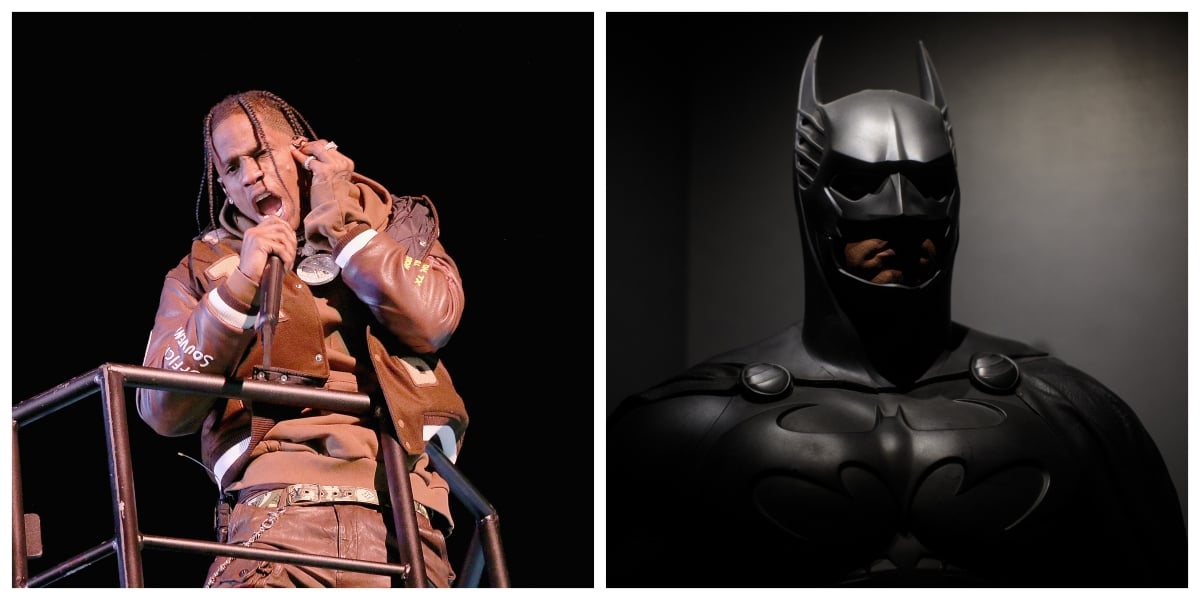 Travis Scott trolled for brown Batman suit
For those who missed Scott's name trending in the headlines the day after Halloween, he posted pictures on himself on Instagram dressed in a brown Batman suit. A video showed him walking through a parking deck like Bruce Wayne in a brown suit to a glass-encased Batsuit.
In a mini skit, Scott then transformed himself into Batman and donned the whole costume. Draped in the customary cape, boots, belt, and pointy-eared mask, he positioned himself against a backdrop of brown hued cars that he owns.
When the photos went up, some complimented him, but others began to roast the getup and compared his costume to a cockroach and a flea.
The insults went viral on social media, and Scott wound up deactivating his Instagram account. It's unclear whether it's due to the Batsuit or if it's a fake-out because he's preparing to release new music.
Does Batman have a brown suit in the comic cannon?
Batman is an octogenarian whose incarnations have been seen in comic book pages, cartoons, movies, TV series, and video games. In his 80-plus years in the public's consciousness, he's worn plenty of Batsuits.
Video compilations that focus on the 1940s to present day show that his famous costume has ranged from gray to black to red and purple. There have been color combinations featuring black and gray, blue and yellow, black and red, and all black. Of course, the emblem has sometimes been yellow.
In one 1957 issue of the comic book, Batman rocked a rainbow version of his suit and in one 1960 imprint, he wore a zebra Batsuit. Solid white has also been in the mix, but what about brown?
YouTube has numerous videos that examine the transformation of the Batsuit's style, and Business Insider also ran down a list of the Dark Knight's uniform in history. The only time Batman—not Bruce Wayne—donned anything remotely close to Scott's brown garb was as Knightmare Batman.
Ben Affleck sported a dark camel-colored trench coat in Batman v. Superman: Dawn of Justice over some trousers. Later, DC brought Snyder's vision to the print comics with the Knightmare iteration. His mask and costume were black like a bat.
However, it's still not brown like Scott's Halloween costume.
Travis Scott did his own thing
With that said, Scott's creation was uniquely his, and the color selection was not unusual for him. The "Franchise" rapper frequently wears brown and it's a hue that features heavily in his apparel lines.
Though Batman fans haven't seen the hero decked out in full-on chocolate armor, that doesn't mean there's no room for it in the future. Now that Scott's gone viral for it, DC may capitalize on the moment and make it a reality.