Travis Scott's First Performance Since Astroworld Will Be 1 Day After the 1-Year Anniversary of the Tragedy
Travis Scott's 2021 Astroworld festival was a tragedy, with 10 people dying as a result of overcrowding. Now, Scott is back and performing at his first music festival since the incident.
In 2021, rapper Travis Scott hosted his music festival Astroworld in his hometown of Houston after a year off due to the coronavirus (COVID-19) pandemic. 10 people died during his performance as a result of overcrowding. In the time since then, the "Highest In the Room" rapper has maintained a low profile, and has yet to perform his first show for the public since the tragedy. But in late 2022, he'll be making his grand return to the stage — nearly one year to the day since Astroworld 2021.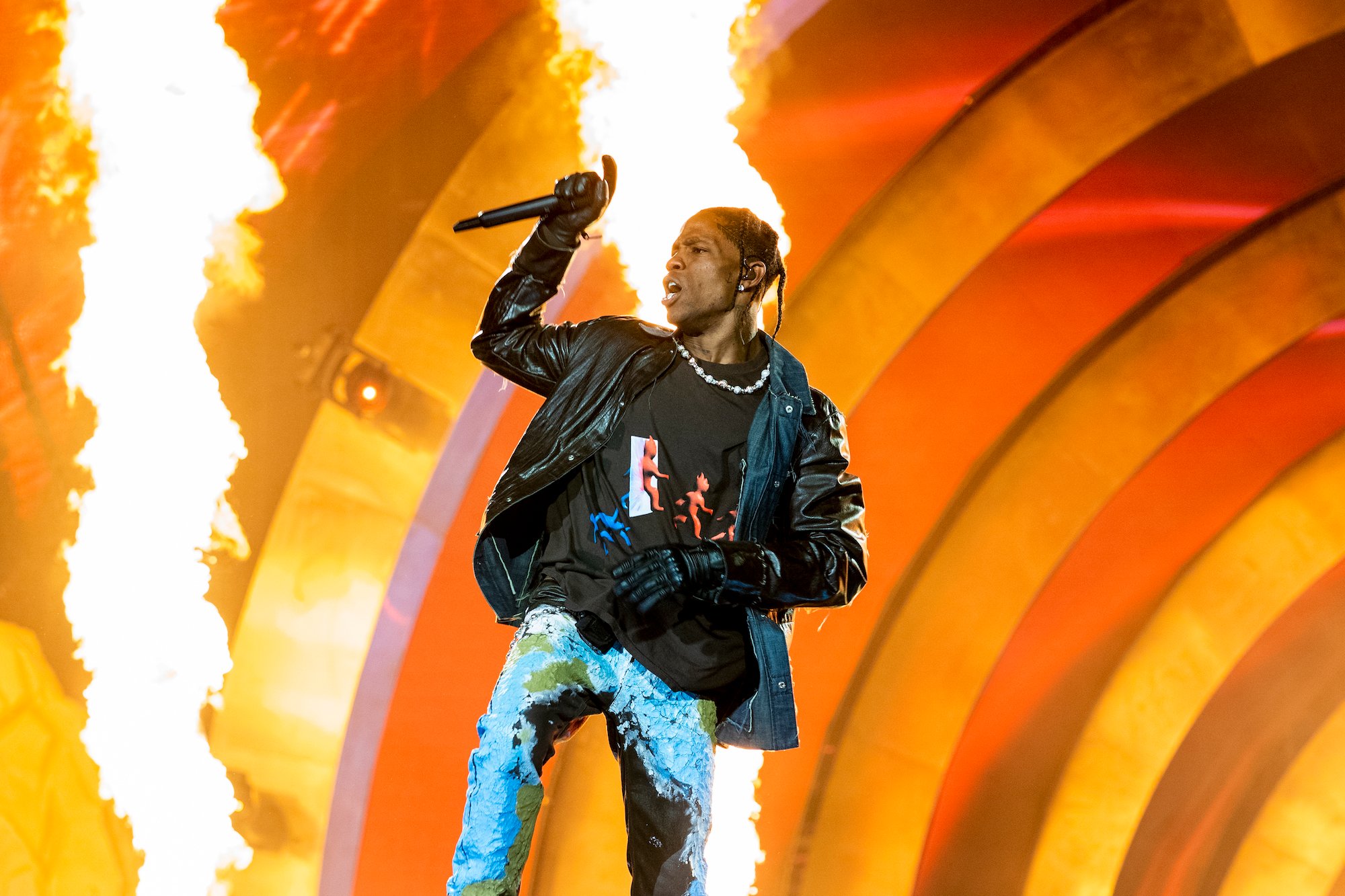 Astroworld 2021 resulted in 10 people dead
In November 2021, Travis Scott took the stage to close out the first night of his Astroworld festival in Houston. But tens of thousands of people were crowded into a venue with no capacity limits. As a result, 10 people died either on-site or later at the hospital as a result of compression asphyxia.
Scott shared his sympathy in an Instagram post that night, and the second day of the festival was cancelled as a result. Since then, Scott has yet to give a public performance.
Travis Scott is performing at Primavera Sound for his first show since Astroworld
Scott will give his first performance since Astroworld at the first-ever Primavera Sound festival in São Paulo, Brazil. He'll be performing on November 6, 2022 — one day after the one-year anniversary of the tragedy. In addition to that show, he'll also be performing the following weekend at Primavera Sound in Buenos Aires, Argentina on November 12 and Santiago, Chile on November 13.
Scott is currently scheduled to appear at Miami's E11even nightclub on May 7. But Scott will only be hosting the event, and will not perform.
He launched a safety initiative after the incident
Scott, along with LiveNation and other culpable parties, are currently fighting lawsuits in court in relation to the festival. In March 2022, he shared a statement on Instagram about a safety initiative he was pioneering to ensure nothing like Astroworld 2021 ever happens again.
"Over the past few months I've been taking the time and space to grieve, reflect and do my part to heal my community," he said. "Most importantly, I want to use my resources and platform moving forward towards actionable change. This will be a lifelong journey for me and my family."
"While it's easy for corporations and institutions to stay in the shadows, I feel as a leader in my community, I need to step up in times of need," he continued. "My team and I created Project HEAL to take much-needed action towards supporting real solutions that make all events the safest spaces they can possibly be. I will always honor the victims of the Astroworld tragedy who remain in my heart forever."
"Giving back and creating opportunities for the youth is something I've always done and will continue to do as long as I have the chance," he concluded. "This program will be a catalyst to real change and I can't wait to introduce the rest of the technology and ideas we've been working on. See you all so soon." 
Scott is slated to release his fourth album Utopia in 2022.