Trey Parker Once Said He 'Hates' Writing for 'South Park'
Matt Stone and Trey Parker have been writing South Park since 1997. The Comedy Central TV show has been a huge staple in Stone and Parker's lives, and both are incredibly proud of the series they have created.
Yet despite their love for the mountain town show, Parker admits how painful the writing process can be. He even claimed that he "hates" creating new South Park episodes because of how stressful it gets.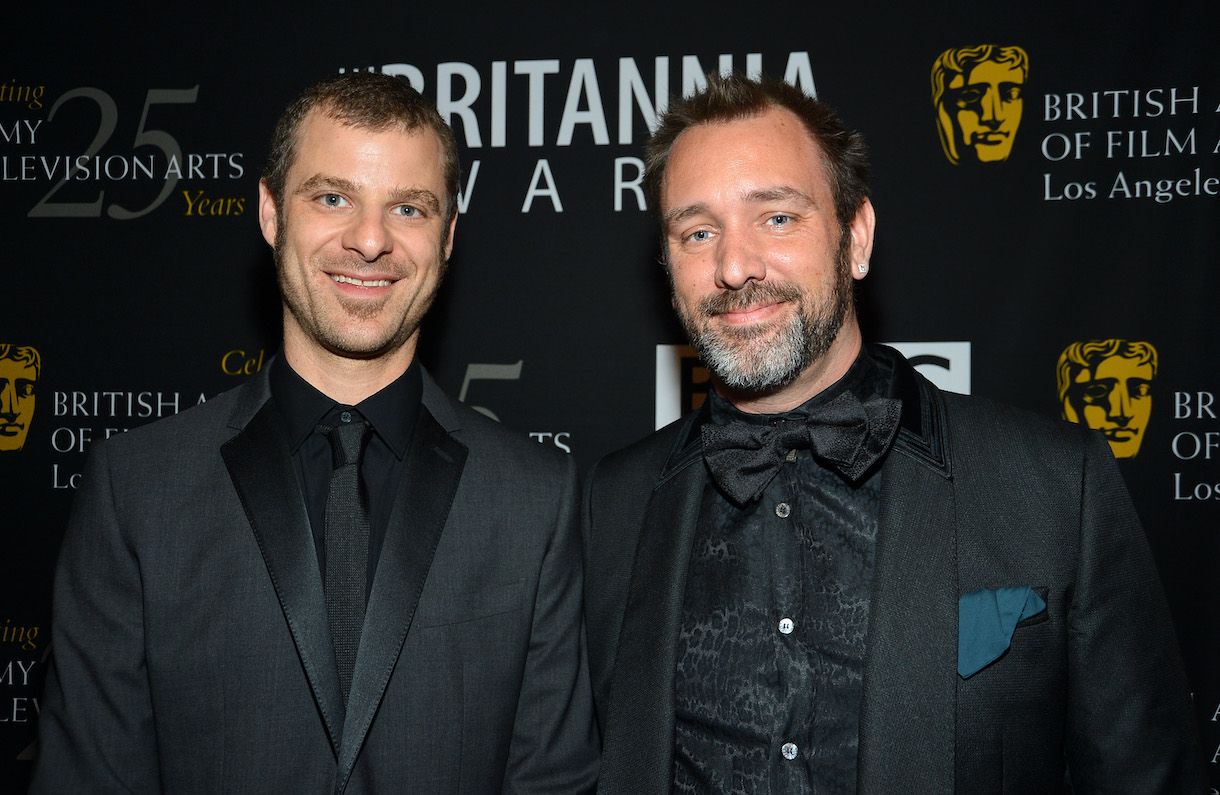 'South Park' episodes are made in just six days
While it takes The Simpsons about six months to make a single episode, avid South Park fans know that Stone and Parker's episodes are made in just six days or less.
In fact, in 2011, they released a documentary on Comedy Central called Six Days To Air: The Making of South Park. The documentary showcases the fast-paced writing process for Stone and Parker.
Six Days to Air makes it clear how stressful it can be to create a whole episode in just six days.
Yet because South Park is known for being so topical, it makes sense that they'd want to make their episodes in such a short period.
But, according to Parker, the process for creating a South Park episode can be so brutal that he often hates writing for the show.
Trey Parker said he 'hates' writing for 'South Park' and finds it 'brutal'
While speaking to The Hollywood Reporter, Parker said that he's very proud of the show that he's brought to life. Yet regardless, he still has a ton of insecurities when making every episode. He even says that he assumes each show will be "the worst" they've ever done.
"South Park is way bigger than either of us," Parker says of himself and Stone. "And it's this curse, and when we are doing it, I hate it. I'm pissed off, and I'm tired, and every single Tuesday, I say, 'This is the worst show we've ever done!' It's brutal. But it's something I am a part of that's bigger than I am. That's what is most important."
Matt Stone and Trey Parker have changed a lot since the series began
The South Park creators have been writing for the series for over 20 years. Because of this, it's safe to say they aren't the same people they once were when the show first premiered. Back in the late '90s and early 2000s, Parker and Stone were known for their offensive/crude humor. But nowadays, things have changed pretty drastically.
According to both writers, they've grown up a lot since the show began, and they have no intentions of offending people anymore.
"We care about different things today," Parker admits. "First, we were friends f—ing around, trying to get laid, breaking into Hollywood, sleeping on couches. Now Matt is married, and I've got a little family."
"When someone goes, 'Oh, this group is really pissed off at what you said,' there's not a piece of my body that goes, 'Sweet!'" Parker reveals. "That means I did it wrong. I'm just trying to make people laugh."