Tricia Helfer's 'Battlestar Galactica' Hair Was So Damaged It Started Falling Out In Chunks
Tricia Helfer's Number Six in 'Battlestar Galactica' is known for her white-blonde hair, a look that damaged the actor's hair so badly it started falling out in chunks.
Hollywood actors are all too familiar with character transformations. Some are less dramatic and might include hair color or progressed aging effects. But others are pretty significant, making the actors almost unrecognizable, like Jim Carrey's transformation into the Grinch for How the Grinch Stole Christmas or Colin Farrell's transformation into the Penguin in The Batman.
Tricia Helfer is an actor who knows first-hand about the challenges of character transformation. During her recurring role on Battlestar Galactica as Number Six, she had to routinely bleach her hair to get it that shimmery, near-white shade. In an interview, Helfer later shared that the non-stop bleaching wreaked havoc on her hair, so much so that it began falling out in chunks.
Tricia Helfer's role in 'Battlestar Galactica'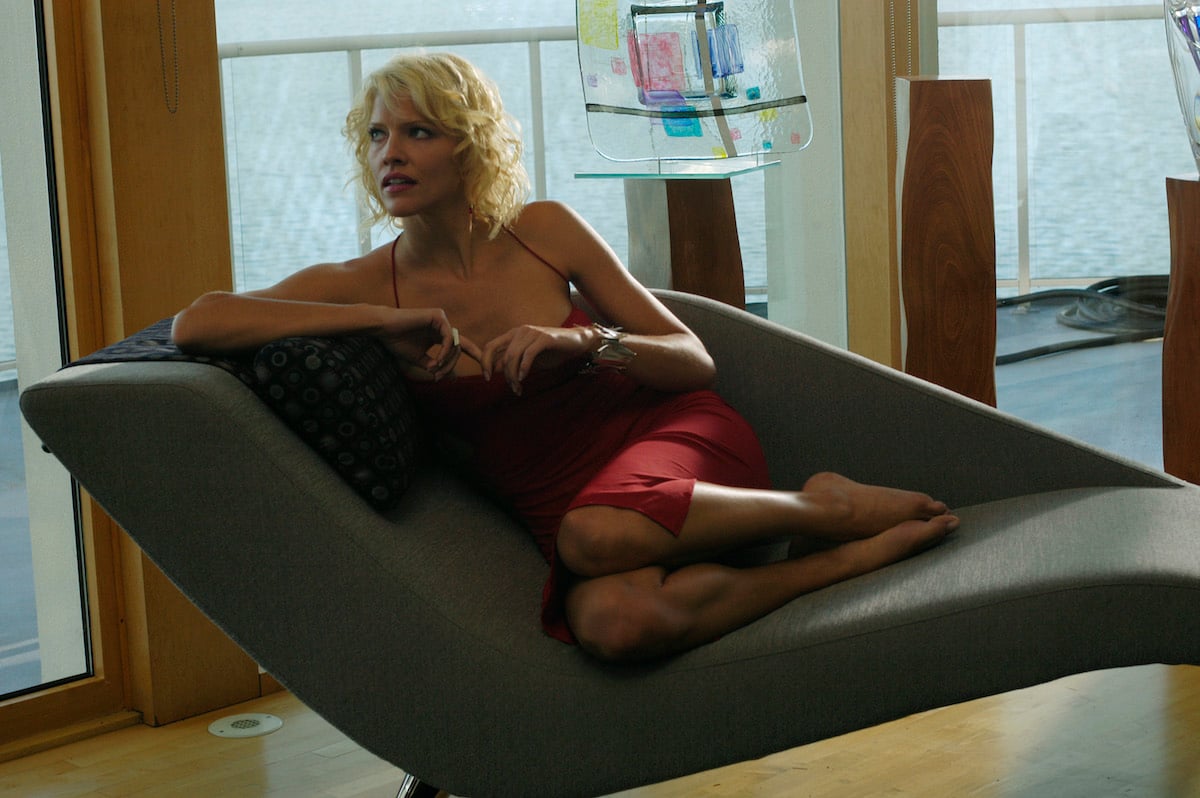 If you aren't all that familiar with Battlestar Galactica, you might not know about Number Six, the role Tricia Helfer played in the series. In the reimagined sci-fi show, Number Six is actually a family of characters or Cylon models. Helfer's character is the sixth in what they call the "Significant Seven."
So, when you're playing a quasi-alien character, it's usually implied that you have to have at least one standout, abnormal feature. For Helfer's role as Number Six, it was her blindingly white hair. Hair doesn't grow that white, meaning Helfer underwent rigorous hair bleaching to achieve the look.
According to Digital Spy, by the time the second season rolled around, Helfer's natural hair was starting to break down. She said, "my hair gets thinner and thinner," referring to the passing of each episode. It finally took its toll, and BuzzFeed says after it started falling out in chunks, they opted to start using a wig instead.
Helfer's career and other appearances
She may have embarked early on in her career as a Cover Girl model, but Tricia Helfer has also made a name for herself as an actor. Her accomplishments list is long on IMDb, with starring roles and guest appearances in a lot of titles you likely know well. And with a few projects in the works, it's not likely she's going to give up television anytime soon.
A few of her regular television roles in the past, in addition to Battlestar Galactica, which won her a Leo Award, include Lucifer, Van Helsing, Suits, and Powers. She also took on guest roles in other shows, including a recurring guest on Burn Notice for seven episodes. She also showed up in back-to-back episodes of Criminal Minds and broke into more TV appearances by landing a gig with CSI: Crime Scene Investigation. But have any of her other roles required so much transformation and "hair hell," as Helfer called it?
Helfer's other roles that required appearance changes
Aside from the rigorous hair bleaching, she endured for Battlestar Galactica, Helfer hasn't had to put her body through too much else in the way of transformation. Sure, she's changed her look over the years for various roles, including hair color and style. While filming Van Helsing, there were a few looks that required some detail in the dressing room, some prosthetics, and contact lenses. But none have quite caused as much damage as her hair makeovers from playing Number Six.
Battlestar Galactica may be over 15 years old, but it's still considered to be one of the most iconic sci-fi television series of all time. Tricia Helfer is always open about being grateful for having been a part of it. Despite losing clumps of her hair, it was a worthwhile sacrifice. Her hair's certainly grown back these days and looking pretty healthy. Her acting career appears to be just as strong, too.