Trixie Mattel Launches 'Trixie Motel' With the Help of Lisa Vanderpump, Zooey Deschanel, Katya and More
Drag superstar Trixie Mattel is serving up entirely new looks at her new project, the 'Trixie Motel.' She has only four months to transform the saddest little motel in Palm Springs. Will she do it?
It's check-in time at the Trixie Motel, a new series coming to discovery+!
Drag superstar Trixie Mattel seen on series like RuPaul's Drag Race put down a cool $2 million to buy a motel in Palm Springs and, with the help of her friends, renovates and transforms a dreary motor lodge into a magical, very Trixie pink haven.
'Trixie Motel' is a real motel, ready for guests
Trixie admitted to only seeing the motel online, but still plucked down the cash. "I'm expanding my business empire," Trixie explained in the series tease. "My partner, David [Silver], and I bought a motel we found on the Internet in Palm Springs, California."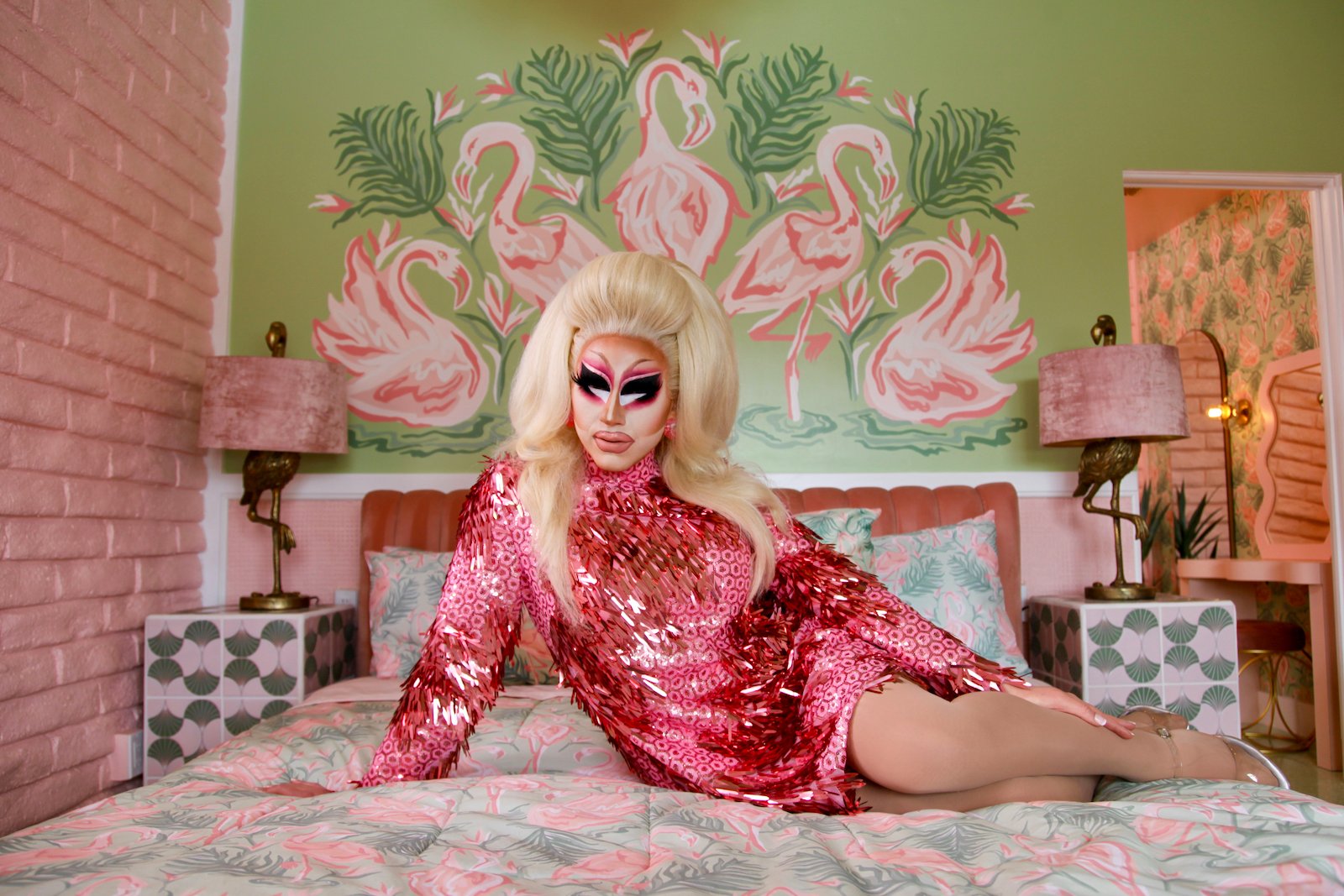 "Before we knew it, we were in Palm Springs purchasing the damn thing," she continued. "We laid down a cool $2 million, and we're pumping in another $500,000 to put this motel in drag. And it's not just for TV, it's real. Seven rooms, seven themes. But a 100% Trixie Mattel."
Trixie wasn't thrilled when she finally arrived at the property. "When I first walked into the dark and dingy motel, I was disgusted, horrified and I just wanted to take a match to the place," she shared. "But then I thought about how a little paint and glitter can turn a 32-year-old bald man from Wisconsin into a Hollywood darling, and I knew with our talented team and some strategic reconstructive surgery, we could turn this dump into a dazzler!"
Trixie Mattel is up against a tight deadline
In typical renovation reality TV-style, Trixie has a tight window to pull off the renovation and some lofty goals. "Now, here's the deal. We have only four months to complete this project before our grand opening of Pride," she shared.
"And I embark on another international tour. It's a tall order," Trixie added. "So I've hired a designer that gets my vibe. And the best Palm Springs project manager. Along with some free labor from some of my besties. By the time we are done, it is about to be the gaggiest, most iconic motel that has ever existed. And no two rooms will be alike. Where in the world could we pull this stunt off? Girl, where do you think?"
She transforms 'janky guest rooms' with the help of some famous friends
Transforming the motel in time for Pride will be no easy feat. "The property will need a full facelift, including the janky guest rooms with decades-old shag carpet and crusty wood paneling; busted air conditioning and electrical wiring; as well as the ruined pool and disastrous landscaping," according to a release from discovery+.
"Parasol in hand, Trixie will welcome Lisa Vanderpump with open arms, hoping for sage business advice and an inspirational shopping trip to get the renovation started. Throughout the season, Trixie and team push the limits of their imagination to create a motel featuring seven uniquely themed rooms, a spectacular pool area, lobby, and bar that will inspire guests to feel their Palm Springs fantasy."
She doesn't stop with just Vanderpump. Trixie also welcomes help from "comedian Nicole Byer, actor and musician Zooey Deschanel, Property Brother Jonathan Scott, and drag queen/partner in crime Katya. More famous friends lend a hand during the season, including award-winning actor Leslie Jordan, musician and model Iggy Azalea, actor and television host Jonathan Bennett, and musician Belinda Carlisle."
Trixie Motel will be available to stream beginning Friday, June 3 on discovery+.