'Trolls: World Tour' Could Be the Movie that Changes Hollywood Forever
The coronavirus pandemic continues to make an impact on just about every aspect of daily life. But in Hollywood, it might wind up leaving a particularly big impression. Movie theaters across the nation are closing up for an undetermined number of weeks, leaving moviegoers with little option but to turn to streaming services for their entertainment needs.
Studios are responding to the crisis in a variety of ways. Disney released Frozen II to Disney+ sooner than expected and also moved the digital release of Star Wars: The Rise of Skywalker up a few days. Meanwhile, Warner Bros. will send Birds of Prey to on-demand services much earlier than planned. But what of all the films expected to arrive in theaters?
In that regard, no single movie may influence the future of cinema more than Trolls: World Tour.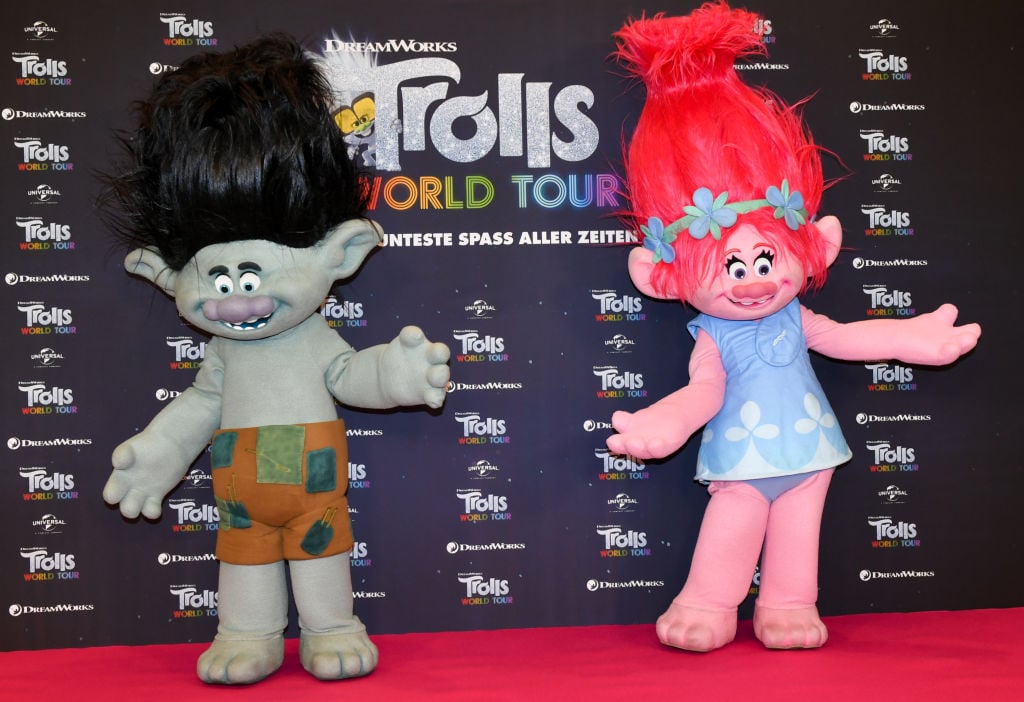 'A Quiet Place Part II,' 'Mulan' and other movies have been pushed
Trolls: World Tour was set to arrive in theaters on April 10, 2020. Now that most major theaters are closing, fans will have a hard time tracking down a screening. But even before chains like AMC and Regal made that difficult call, studios were deciding to pull their big films from the schedule.
March and April releases such as No Time to Die, A Quiet Place Part II, Fast and Furious 9, and Mulan had all either moved to much later release dates or been shelved for the time being. With Hollywood facing an uncertain future, one can hardly blame studios for protecting their investments.
After all, releasing such anticipated movies in this climate hardly seemed like a smart business decision. The companies could stand to lose hundreds of millions of dollars in the process. Soon, it became clear Trolls: World Tour would be the only remaining big studio film before May. Would it too move?
Universal will make all theatrical releases available for home viewing
Actually, Universal remained quiet on what it would do with the animated sequel. All eyes were on whether Trolls: World Tour would also reschedule. The first film earned $347 million worldwide, and the sequel could stand to do even bigger business. Provided, of course, people went to the theaters.
But rather than pulling the movie, Universal made a bold move. The studio instead announced it would make all its current theatrical releases available for home viewing. Starting March 20, fans can rent The Invisible Man, The Hunt, or Emma for $19.99 for a 48-hour period.
Although smaller films have made similar moves, rarely has such a huge studio released a movie on-demand at the same time as its theatrical run. Moreover, Universal's plan — which, obviously, doesn't include the postponed Fast and Furious 9 — would apply to Trolls: World Tour as well.
'Trolls: World Tour' arrives on demand the same day as theaters
Trolls: World Tour isn't some independent release. The first movie features a star-studded cast and a $125 production price tag. So we can assume the sequel matches or exceeds that figure. So Universal's decision to stick to the film's announced release date is a major test of the current system.
Never before has a major studio attempted to release such a big film on demand at the same time as theaters. If the move succeeds, it could be the turning point that fundamentally changes how audiences watch movies. And Trolls: World Tour will be the movie that tips the scales.
For years, movie theaters have shown signs of atrophy. Universal's attempt to save face — and limit profit loss — during the coronavirus pandemic could wind up changing everything. If studios see an easier way, they might rely less on theater chains and shared profits and simply do it themselves.