'Trolls: World Tour' Sets a Record-Breaking New Benchmark for Digital Releases
Hollywood productions have come screeching to a halt. And movie theaters have all but completely shut down. So what's the entertainment industry to do in such challenging times? The answer, as it turns out, is to embrace innovative applications of the streaming platform.
Several different studios have attempted to make the best of the coronavirus pandemic by releasing their early 2020 movies digitally. Disney, Warner Bros., and Sony have made their films available for purchase. But Universal has made a much bolder move, especially in regards to Trolls: World Tour.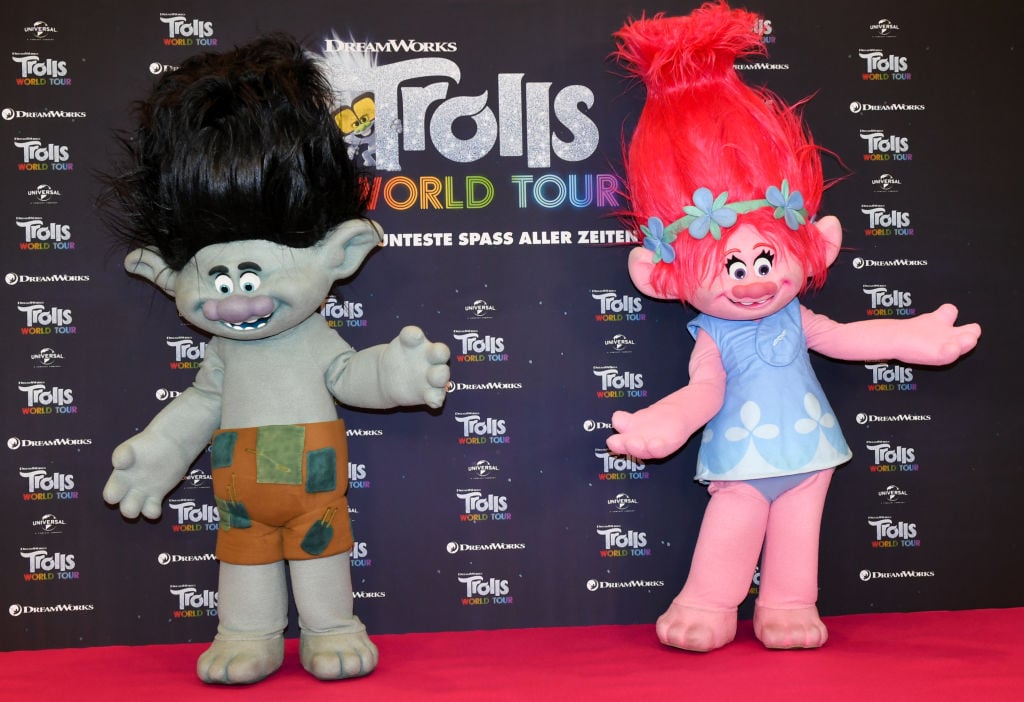 Universal took a big risk with 'Trolls: World Tour'
When it became apparent movie theaters were closing down, Universal made then-current theatrical releases The Invisible Man, Emma, and The Hunt available for digital rental. For $19.99, fans could access the films for 48 hours. Factoring in the price of movie tickets, this isn't such a bad deal. However, the studio's biggest gamble came with Trolls: World Tour.
The film — a sequel to the 2016 hit — had been scheduled for a theatrical release on April 10, 2020. But with the coronavirus pushing movies off the schedule, Universal decided not to move Trolls: World Tour. Instead, the studio doubled-down, announcing a simultaneous release in any remaining theaters and on-demand platforms.
Movie theaters are already suffering domestically, and this decision could begin to shift the industry even more towards streaming. Trolls: World Tour is a big production, costing as much as $100 million to make. So it is easily the most high-profile example of a major studio taking a risk on a huge digital release. Now Trolls: World Tour could be a sign of things to come.
'Trolls: World Tour' broke records for a digital release
According to reports, Trolls: World Tour has topped every single digital platform in its debut weekend. That's to be expected, considering the unprecedented circumstances behind its release. Still, the impact of this milestone — its opening day and weekend was 10 times larger than Universal's own Jurassic World: Fallen Kingdom — is undeniable.
Part of the film's success is likely due to the number of families engaged in self-quarantine right now. Trolls: World Tour must have seemed like a breath of fresh air, especially given the $347 million success of the first film. And on social media too, the movie generated 14,000 tweets in the week leading up to its release.
The movie could change the way movies are released
Without any concrete numbers, it's impossible to quantify the success of Trolls: World Tour. How, for instance, will the money it makes on digital compare with what it could have made as a traditional theatrical release? It's hard to say without knowing how many downloads it took for the film to top all the charts.
Right now, there's a very strange alchemy involved in the film's release too. As long as movie theaters remain a factor, studios will likely still make that a priority. But with streaming on the rise worldwide and North American theaters slipping, it's easy to imagine a world in which some major studio movies only receive a theatrical run overseas.
Granted, the big event movies like Black Widow, Fast and Furious 9, and Wonder Woman 1984 are probably still safe bets for theatrical release stateside. But Netflix and Amazon Prime Video already snatch up mid-budgeted movies. So there's a very real possibility other studios will start following suit. From there, who knows where it will lead? But it started with Trolls: World Tour.