'Twilight' Saga: Kristen Stewart Named This Cast Member the Best Kisser & It's Not Who You Think
Kristen Stewart opens up about the challenge of the kissing scenes in Eclipse. But which Twilight cast member does Stewart name the best kisser?
Between vampires that can read minds and see into the future and werewolves who are incredibly strong and don't age, Twilight is chock full of things that are out of the ordinary. But, at its core, the film and its sequels: New Moon, Eclipse, Breaking Dawn – Part 1, Breaking Dawn – Part 2, is a love story. At the heart of that love story are Kristen Stewart, Robert Pattinson, and Taylor Lautner, who were cast as Bella Swan, Edward Cullen, and Jacob Black respectively.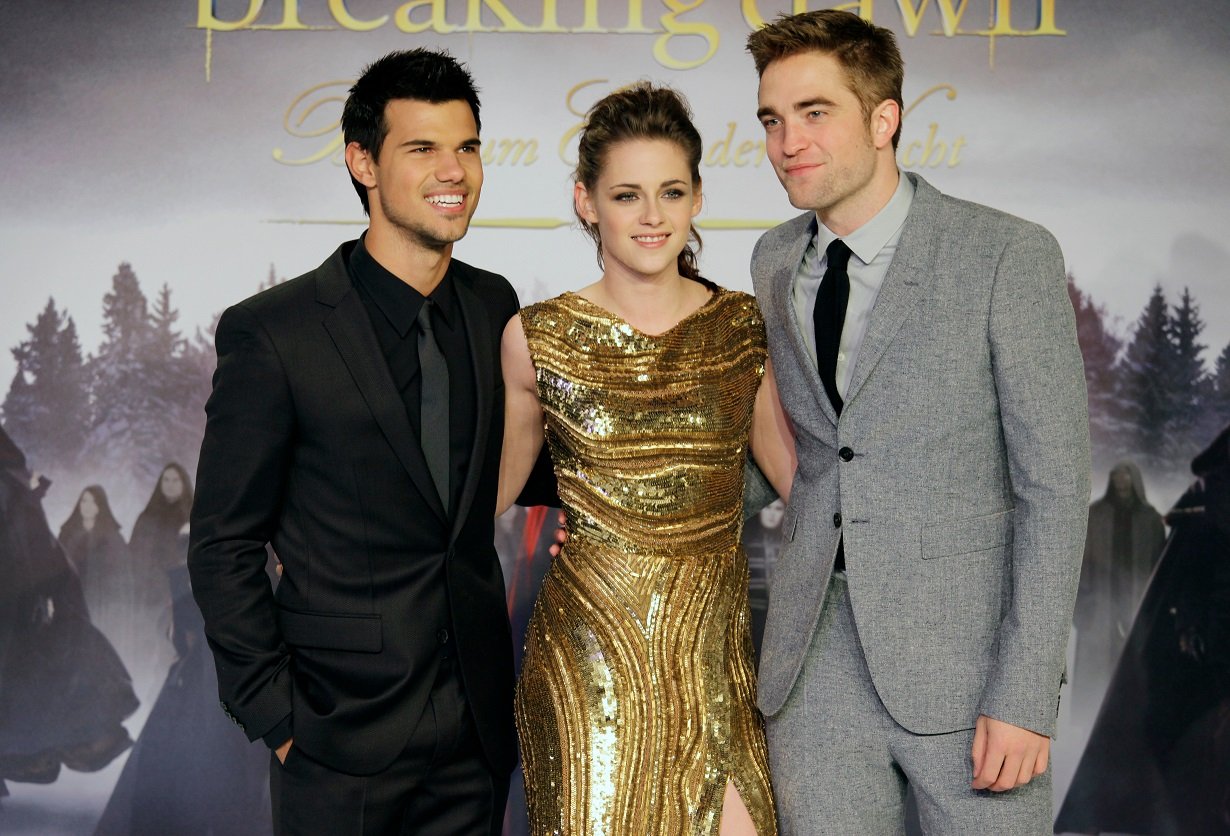 Plenty of massive film franchises feature some sort of love triangle and The Twilight Saga was certainly no exception. Of course, this triangle is most apparent in the third movie, Eclipse. Following Edward's return, Bella finds it difficult to navigate a relationship with her boyfriend, Edward, and her best friend, Jacob. It becomes more and more evident that Bella is in love with both of them, though she struggles to admit that to herself until the movie's climax.
Kristen Stewart found it difficult to film one of the kissing scenes in 'Eclipse'
But the battle between Edward and Jacob wasn't just difficult for Bella, it was also difficult for Stewart. In an interview with Collider, Stewart revealed that she felt so connected to Bella that she had a hard time filming the kissing scene with Lautner. Stewart shared that the scene was the first time Bella had to really confront her feelings for Jacob and Bella's decisions in that moment challenged her as an actor.
"One of the most challenging scenes would probably be kissing Jacob for real, finally for the first time, and seeing that there was a different road to go down that was desirable as well," the Twilight cast member shared. "She's got such tunnel vision that Edward is the only thing for her. That's a strange perspective. Then, I have to go in and talk to Edward about it, and it's such a different dynamic than we've ever had. It was a different Bella. I had never had to play somebody who would've done stuff like that, so that was hard, and I was nervous as hell."
Why the Jacob/Bella kissing scene was so important to The 'Twilight' Saga
According to the Stewart, it wasn't the actual kiss with Lautner that made her nervous but rather everything the kiss implied. "Just because of that moment and how different that kiss is to all of the rest of them, in that movie," Stewart shared about how important this moment was to the entire Twilight Saga. "It is the most unique moment. It's also a mistake, and I always say that Bella makes a lot of mistakes and she's willing to own them. I think it's cool to see her a little bit ashamed and, at the same time, scared."
Stewart reveals which of her 'Eclipse' castmates is the best kisser
But moments, characters, and plots aside, which of Stewart's fellow Eclipse castmates did she declare the best kisser, Pattinson or Lautner? In a surprising twist, Stewart declared that it was actually Dakota Fanning, who played Jane Volturi, who was the best kisser. Though Stewart and Fanning obviously didn't lock lips on Eclipse, they worked together on another film, The Runaways. "Dakota," Stewart shared when pressed about the best kisser of her Twilight Saga castmates. "I'm just going to have to say that because it's easier."
We can certainly see why Stewart thought choosing Fanning would be the easiest course of action. Considering Team Jacob and Team Edward are still arguing today, it's best if Stewart, like the character she was cast to play, remains as neutral as possible.