'Twilight': Kristen Stewart & Robert Pattinson Made Out in Bed for an Audition & Went 'a Little Too Far'
While their Twilight characters didn't exactly experience love at first sight, it would appear that movie stars, Kristen Stewart and Robert Pattinson had chemistry with one another from the very beginning. Most Twilight fans will recall that the pair dated while they were filming the Twilight movies. But sparks were actually flying before they even stepped on set together.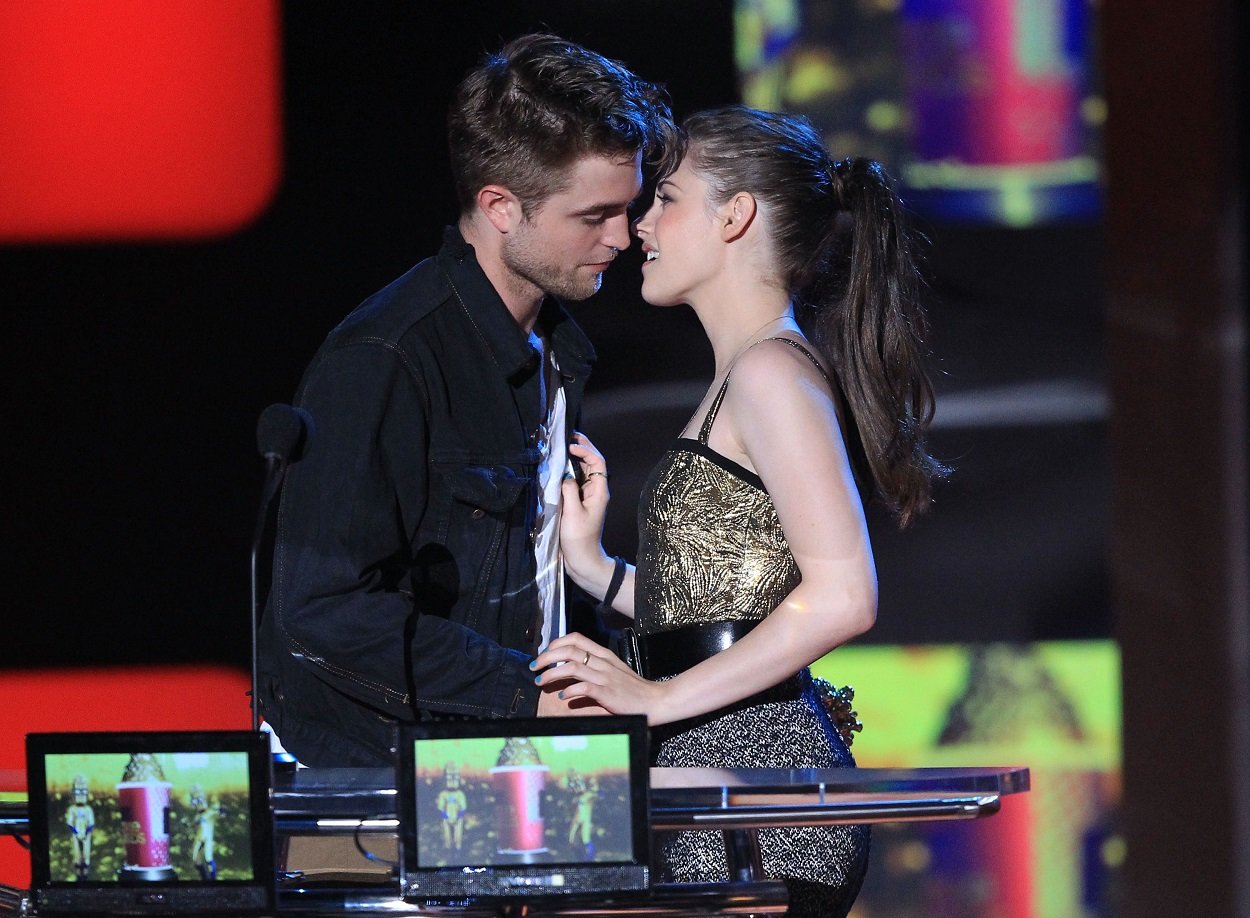 When Pattinson and Stewart first met, Stewart had already secured her place in the Twilight cast. As she had already started developing a relationship with the film's director, Catherine Hardwicke, she was allowed to sit in and give her input on the actors who were vying for the role of her love interest, Edward Cullen. Eventually, once the pool of characters was narrowed down significantly, Stewart had to get involved herself.
Robert Pattinson and Kristen Stewart had to make out for their 'Twilight' audition
When Hardwicke found her strongest contenders for the role of Edward Cullen, she invited them and Stewart to her house for chemistry reads. For those less familiar with the industry term, a chemistry read is when perspective actors act out a scene or several together to see if they have a good rapport that will translate onto the screen. Chemistry reads are fairly common, particularly for big-budget projects. But the way the Twilight director did hers was a bit unorthodox.
In an interview with MTV, Hardwicke revealed that she had Pattinson and Stewart kiss on her bed in her actual bedroom to see if sparks would fly. "We did the audition — the chemistry read — here to see if these two would have chemistry," the Twilight director shared. "To see if their kiss would be exciting and cool. They came to my house — they had just met. I said, 'I know you just met, but I need you to do this scene. We're gonna do it in my bedroom, on the bed — and you're really gonna kiss.'"
'The Batman' star went a little overboard on the kiss
Stewart had already gone through the process with other actors who were hoping to land the role of Edward in Twilight. Pattinson, however, was pretty nervous about locking lips with a virtual stranger. "He was a bit nervous, because suddenly you've just met a girl and you're going to start making out with the person — and someone is filming," Hardwicke added.
But Pattinson's nerves didn't stop him from going for it. The Twilight director recalls that The Batman star was "really wild" on the first take and she had to tell him to draw back on the intensity. "I had to tell him, 'This is going to be a PG-13 movie!' and have him settle down a little bit," Hardwicke said laughing. "Afterwards, Kristen and I were looking at each other like, 'Whoa!'
Stewart was adamant that Pattinson be cast in 'Twilight' as Edward Cullen
Ultimately, it took three takes for Pattinson and Stewart to nail the kiss that Hardwicke was looking for. When it was over, Stewart was adamant that Pattinson be cast as Edward Cullen. In fact, she told the Twilight director that he was the only one who could possibly be the right choice.
"They had to do it three times," Hardwicke admitted. "The first time, they went a little too far, and I was like, 'I can't show this to anybody at the studio!' After we finished the whole thing and we had met bachelors one, two, three, and four, Kristen said, 'It has to be Rob.' She basically threatened me." Clearly, Stewart knew pretty early on that Pattinson was the one she wanted to star opposite her in the Twilight movies. Considering the success of the franchise, we're sure millions of fans agree with her.