'Twilight': Robert Pattinson Reveals Taylor Lautner Was Too Muscular for Him to Scare in Scenes
Any fan of the Twilight movies knows about the rivalry between vampire, Edward Cullen and werewolf, Jacob Black. As both characters were in love with mortal, Bella Swan at some point in the series, they helped make up a pretty intense love triangle. In fact, most Twilight fans found themselves split into one of two camps: Team Edward and Team Bella, and often argued over who Bella should end up with and who would win in a fight.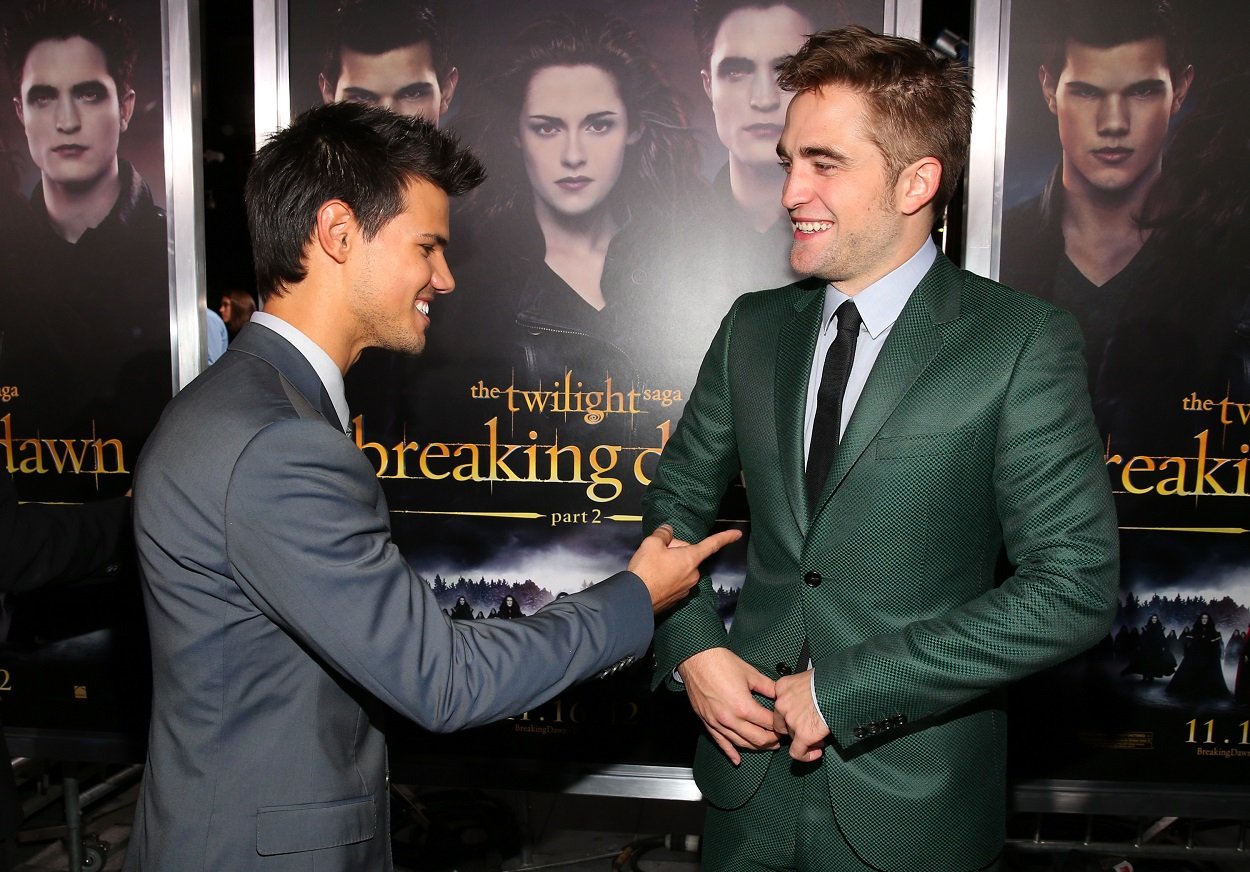 Fortunately for Bella, her best friend and her boyfriend never exchanged any serious blows. However, they do have more than one verbal altercation. Furthermore, in the third Twilight movie, Eclipse, they come very close to getting into a physical fight when Jacob kisses an unsuspecting Bella after learning that she plans on transforming into a vampire after graduation.
Robert Pattinson found filming intense scenes with Taylor Lautner hilarious
Though Jacob and Edward were often at odds, Taylor Lautner and Robert Pattinson (as well as the rest of the cast of the Twilight movies) got along pretty famously. So what was it like for them to film such an intense scene with one another? In an interview with Collider, Pattinson revealed that he always found it pretty funny when he had to do intense scenes with Lautner.
RELATED: 'Twilight': Kristen Stewart Had To Calm Robert Pattinson Down Sometimes; 'He Hated Me Too…'
"I find it quite funny when I'm doing stuff with Taylor," the Twilight star shared. Pattinson shared that for the near-fight scene, he really tried to give Lautner a good scare. "There are a couple confrontational scenes, where I push him around a little bit, and I thought I'd really scare him and grab him, and it would freak him out and turn the whole scene upside down. Then, I grabbed his shoulder and it was too big to actually get a grip on, so I just dropped my hand. It was embarrassing."
Lautner packed on 30 pounds of muscle to remain in the 'Twilight' cast
Of course, Pattinson was referring to how muscular Lautner was while they were filming Eclipse. Fans of the Twilight movies will recall that Lautner gained a whopping 30 pounds of muscle after filming the first movies so as not to lose out on the role of Jacob Black to another actor. Both Pattinson and Kristen Stewart (who played Bella Swan) shared that they were shocked by Lautner's physical transformation. Hilariously, Lautner's new physique (his muscular shoulders in particular) made it difficult for Pattinson to truly scare him in some scenes.
Pattinson recalled the spandex suit Lautner wore for the movies
But Pattinson revealed that he had his own way of getting Lautner back. Apparently, the Harry Potter alum was extremely amused by one of the costumes that Lautner had to don in order to transform into the werewolf version of his Twilight character. "I got him badly, though," Pattinson shared. "He kept having to dress up in a little grey spandex wolf suit and try to be intimidating with Kristen patting him on the head. That was quite fun."
Clearly, the cast of Twilight had some fun with one another when they were filming the movies together. We're sure diehard fans of the franchise are still holding out hope for a reunion somewhere down the line.