'Twilight': Taylor Lautner Had To 'Take Myself To Another World' To Get Through Filming This Scene
For Taylor Lautner, being a part of the Twilight cast required a lot of dedication. Not only did the actor have to commit to five movies: Twilight, New Moon, Eclipse, Breaking Dawn – Part 1, and Breaking Dawn – Part 2, but he also had to undergo a serious physical transformation. Thanks to Jacob Black's werewolf transformation, Lautner had to pack on some serious pounds or risk being replaced.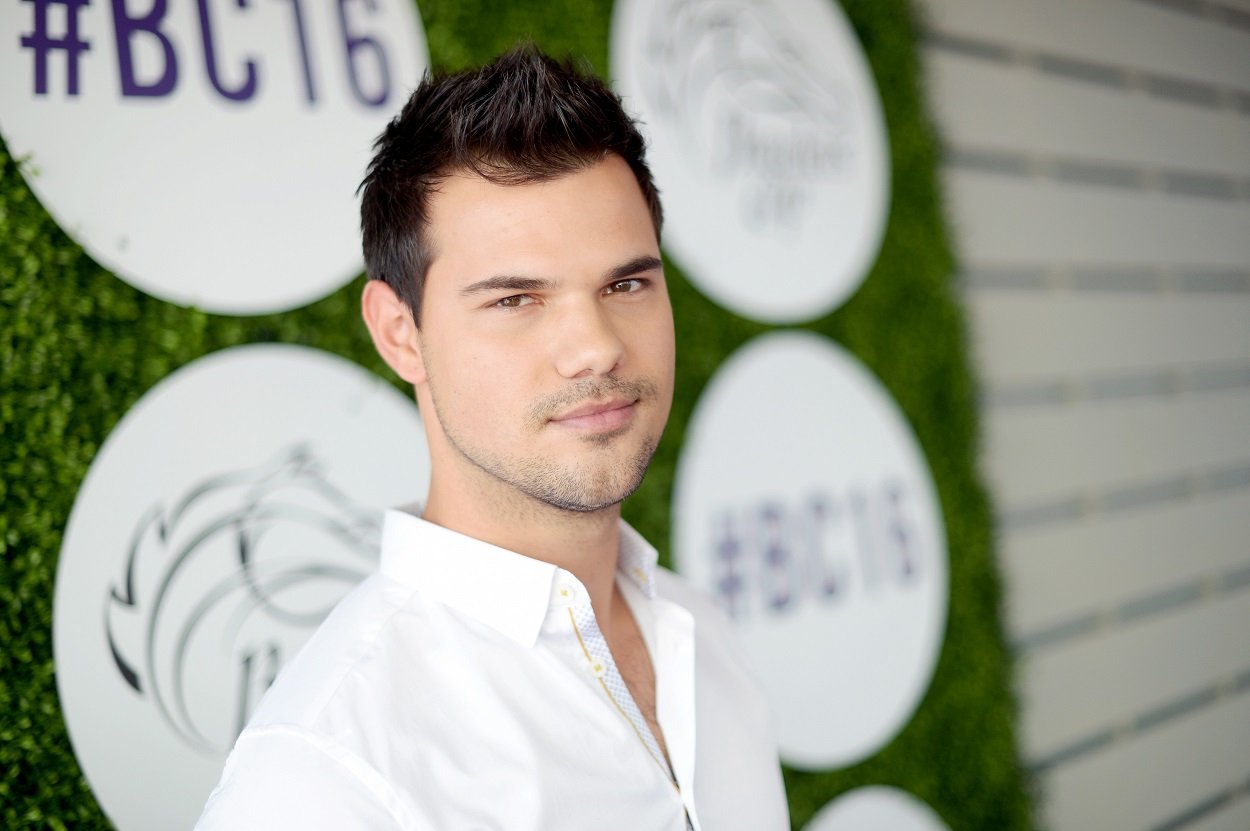 To avoid being recast, Lautner adopted an intense diet and exercise regiment prior to filming New Moon. But even after his job was secure, the hard work didn't stop there. The actor had to put in a ton of work to maintain his physique. As the Twilight star did a ton of his own stunts, that required a great deal of practice as well. All of this was, of course, in addition to learning his lines and delivering strong emotional performances. And that's not all Lautner had to contend with.
Taylor Lautner explains why he's often shirtless in the 'Twilight' movies
Another thing that made filming the Twilight movies challenging for Lautner was his lack of clothing. After his character transforms into a werewolf in New Moon, he is often shown wearing only shorts. This is because when he transforms into a wolf, his clothes get ripped. Furthermore, he runs about 10 degrees hotter than humans, so less clothing is needed to protect him from the elements.
"There's a reason that he's not wearing clothes all the time," Lautner shared in an interview with Collider, discussing the second film in The Twilight Saga. "One, when he transforms, all his clothes get shredded, he can't help it. And when he goes into the woods to get something to put so he's not naked, it's just a ripped pair of jean shorts. And he's also hot, he's one hundred eight degrees. So that's another reason."
Lautner said the rain scene in 'New Moon' was particularly difficult to film
But not wearing clothes wasn't the easiest task for Lautner. Particularly since the Twilight movies were mostly shot in cool to cold weather. It was often quite difficult for the actor to pretend that the elements weren't affecting him. One particular example that Lautner cited comes from New Moon, when he and Bella are standing in the midst of a downpour and all Lautner is sporting is a pair of jean shorts.
"Yeah, the challenging thing is Jacob is supposed to be extremely hot so he's not supposed to feel cold at all," the Twilight star revealed. "And the worst scene for that was the rain scene or the break-up scene, where Bella first sees Jacob after his transformation. We're standing on that little hill right behind Jacob's house and it was thirty-five degrees and it was pouring rain on top of us and just not regular rain, rain tower rain which comes straight from the springs."
How did the 'Twilight' star get through such a challenging scene?
Lautner continued on to share that the rain scene in New Moon was particularly difficult for him and his fellow Twilight alum, Kristen Stewart, to film. "And the scene was very long, it took four minutes to film the scene and we film that same scene all day long," Lautner revealed. "So it was really, really rough. It was hard. And as soon as we'd call cut, we'd run over to a heater quick and wrap ourselves in blankets and we'd have like two minutes before we'd have to go do another take."
So how did Lautner manage to get through this scene? According to the actor, he had to go somewhere else mentally to get through it. "So the weather was definitely extremely challenging and I just had to take myself to another world so during the scene I wasn't sitting there shivering. It was hard, sometimes I'd catch myself and I'd have to stop." Clearly, actors in the Twilight movies had to make some sacrifices to ensure that the films were both visually stunning and true to the books. We guess that's part of the reason that they made millions for their performances.