'Twilight': Unlike Taylor Lautner, Robert Pattinson Was Told to 'Put His Shirt Back On'
Though it's been years since the height of the Twilight mania, the movies are still wildly popular all over the world. Recently, the five films were added to Netflix and they quickly became some of the most-watched films on the platform. From 2008 to 2012, the films dominated the box office, making billions of dollars worldwide. Furthermore, they catapulted the three main cast members: Kristen Stewart, Robert Pattinson, and Taylor Lautner into superstardom.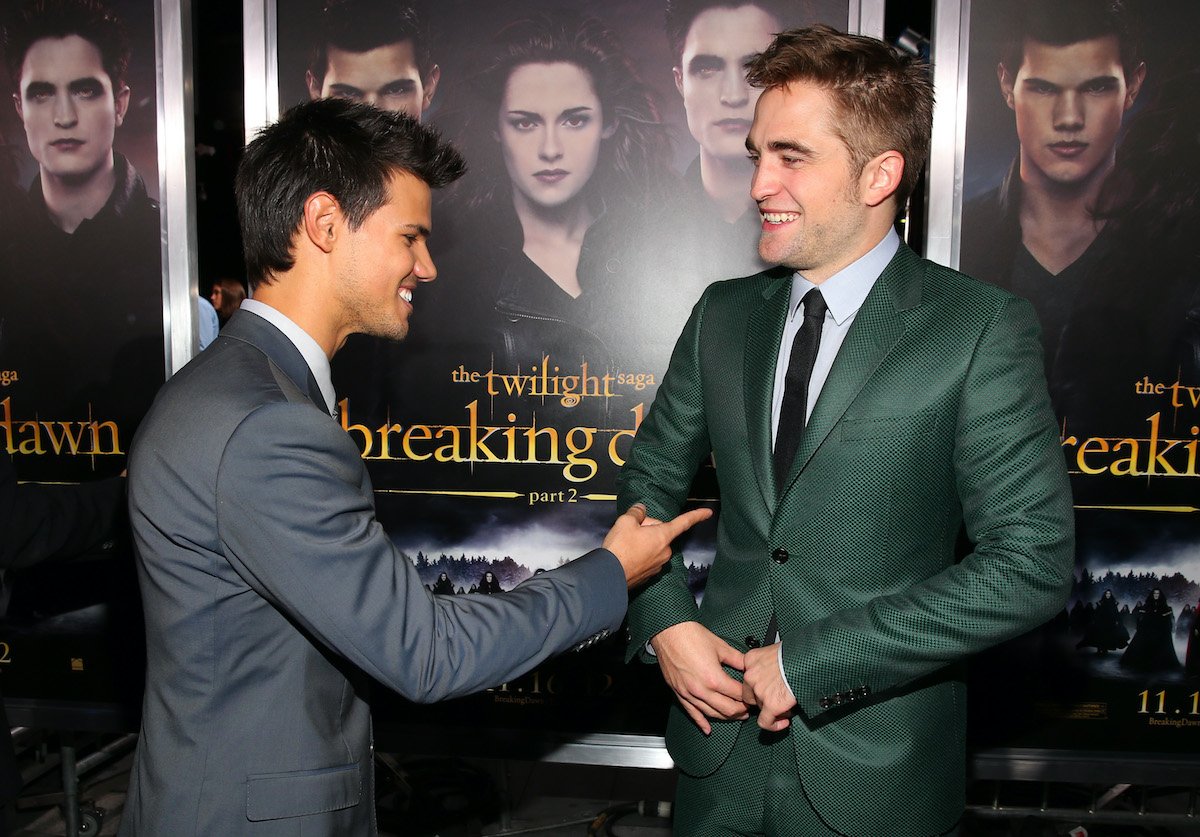 Thanks to the love triangle featured in the Twilight movies Pattinson and Lautner quickly earned the title of "heartthrobs." Fans of the films quickly declared themselves Team Edward or Team Jacob and obsessed over their personalities and physical appearances. Naturally, the films played into this, encouraging both actors to be in tip-top shape so that they could show off their physiques. Lautner, especially, received tons of attention for his physique because his character, Jacob Black, was written to be extremely buff and shirtless for the majority of New Moon and all of Eclipse, Breaking Dawn – Part 1, and Breaking Dawn – Part 2.
Robert Pattinson reveals he was told to keep his shirt on while filming the 'Twilight' movies
Contrastingly, Pattinson's character, Edward Cullen, was rarely seen without a shirt in the Twilight movies. In an interview with GQ, Pattinson joked that that likely had to do with the fact that he isn't as buff as some of his fellow actors. The Batman star doesn't believe in going to extremes in the pursuit of fitness. In fact, he didn't really even follow an exercise plan before stepping into the iconic role of Bruce Wayne.
"I think if you're working out all the time, you're part of the problem," Pattinson revealed. "You set a precedent. No one was doing this in the '70s. Even James Dean—he wasn't exactly ripped." Continuing on, he shared that while he was filming the Twilight movies they actually requested that he put his shirt back on shortly after asking him to remove it. "The one time they told me to take my shirt off, I think they told me to put it back on again."
Taylor Lautner had to workout consistently the keep his role in the cast
Of course, Pattison's fellow co-star, Lautner, had a completely different approach to fitness while filming the Twilight movies. Since Lautner was in danger of losing his role if he couldn't bulk up, he began training consistently the very day that filming for the first movie stopped. In a conversation with Interview Magazine, Lautner explained how he was able to pack on 30 pounds of muscle in such a short amount of time.
How did Lautner gain so much weight for the 'Twilight' movies?
"I was in the gym five days a week, two hours a day," the Twilight actor shared. "At one point, I was going seven days straight. I had put on a lot of weight, and then I started losing it drastically, so I was worried. It turned out I was overworking myself. My trainer told me that I couldn't break a sweat, because I was burning more calories than I was putting on." Clearly, Lautner's fitness regiment was different from Pattinson's. But, as they were both committed to their respective roles, it didn't make a huge difference in the long run.