'Twilight': We All Know About Robert Pattinson and Kristen Stewart, But Did Any Other Co-Stars Hook Up?
The 'Twilight' set was full of twentysomethings, so it's normal for hook-ups to happen. Did any of Robert Pattinson and Kristen Stewart's co-stars ever get together?
Nearly a decade after the Twilight Saga came to an end in theaters, there are still fans shipping Kristen Stewart and Robert Pattinson. This is despite the fact that the on-screen lovers had a real-life romance that ended in disaster. But, were they the only ones?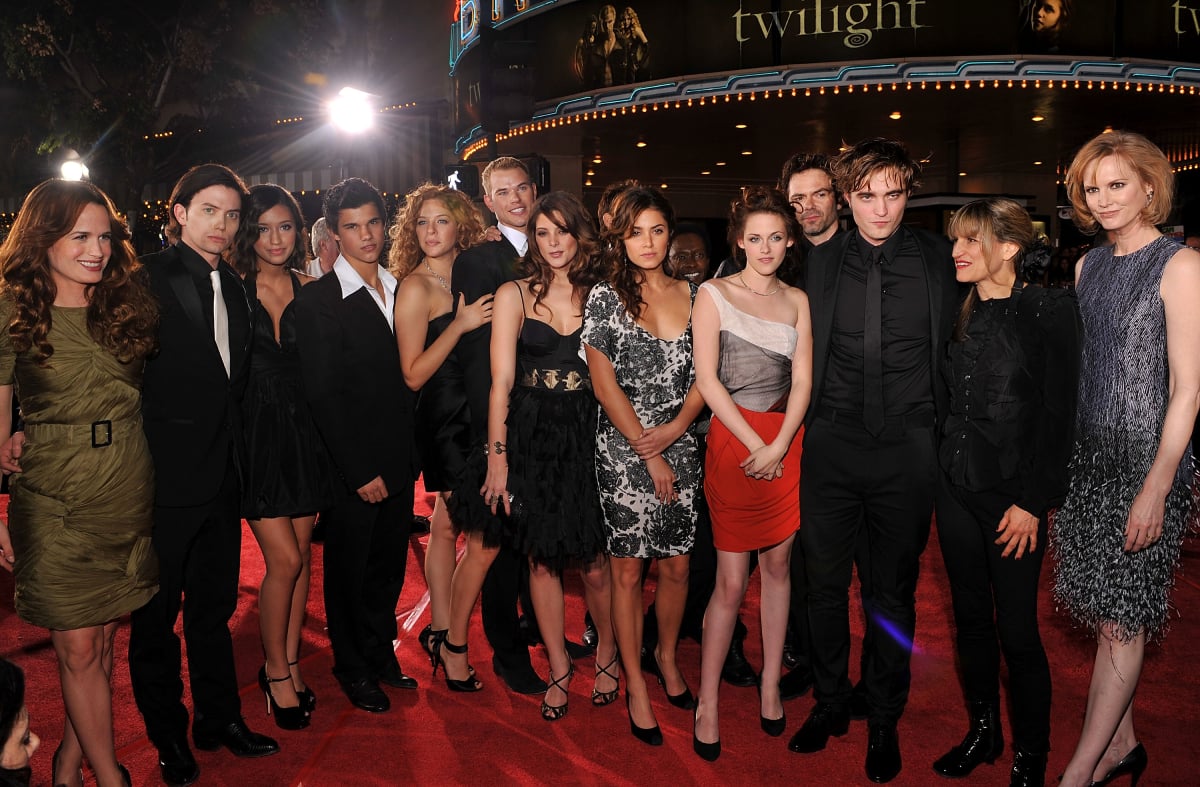 With a movie set full of twentysomethings, it's normal for hook-ups to happen. Did any of Pattinson and Stewart's Twilight co-stars ever get together?
Robert Pattinson was briefly connected to his 'Twilight' co-star Nikki Reed
Before Pattinson and Stewart went public with their relationship, rumors swirled that something was going on between him and Nikki Reed. LaineyGossip reported in March 2009 that cameras caught Reed going to Pattinson's place before they met up with friends.
Later that same night, Pattinson and Reed ended up at a Juno Awards after-party with Kristen Stewart and her then-boyfriend, Michael Angarano. Insiders dished that Pattinson and Reed spent most of the evening talking to each other with their "heads bent close together."
In the wee hours of the morning, Pattinson, Reed, Stewart, and Angarano left the event together and then hugged before parting ways.
"Kristen and Michael hopped in a cab, and Nikki and Rob walked further up the block… arms wrapped around each other on their way home," the sources claimed. "She stayed with him overnight, was supposed to be back in LA on Monday….But never showed."
Seven months later — just before the premiere of New Moon and just after Robsten made their debut — Reed set the record straight about the Pattinson rumors.
"Rob and I were never together," Reed declared.
Cameras caught Ashley Greene and Jackson Rathbone kissing
According to Hollywood Life, in 2011 cameras caught Ashley Greene and Jackson Rathbone kissing at Los Angeles bar Angels & Kings. An insider also confirmed that the reports of a makeout session were true.
"Ashley and Jackson were drinking and talking with a large group of friends and his band members," the source dished. "There were a lot of Twilight fans there as well."
The insider revealed that Green and Rathborne were "kissing throughout the night," and they would often make out "really wildly." However, the source stated that the co-stars were just good friends.
"You can tell they are close friends, although they didn't necessarily act lovey-dovey other than the random kissing. But, although there were a lot of people in the bar, they didn't in any way try to hide it," the source said.
'Twilight' stars Kellan Lutz and Ashley Greene discussed moving in together
According to Irish Central, Greene is also really good friends with Kellan Lutz. After playing adopted brother and sister Emmett and Alice Cullen, Greene and Lutz grew so close that they discussed sharing an apartment together in New York City.
Lutz explained in 2011that he and Greene are never in the city at the same time, but they both love New York.
"So we'd be roommates without being roommates…more like housemates," Lutz said.
Another pair of close friends on the Twilight set was Stewart and Taylor Lautner. In 2019, Stewart reunited with Lautner at his 27th birthday party. Stewart appeared in several photos at the surprise party thrown by Lautner's girlfriend, Taylor Dome.
Since the end of the Twilight Saga, Stewart and Lautner have enjoyed multiple public reunions. In 2015, they attended a Sam Smith concert together. Lautner also attended the premiere of Stewart's film American Ultra and they walked the red carpet together.
It appears that the only true hook-up to emerge from Twilight is Robert Pattinson and Kristen Stewart. But, if there were others, fans will most likely never know about it.