Twitter Accuses Jake Paul of 'Lying' After He Denies Looting Arizona Mall Amid George Floyd Protests
Jake Paul has found himself in yet another controversy.
After video footage showed the YouTuber and his crew amongst looters vandalizing/stealing from a shopping mall in Scottsdale, Arizona, many were convinced that he, too, was demolishing stores and businesses to gain attention. However, Paul insists that he was not taking part in any wrongdoings that night, which Twitter has a hard time believing.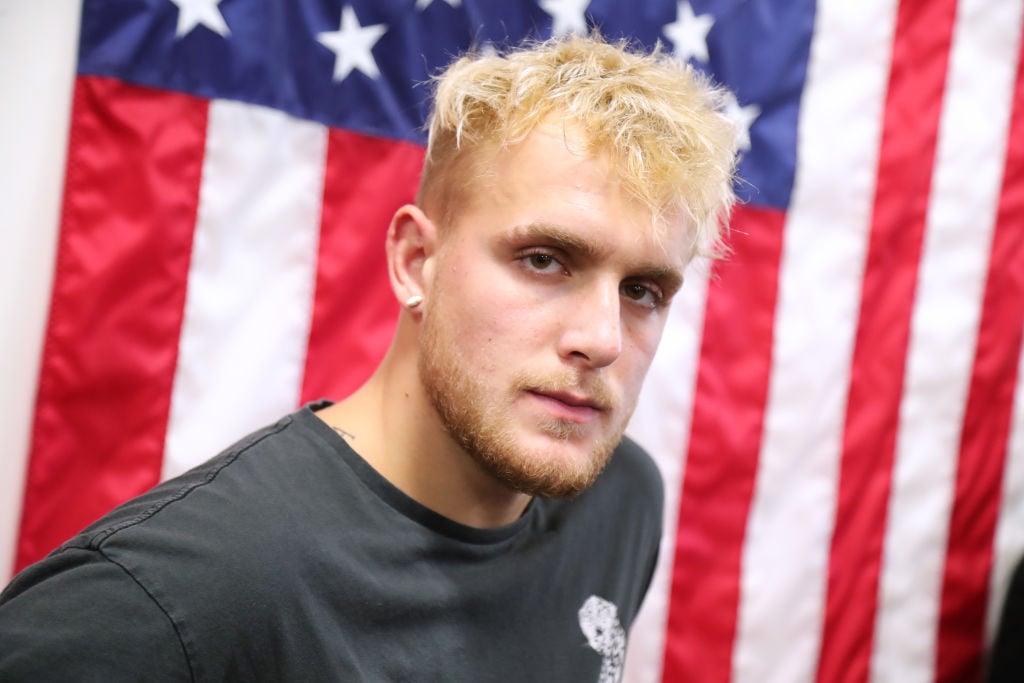 Paul and his team were spotted amongst looters
Although Paul claims he didn't take part in any looting at the Scottsdale Fashion Square mall in Arizona on May 30, he and his team were right in the middle of all the action that night.
In a series of videos shared to his videographer Andrew Blue's Instagram Story, Paul and his team are seen wandering around the mall as rioters smash store windows and, in one instance, strike a car on display.
The looting came amid a wave of protests across the country following the death of George Floyd, an unarmed black man who died after a white Minneapolis police officer knelt on his neck for more than eight minutes.
While many people have been peacefully protesting to seek justice for those minorities who've died at the hands of white officers, others have been resorting to violence and destruction — taking their frustration out on various stores and businesses.
Though a handful of individuals were recorded vandalizing the Scottsdale mall, Paul wasn't shown stealing or breaking anything.
However, the videos have since prompted a wave of criticism online from people accusing the YouTuber of using the nationwide protests for his own personal gain.
"[Why] destroying a mall and taking stuff? thats peacefully protesting to you? im just gonna leave this here.. HES USING THIS IMPORTANT RIOT FOR LIKES," one Twitter user wrote.
Someone else noted that Paul and his team weren't even in the same town the Black Lives Matter protests were taking place, which was in Phoenix.
They wrote, "Then why were you not in downtown Phoenix where the protest was actually happening…."
The YouTuber claims he wasn't looting
After many Twitter users called him out for vandalizing property and being the "epitome of white male privilege," Paul responded to the ongoing backlash on social media.
In a lengthy statement released on Twitter, Paul denied accusations that he was involved in the mall's vandalism, claiming that he does not "condone" criminal acts of any kind — despite what others might think.
"To be absolutely clear, neither I nor anyone in our group was engaged in any looting or vandalism," he wrote. "I do not condone violence, looting or breaking the law; however, I understand the anger and frustration that led to the destruction we witnessed and while it's not the answer, it's important that people see it and collectively figure out how to move forward in a healthy way."
Paul wrote that he and his team did attend the protest in Phoenix but were tear-gassed and told to go somewhere else by police.
The vlogger and his crew eventually found themselves in the middle of a break-in at the Scottsdale Fashion Square mall, where they decided to film everything they saw for his YouTube channel.
After sharing the tweet, many responded with confusion, as some pointed out that Paul seemed to be encouraging the looters in the videos.
"You walked around filming them excitedly saying "sh*t is going down, sh*t is going down" with a vlog camera," one person highlighted. While another pointed out, "He literally tried to break a window of a car inside the mall and it's on video he's just straight lying. He was also hyping up the people doing most of the looting going woo and making loud noises and getting all excited. Never seen someone so dumb."
Though Paul says he does not condone violence, it sounds to followers that he and his crew were doing just that.