'Two Tickets to Paradise': Cast, Filming Location, and How to Watch the New Hallmark Movie
Ryan Paevey and Ashley Williams play two strangers who meet after each is left at the altar in Hallmark Channel's new movie Two Tickets to Paradise. It premieres Saturday, June 25, and was filmed on location in Hawaii.
'Two Tickets to Paradise' premieres June 25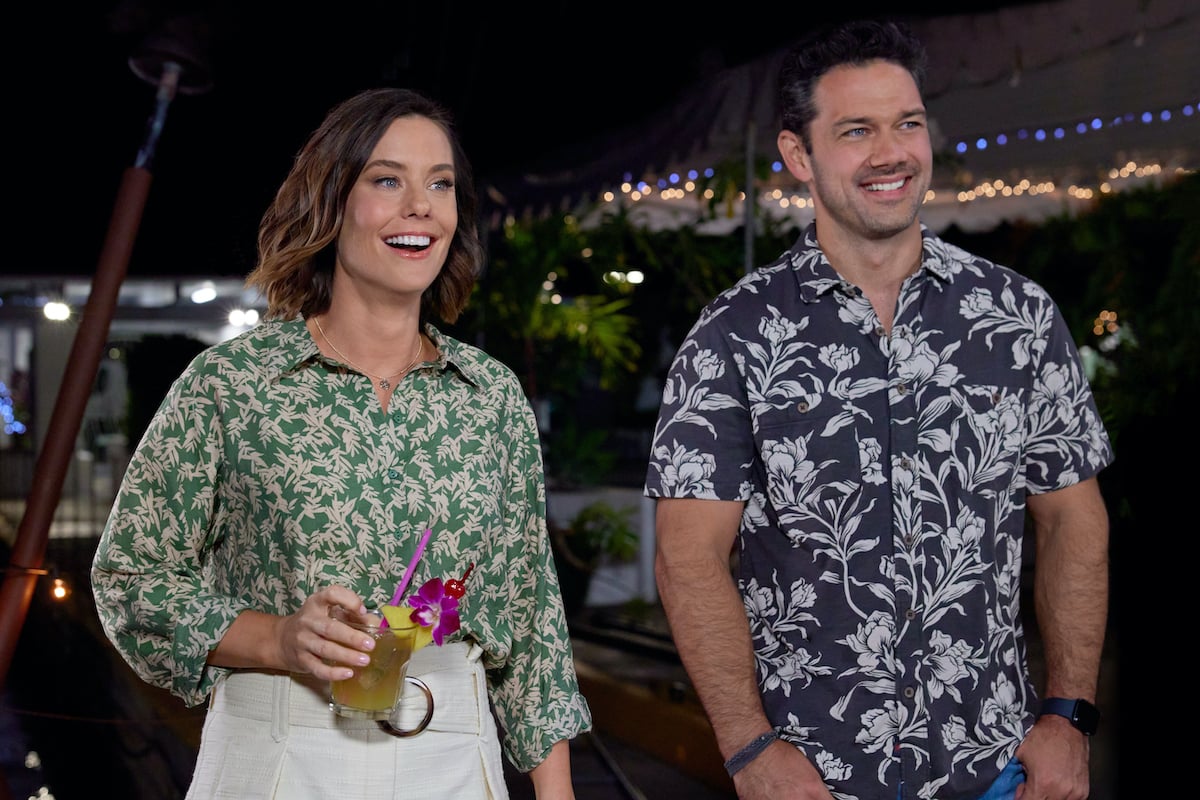 Two Tickets to Paradise premieres Saturday, June 25 at 8 p.m. ET on Hallmark Channel. The movie is part of the network's "Summer Nights" programming event.
In the movie, Hannah Holt and Josh Wyatt meet on what may be the worst day of their lives. Both have just been left at the altar. By chance, they sit down next to each other on the same park bench. After meeting, they encourage each other to take their honeymoon vacations despite their romantic disappointment. They jet off to paradise, where they discover that they're staying at the same Hawaiian resort.
Hannah and Josh keep crossing paths, and he introduces her to his friend Alice, who lives on the island and shares some wisdom with the heartbroken pair. Eventually, Hannah and Josh realize they can't fight fate. They join forces to learn from each other and enjoy their vacations.
It stars Ryan Paevey and Ashley Williams  
RELATED: 'Sister Swap': Ashley Williams 'Had a Heavy Hand in Every Aspect' of Her New Hallmark Christmas Movies
Two Tickets to Paradise stars two Hallmark Channel regulars. Ryan Paevey plays Josh. He's previously appeared in a dozen other Hallmark movies, including Coyote Creek Christmas, Christmas at the Plaza, and A Little Daytime Drama with Jen Lilley. Ashley Williams plays Hannah. She's appeared in Hallmark movies such as Love on a Limb, Christmas in Evergreen, and October Kiss. In 2021, she and her sister, Kimberly Williams-Paisley starred in Sister Swap: A Hometown Holiday and Sister Swap: Christmas in the City.
In addition to Paevey and Williams, Two Tickets to Paradise features Mary Margaret-Hume as Alice, Kimee Balmilero as Kailani, Olivia Hoffman as Cee Cee, and Jhey Castles as Sara.
The Hallmark Channel movie was filmed in Hawaii
Like several other recent Hallmark movies, Two Tickets to Paradise was filmed on location in Hawaii. That meant that Paevey was able to indulge in one of his passions, surfing. His character in the movie also enjoys the sport.
"We got to surf on the west side of the island," Paevey said in a live chat with Williams (via YouTube). "We went to a surf spot called Makaha first … it was super-small and kind of not great, so we got on a boat and boated to this other place and it was super fun. I grew up surfing with my dad, so that's something I've liked to do for forever … that was amazing."
"It's hard to have a bad time making a movie in Hawaii," he added.
For more on the entertainment world and exclusive interviews, subscribe to Showbiz Cheat Sheet's YouTube channel.
RELATED: Ryan Paevey's Best Hallmark Movies, According to IMDb