TXT: Huening Kai Releases a Surprise Cover of Avril Lavigne's 'Sk8er Boi'
Soobin, Yeonjun, Beomgyu, Taehyun, and Huening Kai of the K-pop group Tomorrow X Together frequently release song covers with their own unique interpretation. On Feb. 19, Huening Kai released a cover of Avril Lavigne's hit song "Sk8er Boi." After the TXT member shared the cover, Lavigne praised the cover on social media.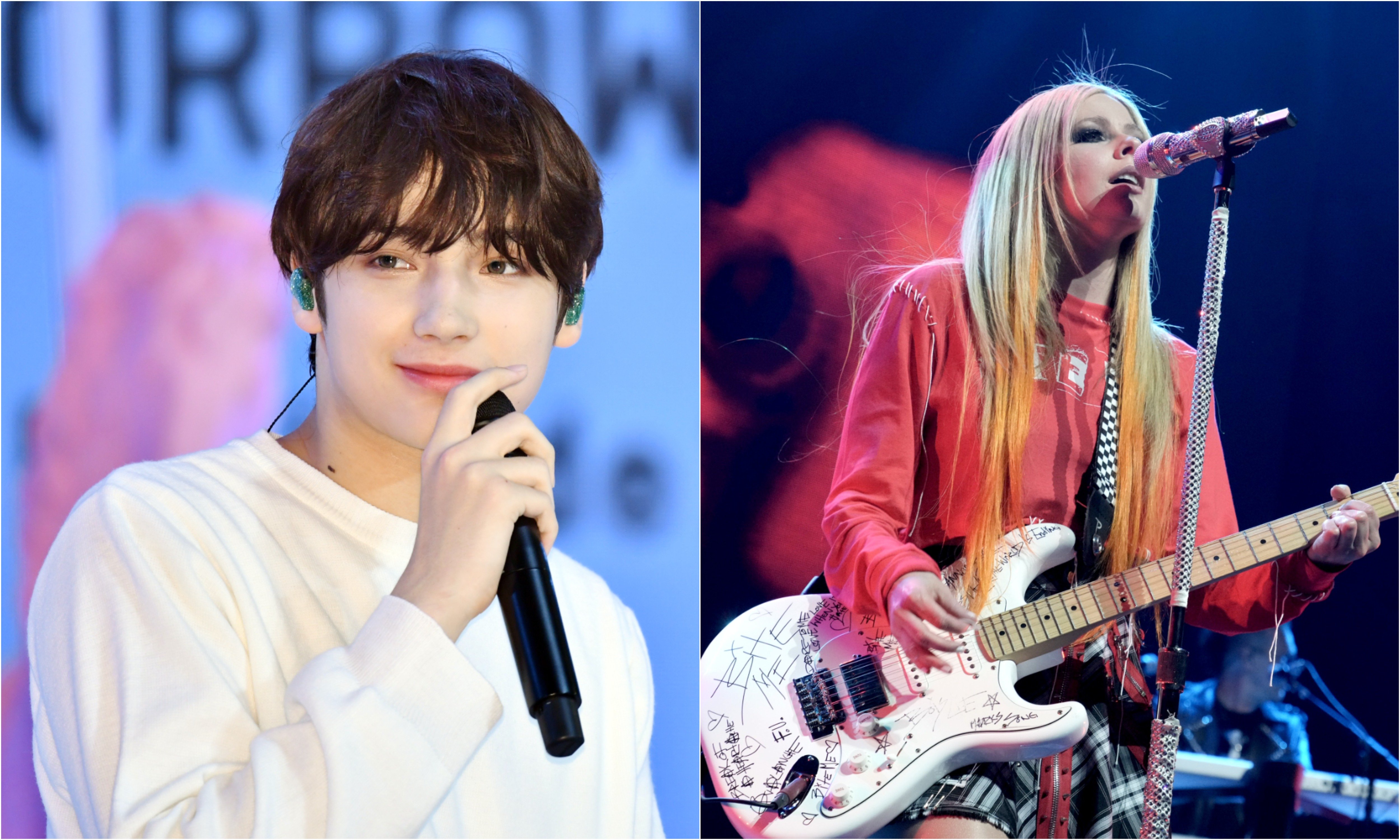 TXT's Huening Kai released a cover of Avril Lavigne's song 'Sk8er Boi'
Huening Kai released the cover of "Sk8er Boi" on Feb. 19. The cover was released on TXT's official YouTube channel and included an animated visualizer of someone riding a blue skateboard.
According to a press release, "HUENINGKAI put a fresh new spin on 'Sk8er Boi' with his refreshing vocal. He sang the lyrics with much teen spirit, enhancing the bold, energetic mood of the track in a carefree and funky tone."
Lavigne originally released "Sk8er Boi" in 2002 as a single from her album Let Go. It received a nomination for Best Female Rock Vocal Performance at the 2003 Grammy Awards.
Years after its release, the single is considered one of Lavigne's best songs in her entire discography.
Avril Lavigne saw Huening Kai's cover
In the days leading up to the "Sk8er Boi" cover, Huening Kai teased the song's release on social media. On the Twitter account run by the members of TXT, the TXT singer shared a photo holding a skateboard.
Lavigne proceeded to share his teaser photo and commented the Sign of the Horns emoji in her own tweet.
Huening Kai shared Lavigne's response on Twitter and wrote, "Hope you like my cover!! You are an icon."
Lavigne then found Huening Kai's cover on TXT's official Twitter account and praised Huening Kai's version.
"Amazing cover!" Lavigne tweeted.
TXT will put on a fan live event in March
Both TXT and Lavigne have big plans coming up. On Feb. 25, Lavigne will release an album called Love Sux. Soobin, Yeonjun, Beomgyu, Taehyun, and Huening Kai of TXT will hold a fan live event called 2022 TOMORROW X TOGETHER FANLIVE MOA X TOGETHER on March 5 and March 6.
MOA X TOGETHER will be TXT's third fan live event. It will have an in-person audience and a livestreaming option.
According to a press release about MOA X TOGETHER:
"The fan live will take place over two days on March 5 and 6, following TOMORROW X TOGETHER's debut anniversary on March 4. Both shows will take place both offline and online through real-time live streaming. The live stage on March 6 will incorporate a 'global version' with performances of the band's foreign-language tracks. Offline events will comply with government quarantine guidelines and are therefore subject to change. In the case offline performances can no longer be available, 'MOA X TOGETHER' will take place via online streaming only."