TXT: Yeonjun and Taehyun Cover The Kid Laroi and Justin Bieber's Song 'Stay'
The Kid Laroi and Justin Bieber originally released their song "Stay" on July 9. The song became a huge hit and reached No. 1 on the Billboard Hot 100. On Oct. 20, Yeonjun and Taehyun of the K-pop group Tomorrow X Together released a cover of "Stay." The TXT members also posted a video performance clip of their cover.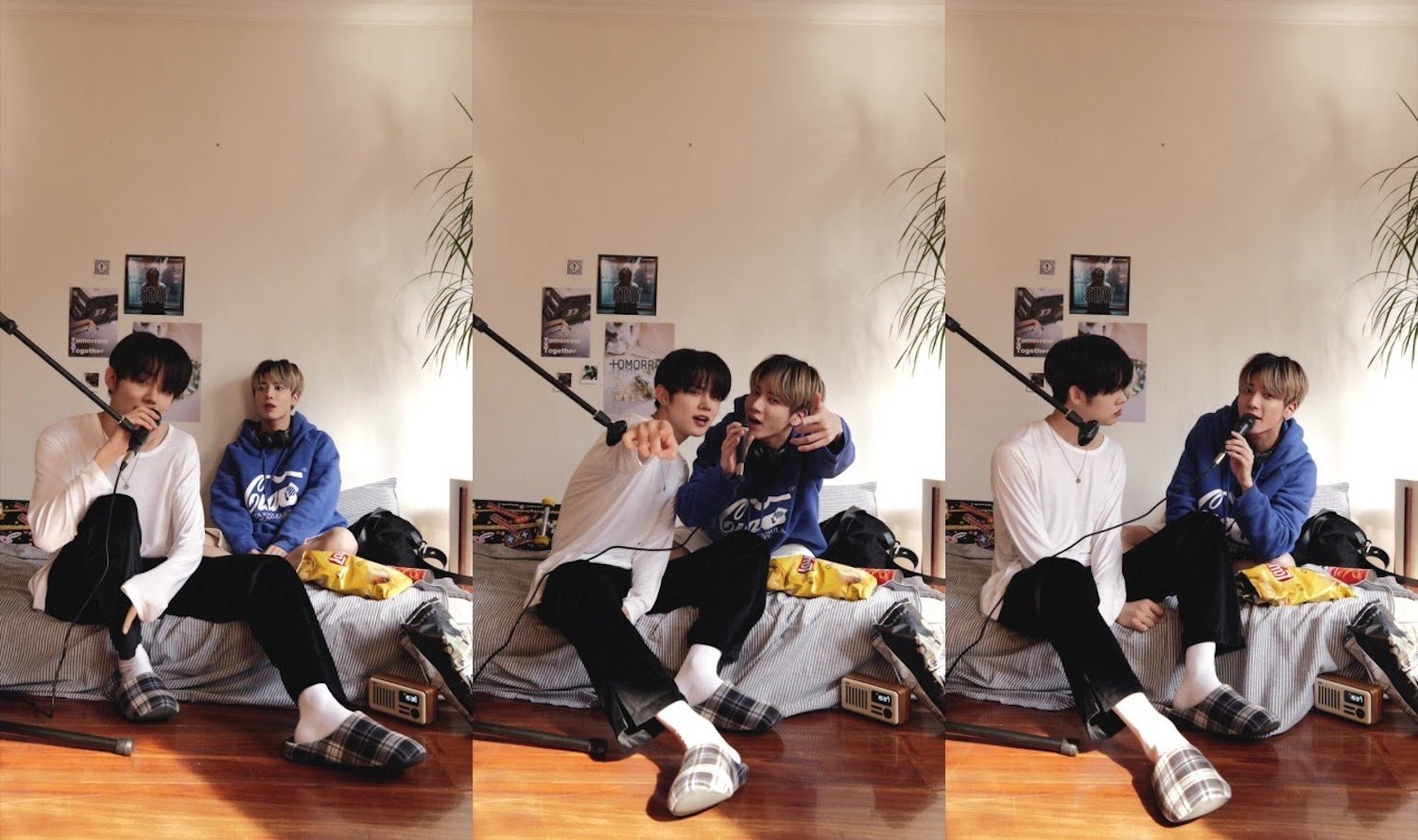 TXT's Yeonjun and Taehyun covered 'Stay'
On Oct. 20, Yeonjun and Taehyun's cover of "Stay" was posted on TXT's social media channels. The cover's official audio was published on YouTube and the band's SoundCloud account.
At the start of the cover, Yeonjun sings part of the song's chorus by The Kid Laroi. The TXT member then sings the first part of the song's second verse, which was sung by Bieber in the original version.
"When I'm away from you, I miss your touch (Ooh) / You're the reason I believe in love / It's been difficult for me to trust (Ooh) / And I'm afraid that I'ma f**k it up," Yeonjun sings.
Taehyun then finishes Bieber's verse, singing, "Ain't no way that I can leave you stranded / 'Cause you ain't ever left me empty-handed / And you know that I know that I can't live without you / So, baby, stay."
After completing the verse, the two TXT members then alternate singing the final chorus of "Stay."
Yeonjun and Taehyun recorded a performance video of the cover
In addition to posting an audio recording of the "Stay" cover, Yeonjun and Taehyun also filmed a performance video. In the video clip, Taehyun and Yeonjun sit together on a mattress on the floor. While hanging out together in the cozy room, Yeonjun and Taehyun sing into a microphone.
In an interview with PEOPLE, the two TXT members explained what it was like to record the cover of "Stay."
"This recording process was not only enjoyable but also highly educational for me. It allowed me to experience and delve into the musical styles of both The Kid Laroi and Justin Bieber. Then, of course, it's always fun to analyze and add your own flair," Yeonjun told PEOPLE. "It was also the perfect song and medium that allowed us to showcase a side of ourselves that we hadn't shown before."
Taehyun added, "It's magnetic. This song hooks listeners immediately and evidently, it drew me as well. I listened to it over and over again. We had to cover it."
The TXT members appreciate their fans
There are five members in TXT: Soobin, Yeonjun, Beomgyu, Taehyun, and Huening Kai. The band debuted in 2019 with Big Hit Music.
TXT's fan base is known as MOA, which stands for "Moments of Alwaysness." In the interview with PEOPLE, Yeonjun and Taehyun shared how much they care about TXT's fandom.
"I often take comfort in our fans and their growing support for our music and performances, because it feels like my stories are being heard on a personal level," Yeonjun said.
Taehyun told PEOPLE, "As we continue to grow, my guess is that each and every one of our MOA will also continue down that road to growth, fighting through growing pains of their own. I hope that we will be able to be a part of that journey and be the source of energy they need, just like how they always drive us forward."