Tyga Gets Exposed for Allegedly Cheating on Kylie Jenner During Their Relationship
Tyga's relationship with Kylie Jenner is old news. The pair broke up over three years ago and have both grown and evolved exponentially in the days since. But their romance made headlines during the week of June 28 when the "Taste" rapper was exposed for allegedly cheating on Jenner while they were together. Here's a closer look.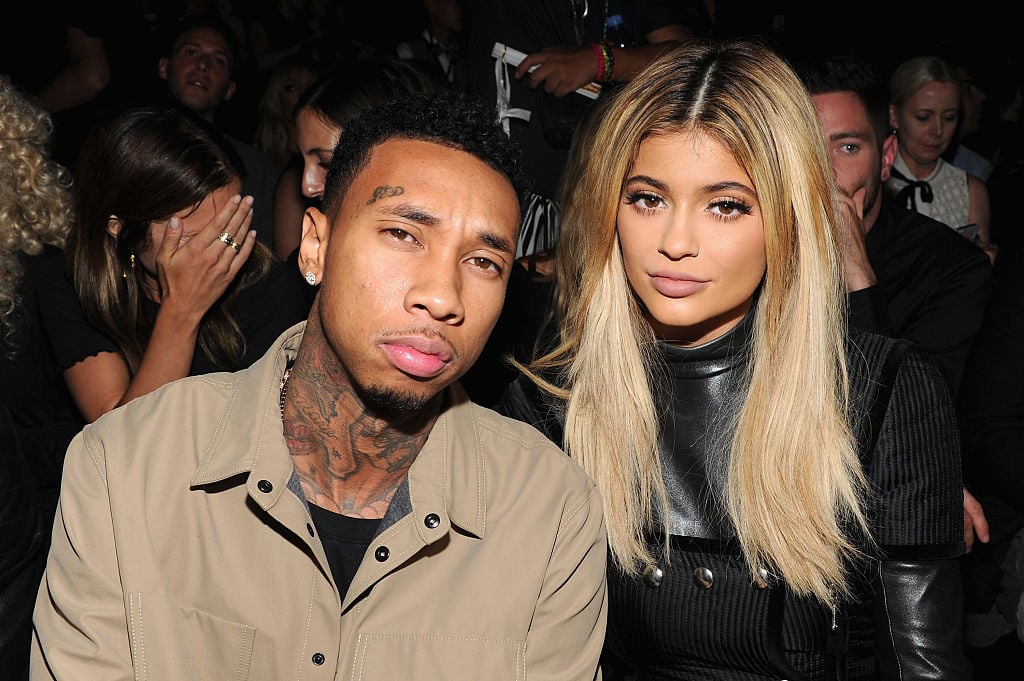 What happened with Tyga?
The bombshell came when Tyga got into an argument on Instagram with Hulk Hogan's son Nick Hogan.
Hogan accused Tyga of messaging his girlfriend, Tana Lea, along with screenshots where the rapper appeared to send Lea an eye emoji. In response to the DM, Hogan sent a selfie to Tyga and asked, "Whats up." He captioned the image, "When they slide in @thetanalea's DM's."
Clapping back, Tyga posted screenshots revealing that he had started talking to Lea two years earlier and that she had sent him flirty emojis in the past. Once Lea caught on, she went online and started to sound off on him.
She wrote in part: "I didn't even remember the dude. I didn't keep messages from 2018. It doesn't also change the fact that he dmed me TWO days ago knowing I have a boyfriend." Lea continued to rant before leaving the "Dip" rapper with a piece of advice.
"Next time you wanna try to pull an uno reverse card, also make sure I don't have a draw four. You forget I saw you cheating on Kylie when she was filming in Australia… plot twist," she concluded.
She did not share an exact date, but Jenner has traveled to Australia at least once, including in November 2015 — eight months after she and Tyga confirmed their romance.
Reactions to the post
It's unclear if Tyga ever responded to the allegations, but it prompted many reactions online. Many people weren't necessarily surprised by the claim, given that Tyga often faced cheating rumors during his relationship with the makeup mogul, but some felt it was irrelevant considering they are no longer together.
"What does Kylie have to do with tyga in 2020 😭😭😭🤣" one fan wondered in the comment section of The Shade Room.
"The stuff about Kylie is irrelevant," a second person wrote. "They not even together. They just wanted some clout. NEXT CALLER."
"The plot twist only would've worked if he was still dating Kylie 😭😂 she TRIED IT!" said another.
A fourth fan chimed in and said, "Girl we don't care!"
So why did Tyga and Kylie Jenner break up?
After ending their relationship in April 2017, Jenner said in an episode of Life With Kylie that she just wanted some space and time to live life as a single woman.
"There was absolutely not one thing wrong with me and T," she explained. "Him and I will always, always have a bond. There was no crazy fight. We just decided, well, I decided that I'm really young. I don't want to look back five years from now and feel like he took something from me when he's really not that type of person."
She bounced back with Travis Scott weeks later, in April 2017, and went on to have a daughter with him, Stormi Webster, on Feb. 1, 2018. The pair split in September 2019 after over two and a half years together but continue to raise their daughter together.
Read more: Kylie Jenner's Reported 'First Love' Wasn't Tyga or Travis Scott