'The Bachelorette': Tyler Cameron Accused of Using Hannah Brown for 'Clout'
It seems that the ballad of Tyler Cameron and Hannah Brown is a never-ending one. It's been well over a year since the pair met set of The Bachelorette and developed feeling for one another. But, a ton has happened since then. But, despite the fact that the pair are cordial with one another these days, fans of the show are now accusing Cameron of using Brown for clout.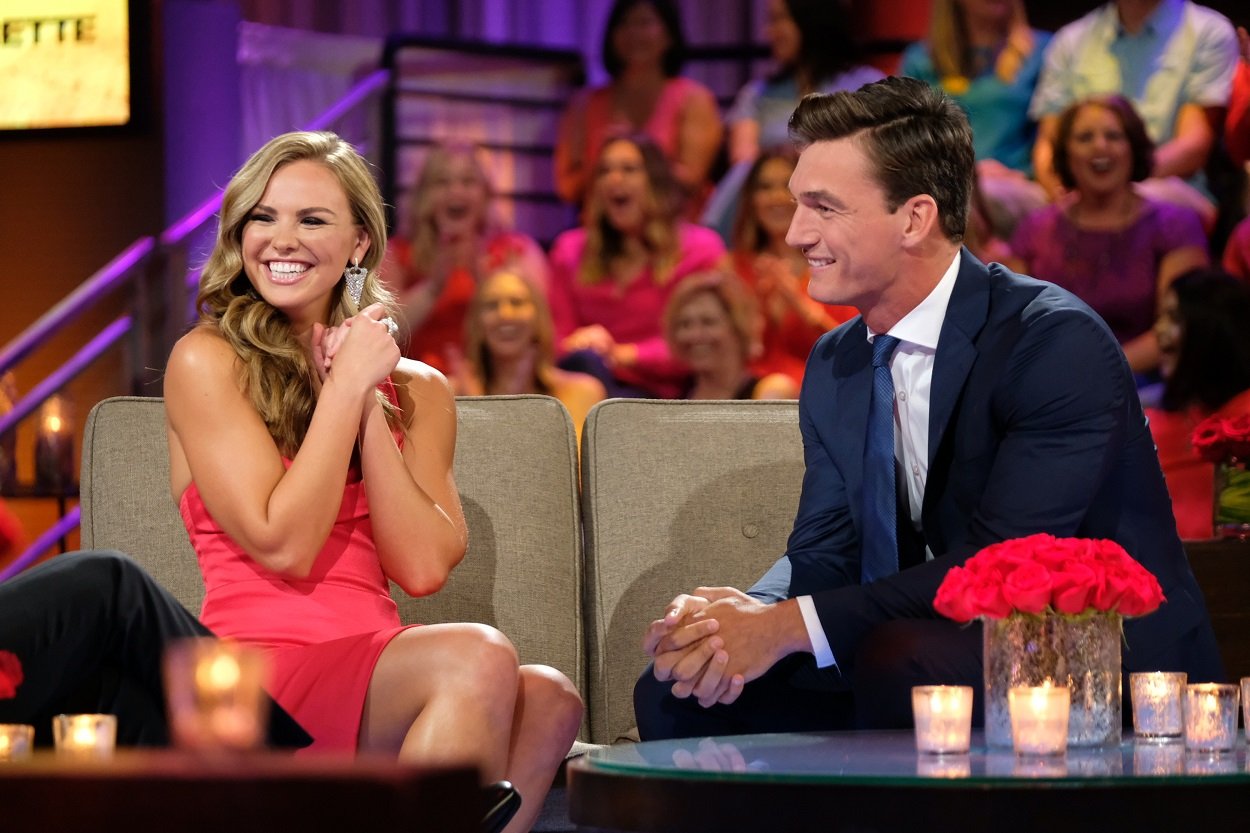 Cameron became a fan favorite of The Bachelorette fairly early on. A native of Jupiter, Florida, fans deemed him a true Southern gentleman. The chemistry between him and Brown was palpable, and he made it all the way to the final two. Ultimately though, Brown chose Jed Wyatt who she was very briefly engaged to before his cheating rumors surfaced.
The pair have spent time together since 'The Bachelorette' stopped filming
But that wasn't the end of Cameron and Brown's story. After Cameron turned down the opportunity to be The Bachelor, Brown asked out Cameron on a date. Fans were thrilled when paparazzi pictures surfaced of the pair after they'd seemingly spent the night together. But, when Cameron was spotted with model, Gigi Hadid just a few days later, it seemed that their love story was officially closed.
RELATED: 'The Bachelorette': This Hannah Brown & Tyler C. Theory Kills Any Hope Of Them Reuniting
Related post url: 
But, reconciliation rumors sparked again when Brown flew out to Jupiter, FL to provide Cameron with support after his mother died. The pair (alongside some other friends) quarantined together for weeks, often documenting their isolation antics in videos for the public. Once again fans of The Bachelorette hoped the pair would get back together. But, when Brown left Jupiter, most people acknowledged that they were better off as friends.
Tyler Cameron announces his new YouTube channel
It's been a few months since Brown and Cameron have spent any time together. However, they seem to be in a cordial place with one another. But, a recent video that Cameron posted to his and Instagram page has fans plenty upset. The 27-year-old recently announced that he started his own YouTube channel. The channel seeks to give fans a closer look into who he is as a person and his passions and hobbies.
Cameron recorded a trailer for his YouTube channel and many fans were displeased that the first five seconds features Brown. The clip he picked was from their breakup and showed the former bachelorette confessing she loved someone else. After that, the video quickly cuts to Cameron in the bathtub, watching the scene unfold. "You think you know me? Y'all don't have a clue," Cameron declares.
Instagram users accuse Cameron of using Hannah Brown for clout
While many people expressed excitement for Cameron's newest venture, others were not pleased that he chose to feature Brown in the clip. "Kinda weird that you never acknowledged her existence while she was supporting you earlier this year and then you use her in your YouTube promo," one Instagram user commented. "Also she was there for you at your worst time while she was dealing with her own family problems and you open her up to these cruel comments again? Yikes," they continued on.
Others simply accused Cameron of using Brown for clout to get more views on his YouTube channel. "Way to use Hannah Brown. Geez. She came and supported you when you were in a tough spot. This is just passive-aggressive and immature, tbh," another fan of The Bachelorette added. "Using Hannah for views I see," another person added. "This is clickbait Tyler Cameron. Gotta give Hannah Brown some credit," yet another person penned.
Some fans believe that addressing 'The Bachelorette' is essential
Not everyone felt that Cameron was in the wrong. Some people mentioned that Brown commented on the video and thus was likely OK with it. Others argued that since The Bachelorette was the way Cameron became a public figure, it made sense that he would briefly address his time on the show.
"I think the point of this intro isn't about Hannah, it's about telling people they don't know the REAL Tyler based on what the saw on The Bachelorette and in the media," one fan declared. Who knows Cameron's true reasons for including Brown in his clip. But, we'd wager he'd get views on his new YouTube channel whether Brown was featured or not.