Tyler Florence's Easy Blueberry Blintzes
If you're fancying an indulgence for breakfast, try Food Network star Tyler Florence's Blueberry Blintzes.  The rich, creamy, and sweet dish is an extraordinary weekend treat — and it's fun to make!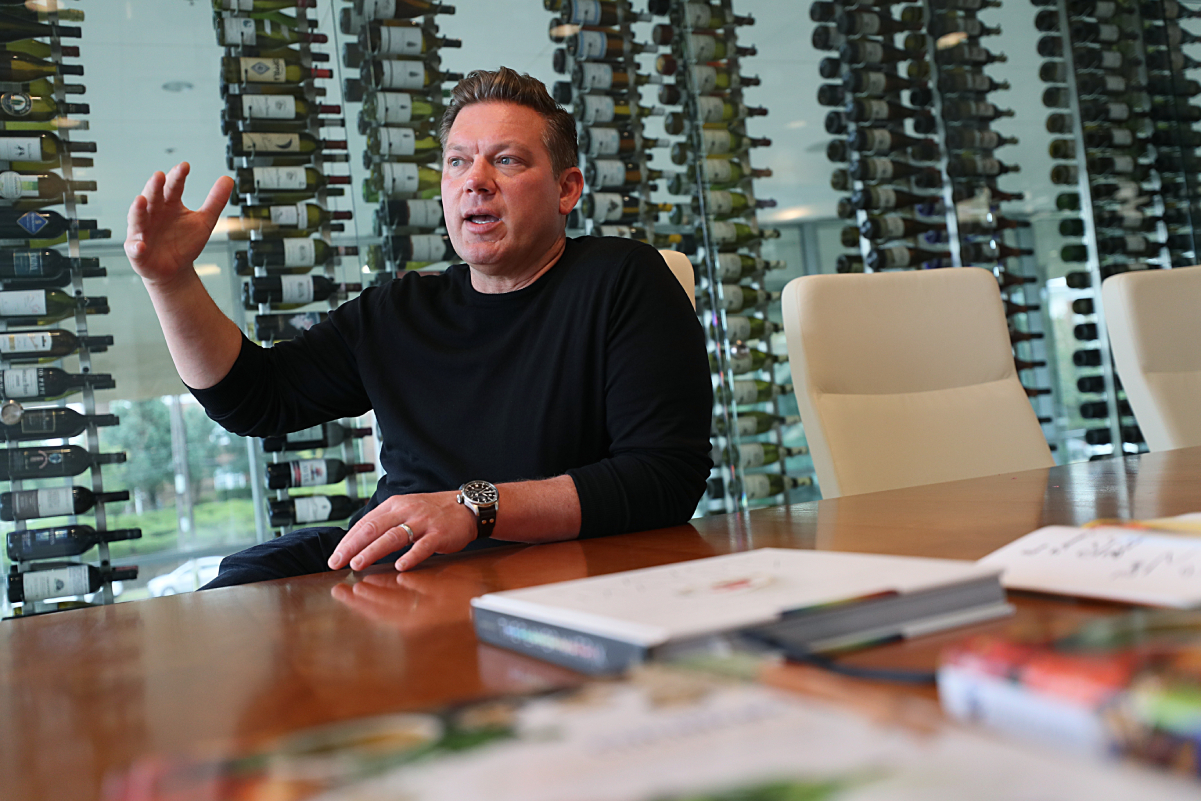 Florence says his crepes 'always impress people'
In his cookbook Tyler Florence's Real Kitchen, the chef calls crepes "one of those brunch dishes that always impress people. They are versatile and a snap to whip out."
Once you master the basic crepe recipe, he says, "you can create your own different recipes. Tapping your inner chef has never been so easy."
His blueberry blintz recipe calls for cottage cheese, cream cheese, confectioners' sugar, lemon zest, and an egg for the filling. The dish's blueberry sauce will need butter, blueberries, sugar, cornstarch, and lemon juice.
The crepes themselves will require milk, cold water, eggs, all-purpose flour, and melted unsalted butter.
The chef's blueberry crepe dish is easy to make
Florence cites an easy trick to making crepes: once the batter has been prepared in a blender, a quarter-cup is swirled around the bottom of a nonstick skillet over medium heat. 
To get the crepe to loosen from the skillet, The Great Food Truck Race host says all that's needed is a light "bang" on the edge of the pan with a wooden spoon. After that, the crepe is flipped and cooked for another 30 seconds.
"The art of flipping a crepe in the air takes practice," he writes, "so make sure no one is looking when you get the first one going."
If flipping crepes aren't your thing, the chef says you can just "use a heatproof rubber spatula to loosen and flip the crepe."
Once the filling and sauce are made, preparing the blintzes, Florence writes, "is kind of like making burritos." 
The cheese mixture is spooned along "the lower third" of the crepe, the two sides are folded in, and rolled up "to make a package, ending with the seam side down." They're pan-fried until they're crisped up and then placed in a 400-degree F oven for 10 minutes until "the egg in the filling cooks slightly."
Plate the blintzes, spoon the blueberry sauce over them, and dust with confectioners' sugar.
Get the complete recipe and reviews on Food Network's site.
Many reviewers were wowed by Florence's Blueberry Blintz recipe
There's nothing like a stack of pancakes, or in this case crepes, for a treat of a weekend breakfast, as Food Network reviewers noted on the culinary channel's website.
"Taste was exactly what I was looking for and was a hit with all. A little more work than I wanted but was nice to know I could freeze them," one home cook wrote.
Another person added, "I made these on a Sunday morning with my 11-year-old son. I'd never made crepes before and after a few throwaways, I got the hang of it. The blintzes turned out so tender and the lemon filling and blueberry sauce really complemented each other. A favorite of ours from now on!"
RELATED: Tyler Florence's Dad's Meatloaf Will Become Your New Go-To Recipe for the Classic Dish