Tyler Florence's 'Hypnotic' Green Curry Chicken Is a Meal for the Senses
Food Network star Tyler Florence goes for the heat in this spicy, flavorful dish. His Green Curry Chicken features tender chicken bites in a rich, spicy, savory sauce. 
Don't let the ingredients list scare you: Florence's meal is worth every bit of effort.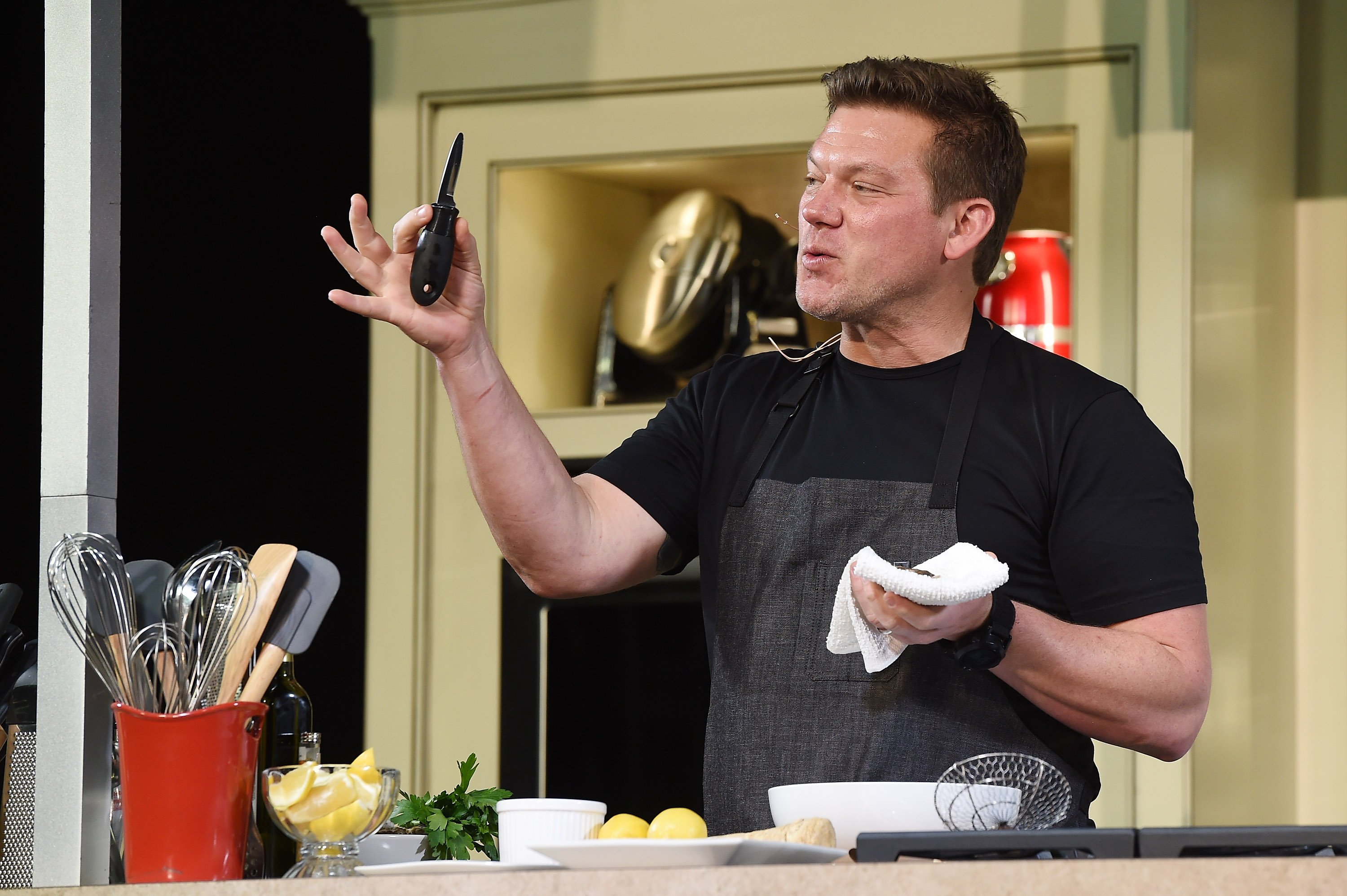 Florence's Green Curry Chicken 'is a great dish to start playing around with'
The chef's curry dish is a sensory delight for the palate, as he writes in his cookbook, Tyler Florence's Real Kitchen.
"If you have never experimented with Thai ingredients before," Florence writes, "try this recipe—the flavors are mental. Lemongrass, coconut milk, basil, lime: They all hit the palate in perfect harmony."
And for those home cooks who "love Thai food, this is a great dish to start playing around with—and it's very easy. The floral aroma of green curry simmering on the stove is hypnotic. Kaffir lime leaves are crucial to this dish and are worth the trip to your local Asian market."
Tyler Florence's spicy meal is a perfect weeknight dish
Prepare your green curry paste before getting started on the rest of the dish. In a "small, dry" skillet, place coriander, cumin seeds, and peppercorns and allow them to toast for about two minutes, just until they're fragrant. 
Grind the seeds and peppercorns in a coffee grinder or spice mill. Now, add the ground-up spices along with Thai green chiles, shallots, garlic cloves, fresh cilantro sprigs, chopped galangal, lemongrass stalks, kaffir lime leaves, and dried shrimp paste in a food processor and "pulse to combine." 
Add the water, which will allow the mixture to slowly become an aromatic paste.
Now, for the chicken portion of the recipe, saute chopped onion and green peppers in hot oil over medium heat in a large skillet deep enough for this full recipe.
Florence notes to split the white bulb of a lemongrass stalk "down the middle and whack it with the flat side of a knife to open the flavor."
Stir the lemongrass, minced ginger, prepared curry paste, and lime leaves in the skillet for a couple of minutes. Add the coconut milk and chicken broth. The chicken, cut in one-inch strips, is added and can begin poaching in the flavorful mixture for about 15 minutes. Be sure to salt to taste.
Drizzle the chicken with lime juice, as well as with the basil and cilantro.
Find the complete recipe and reviews on Food Network's site.
Home cooks loved how easy and authentic in flavor Florence's recipe is
While the ingredients list for the dish may seem overwhelming, reviewers on Food Network's site noted the number of items doesn't translate into an incredible amount of work.
"Reading over this recipe at first I thought it would be a rather ambitious recipe with so many unusual ingredients and lots of them! But I was able to find all of the ingredients in one stop at my local ethnic grocer. …  Very quick and easy. A great weeknight meal and oh so delicious!," one home cook wrote.
Another reviewer said, "Loved this recipe and it was easy to follow. This was my first time making Thai food and it tasted just like some of my favorite Thai restaurants back home. It's a dish I missed living out of the country."
RELATED: Tyler Florence's 'Secret to the Ultimate Crab Cake'