Tyler Florence's Top 3 Food Network Recipes Are Comforting Favorites
Tyler Florence is one of Food Network's most popular show personalities. While he's host of one of the channel's most popular shows, The Great Food Truck Race, Florence is also a trained chef. And his top three recipes on the network's site are comfort food fan favorites.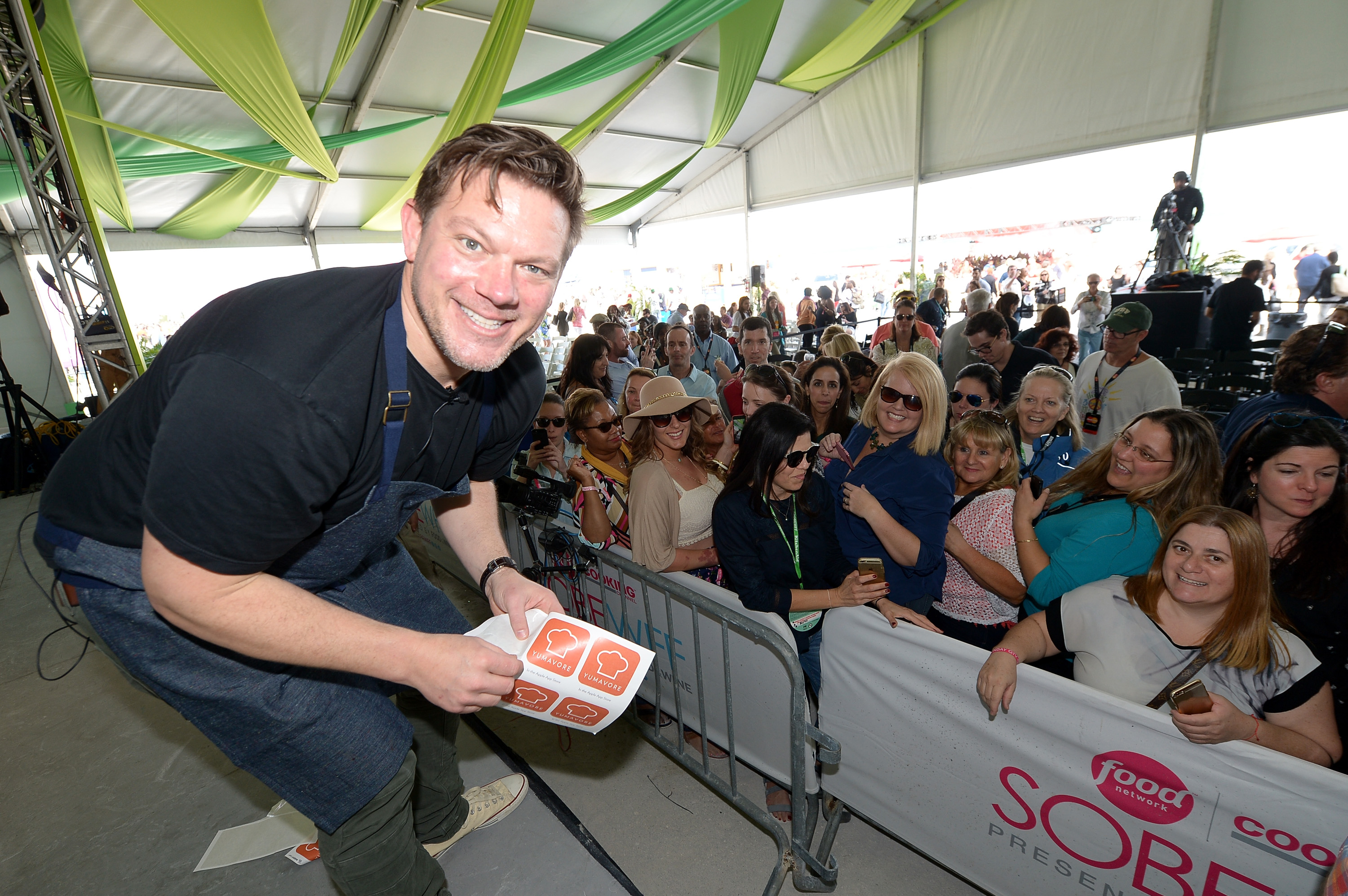 Florence's Smothered Pork Chops are a fan favorite on Food Network's site
The chef's Smothered Pork Chops recipe features ingredients found in most kitchens: flour, onion powder, garlic powder, ground cayenne pepper, olive oil, chicken broth, buttermilk, salt, pepper, and of course, 3/4″ inch thick, bone-in pork chops.
The pork chops are dredged in the flour, which has been seasoned with the powders and cayenne ("You really want to give this flour, coating, a lot of taste," Florence says in the Food Network video for this recipe) and then cooked over medium heat in hot oil. They're removed when done and then a mixture of chicken broth, flour, and buttermilk is heated in the same skillet. This combination becomes a silky gravy: "Just give them a bath in that delicious little gravy."
With over 1000 reviews and counting, Florence's recipe is a hit.
"Wonderful comfort food! … Gravy good enough to eat with a spoon, lol. Bone in chops taste so much better," one review said. Another added, "Easy, flavorful, and the pork was juicy. Next time I will make more of the sauce."
Find the recipe, video, and reviews on Food Network's site.
Tyler Florence's French Onion Soup recipe has over 1000 five-star reviews on Food Network's site
Rich and decadent, the chef's French Onion Soup is not for the faint of heart: it features an entire stick of butter, "about half a bottle" of red wine, and half a pound of grated Gruyere cheese. Adding to the richness is the star of the recipe, caramelized onions that give this classic soup a depth of flavor truly unlike any other.
One reviewer noted Florence's soup is perfect for game nights: "It's great! Easier than versions requiring brandy & sherry…this one's a fan favorite for sure! I'm going to make it for the second time this weekend. Great football food."
Get the full recipe, video, and reviews on Food Network's site.
Florence's Chicken Enchiladas dish is a Tex-Mex masterpiece
Also a hit with over a thousand Food Network fan five-star reviews, Florence's Chicken Enchiladas feature, of course, chicken seasoned with cumin and Mexican seasoning. Onions, corn, cilantro, tomatoes, chipotle chiles, and whole green chiles are then cooked until tender. The chicken is diced and combined with the vegetable mixture and flour to thicken the filling.
Corn tortillas are heated in the microwave then dipped in enchilada sauce, stuffed with the chicken mixture, rolled, and placed in a baking dish. The filled tortillas are covered with more sauce as well as cheese and baked in a 350-degree F oven for 20 minutes.
One reviewer noted, "I have used this recipe for years and it never fails me. It's my go to for enchiladas!" while another added, "Better than a Mexican restaurant!!! Takes time but SO worth it – this will become a regular in your dinner rotation."
Find this recipe, Tyler Florence's video, and reviews on Food Network's site.