Tyra Banks Says She Gets 'Uncomfortable' Around Women With 'Natural Beauty'
Tyra Banks is a model, TV host, actor, producer, and entrepreneur. Since becoming famous for her modeling skills in the 1990s, she's maintained her career by experimenting with other entertainment avenues. 
Throughout her fame, Banks has met and worked with multiple women within the same field. However, she once explained why certain women have proven to be unbearable for the 47-year-old mother of one.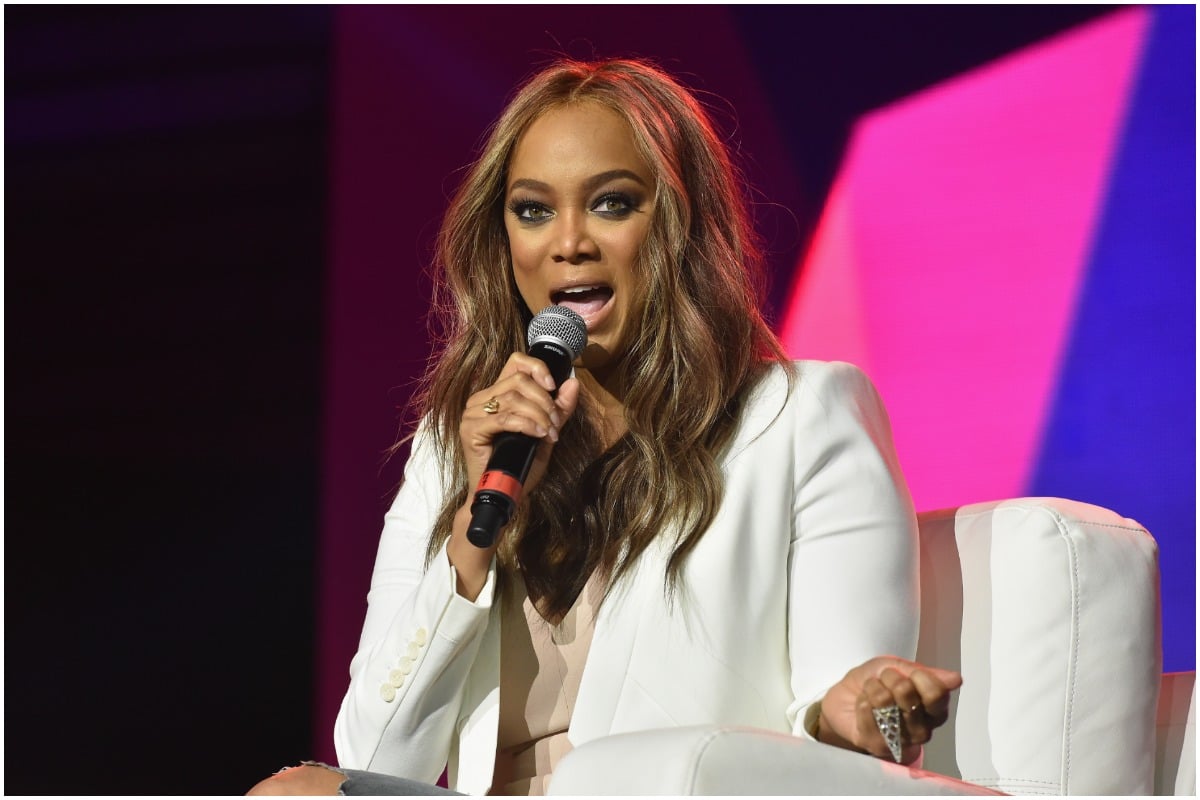 Why Tyra Banks believes 'natural beauties' shouldn't judge plastic surgery
Born in Inglewood, California, in 1973, Banks always had ambitions of being a star. As a child, the model dreamed of stardom and found her niche in modeling. When Banks was still in high school, she signed her first contract with Elite model management. 
After traveling around Paris at 16, the model started booking shows and advertising campaigns with fashion houses such as Dolce & Gabbana, Tommy Hilfiger, Ralph Lauren, Versace, and Victoria's Secret. Additionally, she launched America's Next Top Model in 2003 to help aspiring models get started in the industry. However, Banks never shied away from sharing her feelings about the fashion world's beauty standards. In her 2018 memoir, Perfect Is Boring, and she said she doesn't appreciate hearing models and other women with "natural beauty" condemn those who have plastic surgery procedures. Banks also admitted to having a nose job in the book. 
"Natural beauty is unfair," she wrote. "I get really uncomfortable when women who are these natural beauties judge anybody who does anything to themselves."
The 'America's Next Top Model' host says women need to 'fix or flaunt' their insecurities
Banks and her mother, Carolyn London, wrote Perfect Is Boring together. The book was a chance for the model and her former momager to share their experiences as a mother-daughter duo navigating the fashion world. Additionally, Banks revealed feeling insecure about herself as a young, Black model.
Although she admitted that her nose and, on most days, her hair is fake, the America's Next Top Model host said she doesn't want any more procedures. However, Banks said that plastic surgery could be an excellent option for others. 
"If you feel insecure about something … I have a magic bag of beauty tricks to make you who you want to be," she said. "Permanent or temporary, I do not judge that."
"Fix it or flaunt it — I think women should be able to do both," Banks continued. "There is a boundary line; either you're super natural, or you live at the plastic surgeon. It's okay to hop back and forth over that line. You want a hair weave? Fine. You want permanent eyebrows? Fine. We as women need to stop judging."
Is Tyra modeling today?
After gracing dozens of magazine covers and fashion runways, Banks retired from modeling in 2005. At the time, she wanted to pursue other projects, including ANTM and her daytime talk show. 
In 2019, after following her subsequent passions for over a decade, Banks came out of retirement. At 45, she appeared in an issue of Sports Illustrated. During the 1990s, Banks became the first Black model to land a SI cover. 
"There is this stereotype that only a 20-year-old woman in a bikini is hot," she said in her SI interview. "Like, once we reach a certain age, we are no longer desirable. But I want to show that modeling has no age. I'm coming out of retirement to practice what I preach."
Since the cover, Banks now focuses on her hosting gig at Dancing With the Stars and her interactive business, ModelLand.