An Unbalanced Battle: Economics vs. Moral Rights in 'On Sacred Ground' – Amy Smart Exclusive
Actor Amy Smart, who stars in the film On Sacred Ground hopes that the feature can spark a healing conversation about a resource that should have no controversy – access to clean water.
On Sacred Ground is based on the true events during the 2016 construction of the Dakota Access Pipeline that runs through the Standing Rock Indian Reservation. The film follows Daniel (William Mapother), a conservative journalist and military veteran, and Elliot (David Arquette), an oil company executive, who ultimately find themselves on opposite sides of the fight during the construction of the contentious pipeline.
Smart plays Daniel's wife who is pregnant with their first child. But she finds herself alone in the process as Daniel grapples with his journey of self-discovery.
'On Sacred Ground' the balance of economic and moral rights
Smart told Showbiz Cheat Sheet that the country's divide has prevented constructive dialog and movement toward resolution.
"Our country is so divided. It's been so divided," she said. "I think that this film has a way of bringing both political parties back together. And having an honest sort of look at both sides and duking it out and hashing it out and really talking about the pros and cons of both sides and coming back to humanity as a whole. And I think that, yes, this happened five years ago."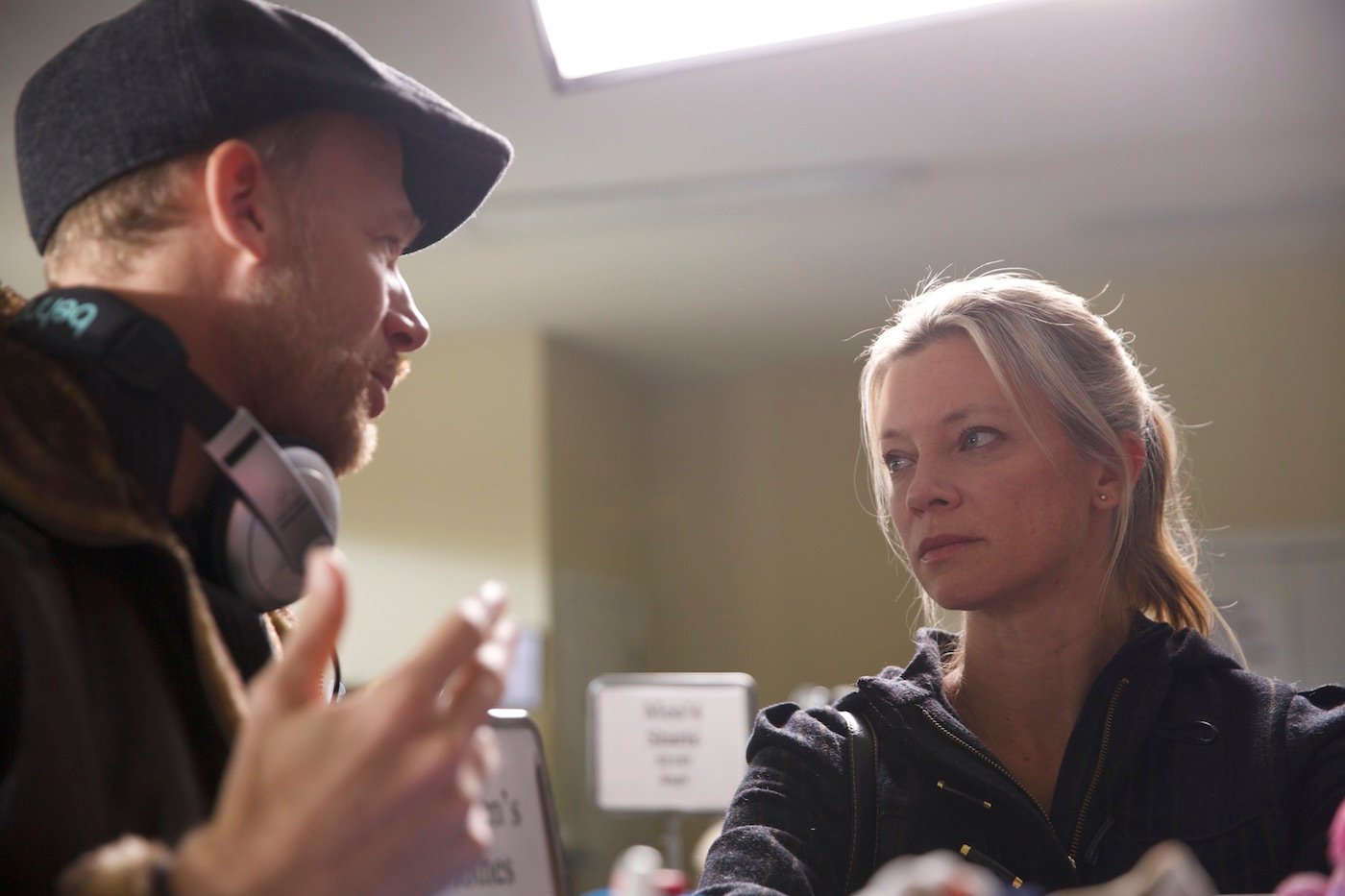 "But it's still a continual issue in this country. It's still going on," she shared. "What I like is it's really balancing the importance of economics and our moral rights. And so you have morality and economics battling each other. That's a powerful battle in itself that I think we all have internal feelings about. So where do you draw the line? And what do you sacrifice and what do you not sacrifice?"
"So if anything, the film itself has such great drama. And it's done really well and the actors are amazing in it. William's amazing," she said. "He just goes on such a journey in this and I love that it starts off on such a right-wing perspective and then this crack in the armor and it just keeps snowballing. So I hope that people can sort of see all sides at this point, make their own decisions, and not just be influenced by whatever their political party is."
Amy Smart describes Julie's personal dilemma
Smart plays Julie, Daniel's wife who seems to be left at home in the dark while dealing with a life-changing moment.
"That character is definitely on the verge of a breakdown," Smart said about Julie. "She's pregnant and has a very unstable husband. They don't communicate. She can't sort of plan ahead. He's not really attentive or listening to her and her needs. And she's about to have her first baby."
"So she's kind of on her own and wanting to connect," Smart said about her character. "But she's also wanting to be the best mother and make plans. And ultimately take care of herself and her baby. The conflict of having a husband who she truly loves and wants to have a good relationship with, but he's really checked out and suffers from PTSD. And that's been the hardest part for them to connect together."
Daniel's journey has a 'real catharsis' in 'On Sacred Ground'
"His journey, he has a real catharsis in the film," Smart said about Daniel. "And because of that, I think that breaks open his heart and he starts to appreciate what his life is, rather than pushing it away. So I think for her, she's very pregnant and is like this baby's going to come and I don't know if he's going to be there for me or not."
"He's clearly not happy. And it's the opposite of what you want when you are having a baby. You want your partner to be there and you want to be excited about it," she said. "So none of those elements are really connecting. And so luckily by his taking the risk and being a journalist and going after that, he's able to discover what awakens him and it breaks down those barriers that he's had for so long."
"I think from her perspective, she doesn't care about this at all," Smart said about Julie's connection to the Standing Rock controversy. "She just wants her husband back. Like why would you leave right when I'm about to give birth?"
Filmmaker Josh Tickell hopes the film raises awareness. "After being at Standing Rock we learned there is no environmental issue that is also not an indigenous justice issue," he said in a statement shared with Showbiz Cheat Sheet. "Our hope is that this film can be a bridge between those two communities." 
On Sacred Ground, which stars David Arquette, William Mapother, Amy Smart, Kerry Knuppe, Frances Fisher, Irene Bedard, Mariel Hemingway, and David Midthunder premieres in select theaters and On Demand on January 13, 2023.