'Unbreakable Kimmy Schimdt': Who Was Kimmy's Best Friend in the Bunker?
Kimmy Schmidt met Titus and Lillian Kaushtupper after moving to New York City. While she was in the bunker though, this 'Unbreakable Kimmy Schmidt' character had one best friend.
Females are strong as heck, and we're not just talking about Kimmy Schmidt. There were several characters kidnapped by Reverend Richard Wayne Gary Wayne during this Netflix original series. 
That includes one of the main character's best friends, named Cyndee Pokorny. Here's what we know about the "Mole Women" from Unbreakable Kimmy Schmidt.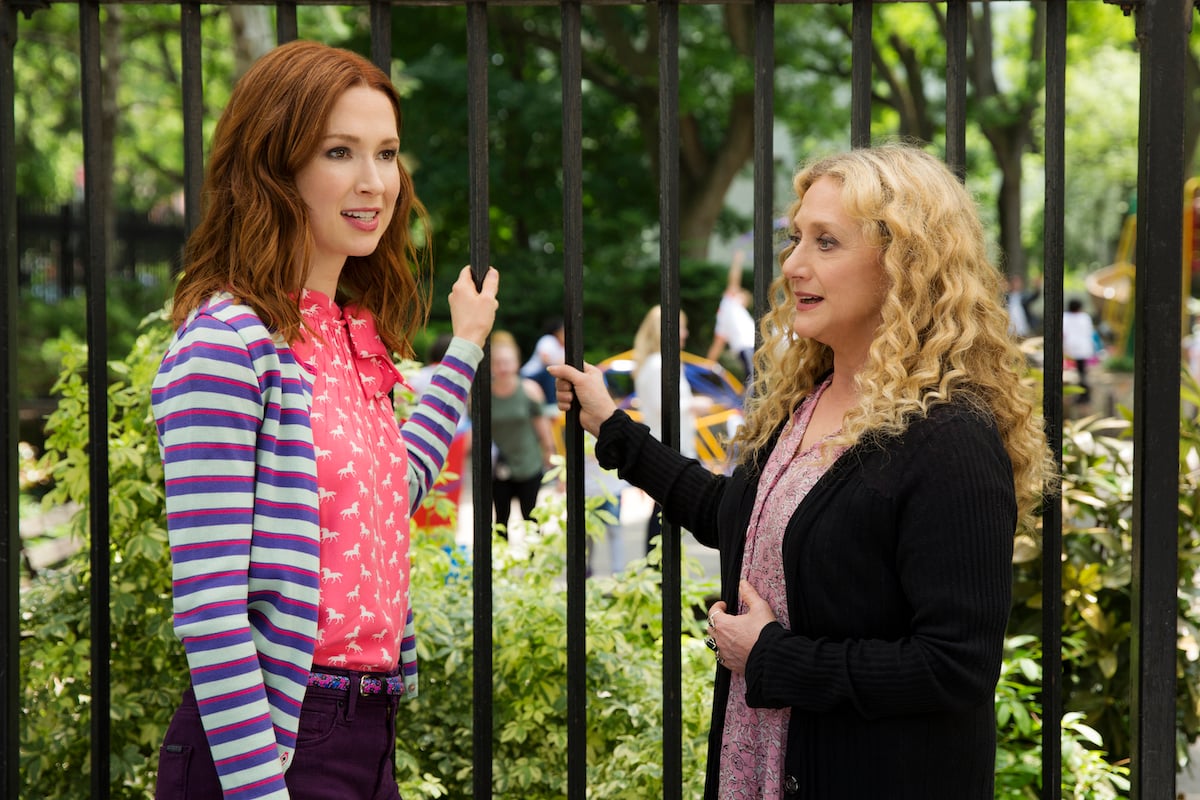 Kimmy Schmidt from 'Unbreakable Kimmy Schmidt' was 1 of the 'Indiana Mole Women'
Netflix's original series, Unbreakable Kimmy Schmidt, told the story of a little girl in a big city. After being kidnapped and released, Kimmy Schmidt decides to move to the Big Apple in search of a new life and new experiences. 
After moving to New York, Kimmy tried her best to avoid and suppress her past, even going by "Kimmy Smith" for several episodes. Eventually, she revealed her identity, started going to therapy, and even attended Colombia University. Still, she kept in touch with some of the other Mole Women.
Who was Kimmy Schmidt's best friend in the bunker?
Kimmy wasn't alone in the bunker. The main character's best friend, prior to meeting Titus Andromedon, was her fellow mole woman, Cyndee Pokorny, portrayed by actor Sara Chase. Like Kimmy, Cyndee was lured into the Reverend's van when he was a young girl. 
He allegedly told Cyndee that he had baby rabbits in his van and, to avoid being rude, this character went inside. These characters were rescued years later, Cyndee still wearing her braces. 
As one of Kimmy Schmidt's best friends, and as her "Secret Santa," Cyndee gave Kimmy a gift before she went back to Indiana. Then, Kimmy Schmidt returned to her hometown to testify against the Reverend with her friends.
Cyndee visited New York City and Kimmy a few times, even stopping her wedding because it was making Kimmy cry. This character also became fairly good friends with Titus, who understood what it was like to live with Kimmy.
There were other 'Mole Women' kidnapped by the Reverend
Kimmy and Cyndee weren't the only ones alone in the bunker. One mole woman, Gretchen Chalker, actually voluntarily joined Richard Wayne Gary Wayne's church. Down in the bunker, she and Kimmy weren't exactly friends. 
Even in New York, these two had disagreements about Gretchen's habits of following, creating, and leading churches. There was also Donna Maria Nuñez, who created her own "Mole sauce" based on her brand. Although she could speak English, she chose to speak Spanish both inside and outside of the bunker.
Cyndee returned for the Netflix original interactive episode, Unbreakable Kimmy Schmidt: Kimmy vs the Reverend. Episodes of Unbreakable Kimmy Schmidt are available for streaming on Netflix, as is the interactive episode Unbreakable Kimmy Schmidt: Kimmy vs the Reverend.