'Unbreakable Kimmy Schmidt:' From 'I'm Gonna Be Famous' To 'Pinot Noir,' Here Are Some of Titus Andromedon's Greatest Hits
Titus Andromedon dreamed of performing in The Lion King on Broadway. Until that dream came true, this Unbreakable Kimmy Schmidt character showcased his love for singing with music videos and original productions for Kimmy and Lillian.
Here are some of Titus' best songs from Netflix's comedy series.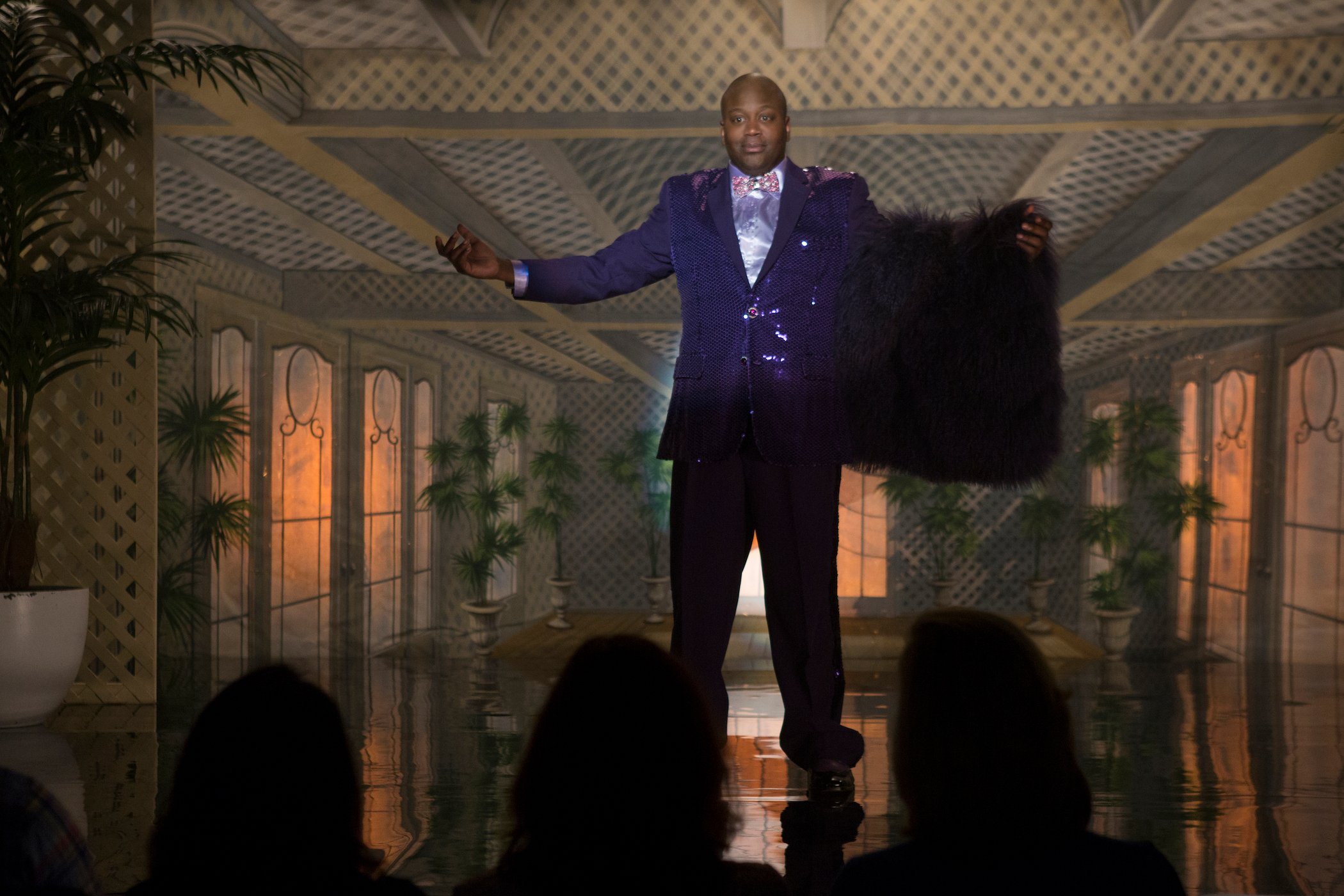 Titus' accidental viral moment: 'I'm Gonna Be Famous'
When Kimmy went to testify against the Reverend in her hometown of Durnsville, Titus went to provide support/see the trial without ads. To further "support" his friend, Titus decided to take as much attention away from Kimmy as possible. 
The "Kimmy Goes to Court" episode of this series included Titus' "I'm Gonna Be Famous" song, which actually made him famous for the wrong reasons.
Titus' version of Beyoncé's 'All Night' from 'Lemonade'
When Titus learns that Mikey is maybe cheating on him with someone named "Jeff," he does what any normal person would do — he lemonades. During this episode, Titus does versions of some of Beyoncé's hit songs, including "All Night," "Hold Up," and "Sorry."
Peeno Noir
Titus is known for his spontaneous songwriting skills. During the "Kimmy Goes To School" episode, Titus asked Lillian for help filming his original music video. (He also needed her to call his phone for the ringtone sound.)
They run into problems filming in Jacqueline's house when Xan appears and blackmails them into helping her clean.
His 'improvements' for 'Beaudy an' the Beest'
Titus can't just put on any production at the local middle school. During the "Kimmy and the Beest," episode, this musical theatre enthusiast is tasked with directing a middle school budge version of Beauty and the Beast, called Beaudy an' the Beest. 
He was sure to add a few changes to make the arrangement more magical, singing it for his roommate prior to opening night. After talking to Kimmy, Titus gave the main part to one of the kids in the school, even though he never had a chance to live out his musical dreams as a child. 
Titus' rendition of 'Just Go On'
He got a free piano and finally started dating Mikey. As Lillian pointed out, Titus' life was going great. This resulted in a quick mood change from Titus, causing the singer to go from happy musical theater "classics" to sad.
Lillian then surprises Titus by knowing one of his favorite songs from Gangly Orphan Jeff, "Just Go On."
Titus sang during a few other episodes of this series, including when he was hired by Task Rabbit to record lead vocals on the somewhat offensive and totally ridiculous song, "Boobs in California."
Episodes of Unbreakable Kimmy Schmidt are available for streaming on Netflix.