'Unbreakable Kimmy Schmidt': Why Kimmy's Backpack Was so Important to Her
Kimmy Schmidt became best friends with Titus Andromedon. She found a family in her landlord, Lillian Dolomite Kaushtupper. When it came to her time in the Reverend's bunker, Kimmy found comfort in her purple Jansport backpack. 
Here's what we know about these characters from Netflix's original comedy series, Unbreakable Kimmy Schmidt.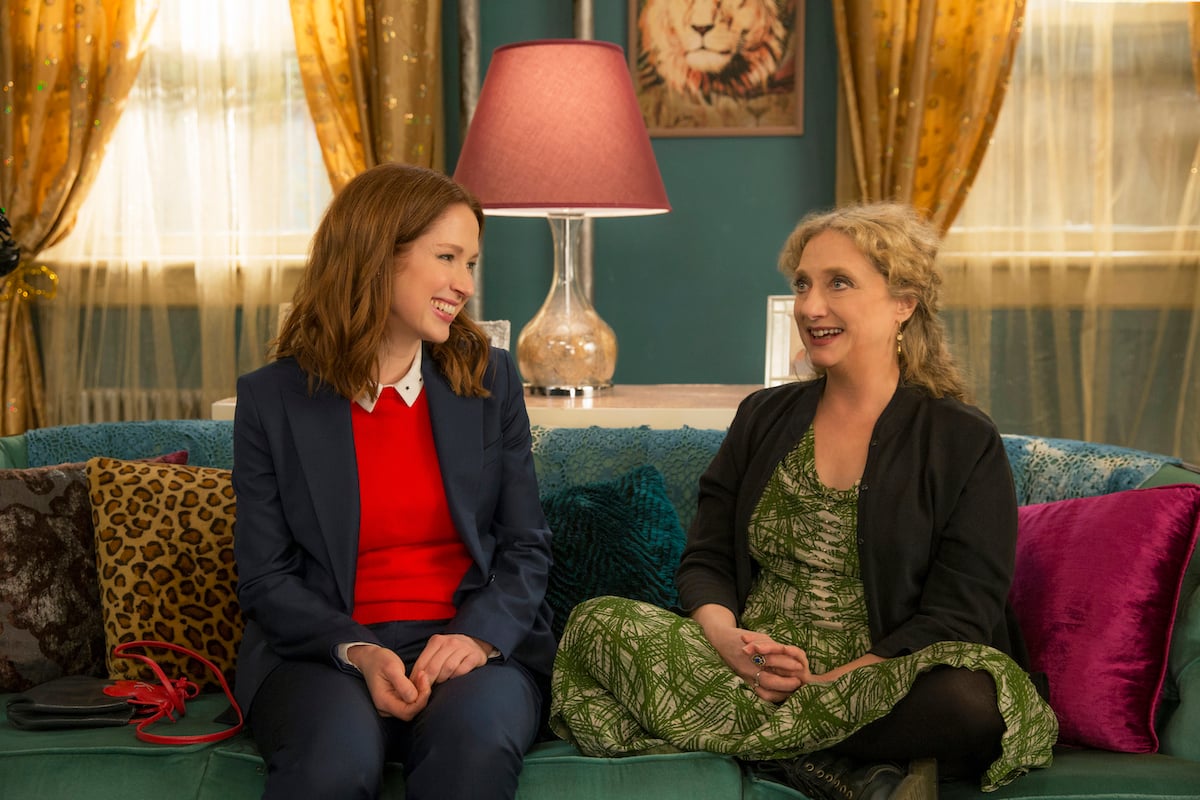 'Unbreakable Kimmy Schmidt' episode 1 featured the title character with her purple backpack, named Jan
Kimmy Schmidt had very few things leftover from her time spent in the bunker — not that she wanted to remember it, anyway. This character saved her Secret Santa gift from Cyndee Pokorny. 
In the interactive special, Unbreakable Kimmy Schmidt: Kimmy vs the Reverend, viewers learned that Kimmy also had the only book that she brought into the bunker.
In the very first episode of this Netflix original, Kimmy stayed in New York with her "Mole Woman" money, kept safe in her purple Jansport backpack, named Jan S. Portis. She went to a nightclub with Titus and the backpack went missing soon after. 
For several episodes, Kimmy forgot about her backpack. However, it made a reappearance in the episode titled "Kimmy Meets an Old Friend!" After seeing Jan through Kimmy's eyes, though, viewers earned why this object was so special. 
What made Kimmy Schmidt's backpack so special during 'Unbreakable Kimmy Schmidt'?
While at Titus' school, Kimmy is reunited with her backpack, Jan. This character takes the beaten and broken backpack to her apartment, where she explained to Titus that in the bunker, Jan the Backpack was the only thing that kept her imagination going. 
They could travel anywhere with Jan. They could be anything. Even as an adult, Jan still held some magic for Kimmy. This purple Jansport then comes to life for Kimmy, as the two plan Kimmy's book, The Legends of Greemulax.
When the book wasn't accepted at several publications, Kimmy Schmidt thought she was being too naive — people don't change. Just when she was about to kill Jan when she received a phone call from a young boy who loved her story. She brought Jan back home, now hopeful that something good could come from her imagination.
'Unbreakable Kimmy Schmidt' is available for streaming on Netflix
From being a "Mole Woman" to being a best-selling author with her own amusement park ride, Kimmy Schmidt went on several adventures with this Netflix original series. The company releasing four seasons on the streaming platform. 
In 2020, though, Netflix brought these characters back for one final adventure with the second-ever interactive episode launched on the service, after Black Mirror. To learn more about this platform and to subscribe, visit their website.