'Uncut Gems': Adam Sandler's Surprising New Film Has Set a New Indie Record
Adam Sandler has been earning rave reviews for his dramatic turn in the thriller 'Uncut Gems.' Now the film has set a new standard.
Uncut Gems is proving to be a box office jewel.
Adam Sandler has been a lot of things since leaving Saturday Night Live in the 1990s. Among them, he's been both the king of big-screen comedy (The Waterboy, Big Daddy) and a critically reviled pariah (Jack and Jill, That's My Boy). But one thing Sandler is never given enough credit for is his ability to cast aside his comedic schtick.
Punch-Drunk Love, Funny People, and The Meyerowitz Stories (New and Selected) have all proven he can deliver compelling performances. Why then does it seem like everyone is surprised Sandler is earning raves for his work in Uncut Gems? The film has already set a new standard for the company behind it.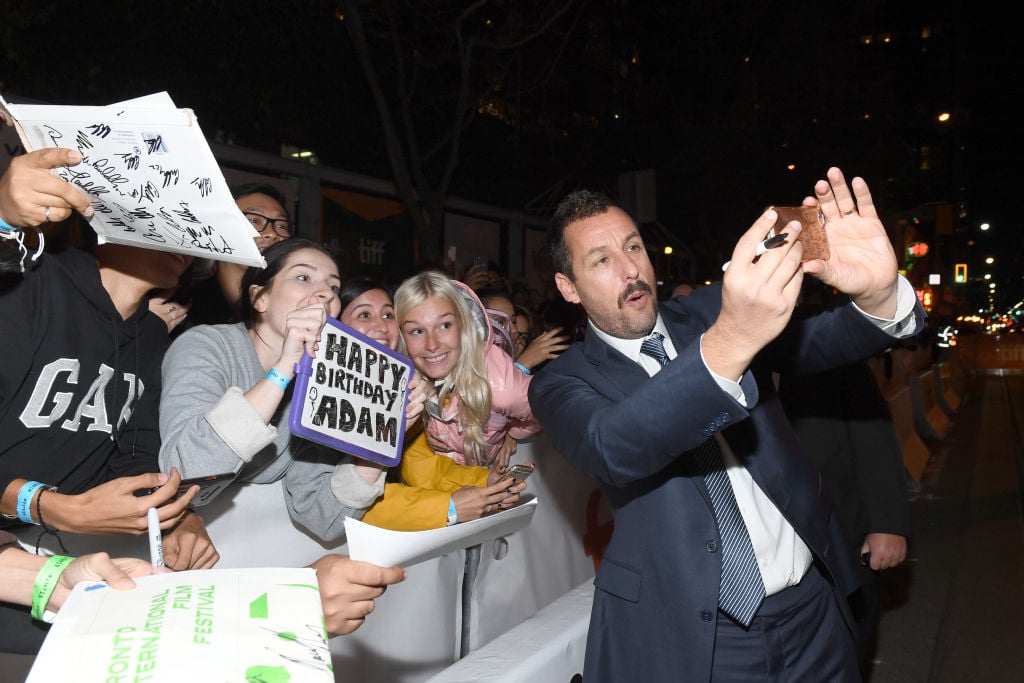 Adam Sandler's latest tour-de-force
Uncut Gems is the new thriller from directors Josh and Benny Safdie, the siblings behind 2017's Good Time. Just as that film gave Robert Pattinson the opportunity to play against type, Uncut Gems presents Sandler as we've never seen him before.
The actor plays Howard Ratner, a jeweler with a bad gambling habit and a tendency to get in too deep with the wrong people. As he scrambles to retrieve a precious stone, Howard finds his various misdeeds catching up to him in a taut race against time. Truly, the film is unpleasant to watch as it relentlessly ratchets up the tension.
No wonder then Uncut Gems earned a poor C+ Cinemascore from test audiences. The Safdie brothers aren't interested in pure entertainment but a restless character study. Sandler's reputation as a comedic force certainly doesn't help reset expectations at all. Yet, Uncut Gems looks like it might be riding a wave of positive critical buzz all the way to the bank.
'Uncut Gems' is A24's biggest opener
In its first week of wide release, Uncut Gems earned $18.8 million. That total may seem small relative to big-budget fare. But it's actually an outstanding turnout considering the film's modest scale. And, in fact, Uncut Gems just topped Midsommar's $11 million debut to become the biggest five-day launch in A24's history.
For those unfamiliar, A24 is the independent film distribution and production company behind such acclaimed films as Moonlight, Lady Bird, and Room. In 2019 alone, A24 released 21 films, the last of which was Uncut Gems. In a single week, the Sandler-led thriller became one of its biggest financial success stories.
So far, Hereditary remains the company's top box office hit with $79 million worldwide. We'll have to wait and see if Uncut Gems will be able to snag that title. For now, the film's stellar reviews and ongoing awards season buzz look likely to keep it top of mind for moviegoers.
Will the Safdie brothers get Oscars?
Speaking of awards, Sandler has already been named the year's best actor by the National Board of Review. The positive box office for Uncut Gems only enhances his chances of breaking into the Oscar conversation, where he'd be likely to face competition like Joker's Joaquin Phoenix and Marriage Story's Adam Driver.
As a grimy street-level thriller, Uncut Gems isn't necessarily the kind of film one might expect to win Academy Awards. But then again, Sandler has already been snubbed for consideration in years past, most notably for Punch-Drunk Love. Perhaps the Academy will consider a nod for Uncut Gems a way to make up for overlooking him in the past.
Moreover, the Safdie brothers have been steadily earning acclaim for their work. Good Time might be considered their breakthrough film, but there's every reason Uncut Gems could be the one to put them officially in the Best Picture race. Right now, it feels like a strong possibility, if not a lock.