'My Universe' by BTS and Coldplay Reached No. 1 on Billboard Hot 100 — It Wouldn't Be the First Time Either Band Reached This Milestone
This K-pop group is reaching for the stars. A sky full of stars, to be specific. 
Just months after BTS covered Coldplay's "Fix You," Chris Martin traveled to South Korea to create an original song with this boy band. Since its debut, "My Universe" earned over 55 million plays on Spotify, as well as the No. 1 spot on Billboard's Hot 100.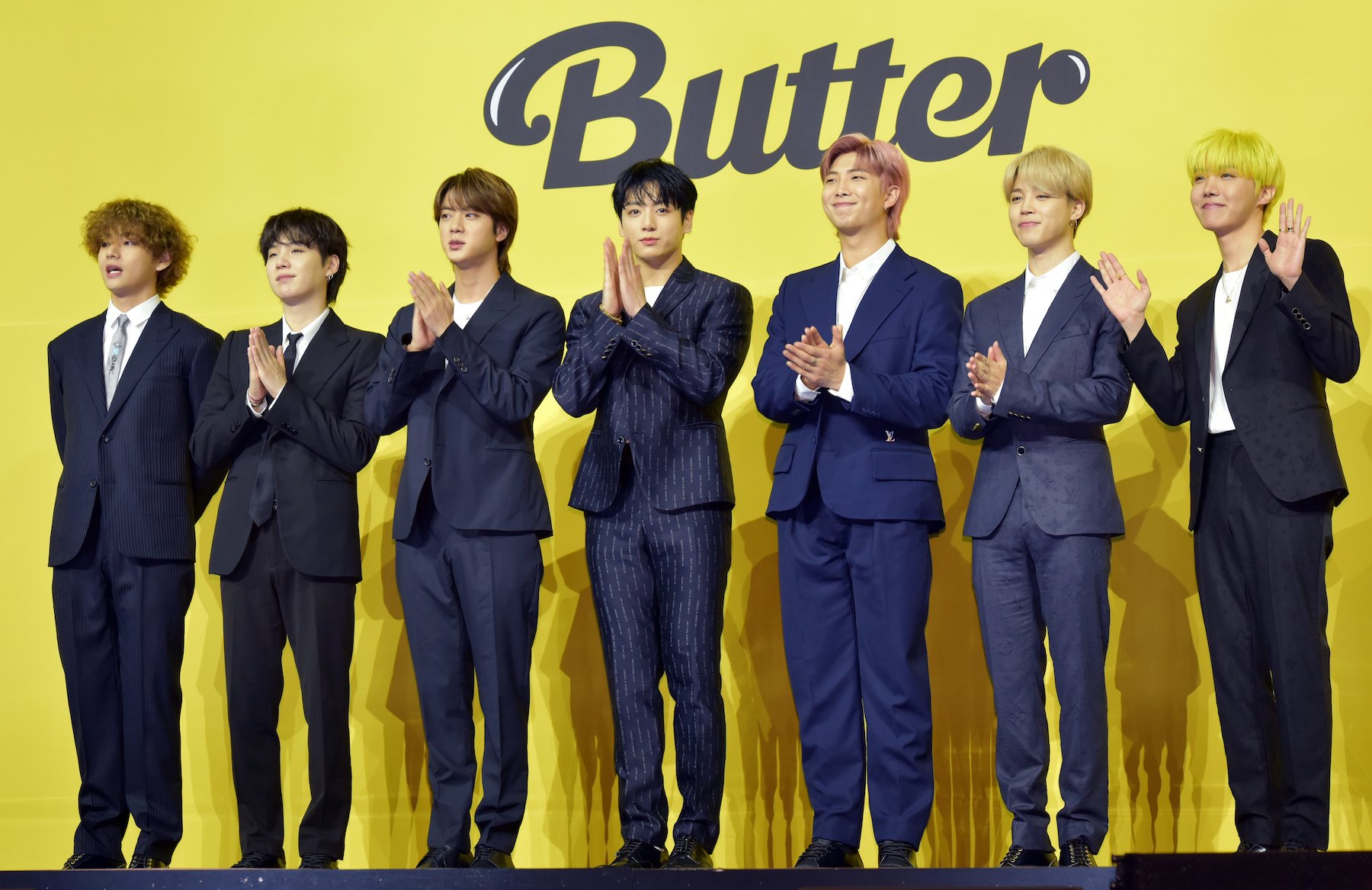 BTS and Coldplay collaborated on the song 'My Universe,' released during 2021
Coldplay is known for songs like "Something Just Like This," "Hymn for the Weekend," and "Fix You," earning millions of streams in the process. BTS is one of the biggest boy bands in the world. Put them together, and you have the uplifting intergalactic pop song, "My Universe.
"Well, this song is about how to power of love transcends all things — borders, and rules, and genders and race and every sexuality," Martin said during the "My Universe" YouTube documentary. 
"If you look at people right now who are divided by a border or can't be together, that's what this song is about," he continued. "About how nothing can really stop people loving each other."
The single reached fans worldwide. Since its debut, "My Universe" drew 11.5 million U.S. streams and 5.5 million radio airplay audience impressions. It sold 127,000 downloads and physical singles combined in its first week, ending Sept. 30, according to MRC Data.
'My Universe' debuted at No. 1 on Billboard's Hot 100 music chart
This single and its corresponding instrumental version premiered on Sept. 24. Since then, it debuted at the No. 1 spot on Billboard's Hot 100 music chart, a milestone for artists considering this list encompasses all genres of music. 
"My Universe" became Coldplay's second Hot 100 No. 1 hit — the first released in 2008. According to Billboard, this is BTS' sixth-leading single, the rest of which debuted following July 2020.
BTS broke other records with their music, including songs like 'Butter' and 'Dynamite'
BTS' first song to reach No. 1 on the Billboard Hot 100 chart was "Dynamite," an all-English disco-pop track released in 2020. It was this song that earned the K-pop group their first Grammy nomination. 
Months later, the song "Life Goes On" topped the charts, inspiring and uplifting fans during the coronavirus (COVID-19) pandemic. In 2021, songs like "Butter" and "Permission to Dance" also took over the pop music charts, with "Butter" returning to the No. 1 spot thanks to a remix with Megan Thee Stallion.
BTS is known for its record-breaking album and single sales, and "My Universe" is no exception. The Coldplay track debuted at the top of the Digital Song Sales chart, becoming BTS' ninth song to do so. (Other popular BTS songs include "Boy With Luv," featuring Halsey.)
"My Universe" by Coldplay and BTS is available on most major music streaming platforms, including Spotify and Apple Music. The music video featuring Martin and the K-pop idols is now on YouTube.