V Isn't an Official Rapper in BTS — But He Should Be
You may know him for his love of film or photography. V has another secret passion that sometimes appears onstage at BTS concerts. Here's what we know about this K-pop idol and his love for rapping the songs typically performed by J-Hope, RM, and Suga.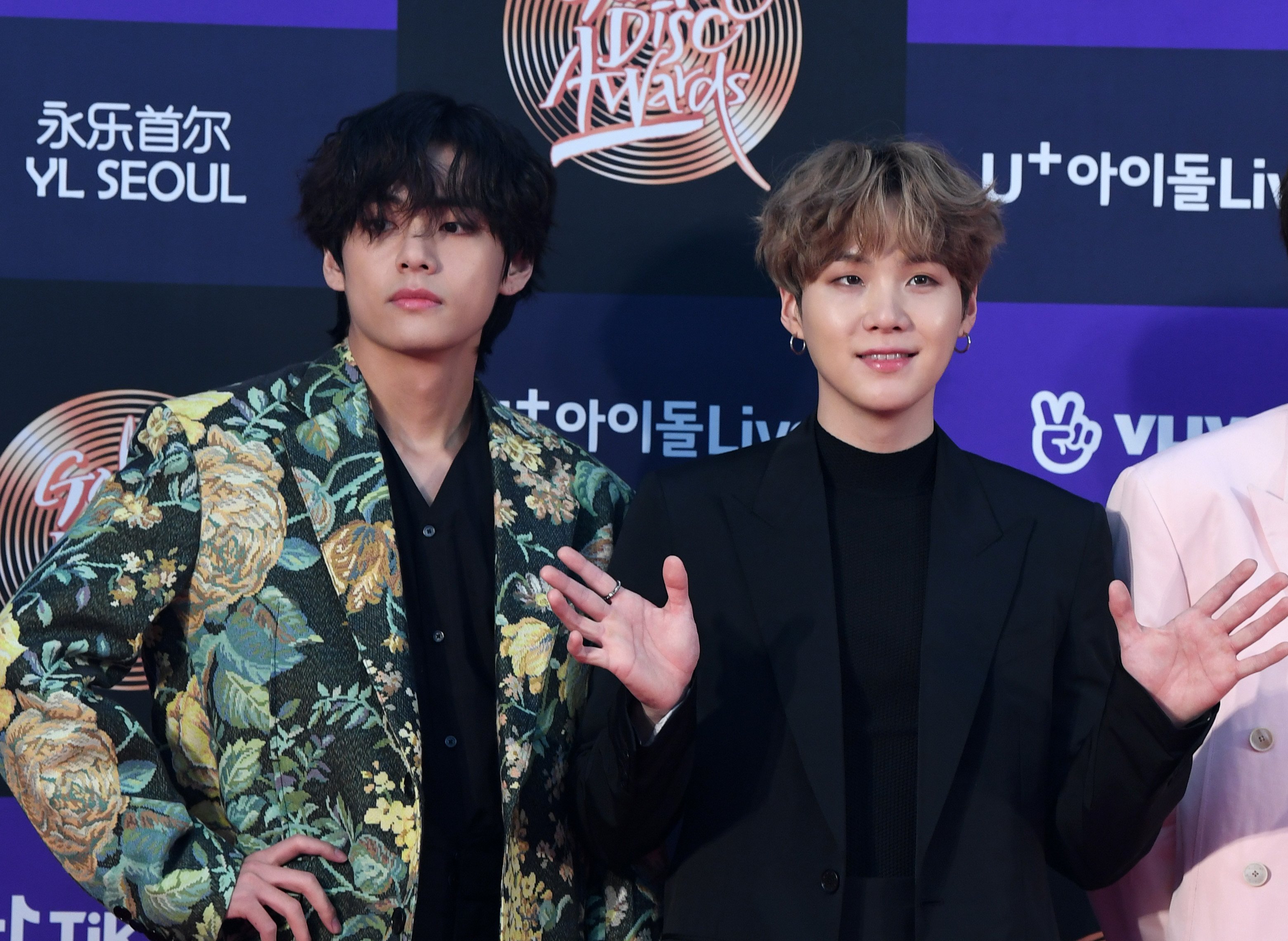 V is one of the main vocalists in BTS
These boys are winning trophies, breaking records, and stealing fans' hearts. There are seven members in BTS, four of which are considered the singers of the group. That includes V, real name Kim Taehyung, who performs songs like "Singularity" and also dances within the K-pop group. 
Aside from being a talented singer and dancer, V is secretly an incredible rapper. The performer whips out his talents from time to time, even for one Bangtan Bomb posted during 2016. (He's not an official member of the rap line, though. That's only RM, Suga, and J-Hope.) 
V performed 'Cypher Pt. 3' live in front of the other BTS members
Back in 2016, V's dream finally came true. The K-pop group shared a "Bangtan Bomb," where V got a chance to perform "His Cypher pt.3 Solo Stage" in front of the other members. After rehearsing it in the room alongside Jungkook, V took the stage, hood and all, ready to stun the other members of this K-pop group. 
There weren't any fans in the audience, but that didn't make a difference to V. The performer "dabbed" his way into a corner while the other members stood in a semi-circle watching him. Were they confused or just stunned by his talent? 
"Look at RM, he looks like a dad who's really, really proud of his son when Tae is singing," one YouTube user wrote in the comments. Other fans noticed how flawlessly Suga started rapping when V was struggling with the words. Since then, V has, unfortunately, never been featured in one of the official recordings of the BTS rap line. Not yet, anyway. 
This K-pop idol is often sharing his favorite things with fans
V is pretty adamant about his love for the rap line songs. Then again, V isn't apologetic about most things, and that's just why fans like him. He loves photography, he hates wearing constricting shoes, and he's always passionate about music and he's always caring toward the BTS fan base. 
V even released some music as a solo artist, including the song "Winter Bear," which was written and performed by Kim Taehyung entirely in English. He even appeared in a music video for the song, alongside his camera, at locations along BTS tour. Only time will tell if BTS will finally let V officially rap with J-Hope, Suga, and RM. 
Until then, some fans hope he'll even release a rap song as a solo artist. Music by BTS, including the recently released album, Map of the Soul: 7, is available on Spotify, Apple Music, and most major streaming platforms. 
RELATED: Here Are Some of the Cutest Moments From BTS' Appearance on 'The Late Late Show With James Corden'
RELATED: Did BTS Member, Jungkook, Get a Tattoo on His Hand? What Does It Say and Mean?