V Likes 'Making Different Characters' for His Solo Music and His Work With BTS
BTS' V is known for his soulful voice and his passion for jazz. This singer is pretty versatile, though, even changing his voice when working on BTS music versus his solo projects. In fact, this artist shared his different voices are "a tool at [his] disposal."
Here's what V said about his BTS persona and the differences between his solo music and his work with the group.
V releases solo music and appears on BTS' music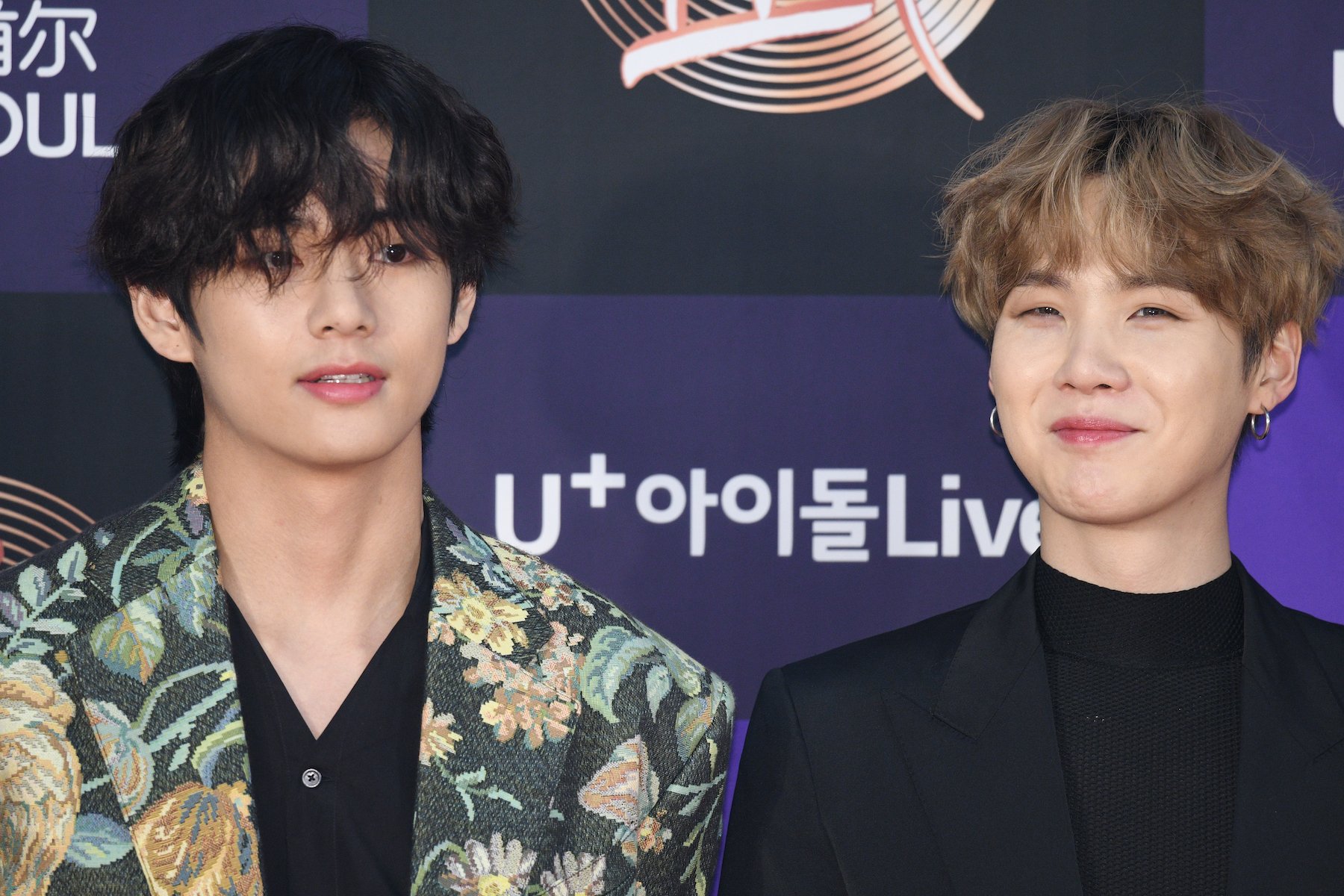 He hates shoes and loves his dog Yeontan. V is a member of BTS' maknae line. He appears as a vocalist for "Butter," "Dynamite," "Life Goes On," "Yet to Come," and other chart-topping originals. BTS even released solo songs by V in conjunction with the group albums. Recently, that meant "Inner Child" featured on Map of the Soul: 7. 
V is also the artist behind "Winter Bear" and "Snow Flower," two songs available on YouTube. Some expect V to release his highly anticipated mixtape in 2022, with several BTS members focusing on solo projects following Proof's release.
V changes his singing voice from his solo music and BTS' music
As a solo artist and a BTS member, V showcases different sides of himself through music. He can showcase his soulful, jazzy side with songs like "Stigma." The singer highlighted his pop-y edge with BTS' "Butter." He even revealed that he changes his singing voice for different music genres. 
"I think my voice in BTS' music and in my solo music should be different," V said during an interview with Weverse Magazine. "That could be yet another thing that's attractive about me that I can show off, but it could also be a tool at my disposal. I kind of like making different characters for myself, so you could look at it as something of a persona."
V describes his BTS persona — 'one who sings and dances'
V was asked about his BTS persona, the singer turned to a metaphor about a tree with many branches. The different fruits on this tree each encompass a unique aspect of V's "attractive points."
"It's not really something that can be put into words," V said during the same interview. "I'm just trying to create and show one of the many charms that I can show off as V."
"If you're asking what kind of V I'm portraying within BTS, I would say one who sings and dances," he added. "That's one of V's thousands of personas, and it's up to the viewers to come to their own conclusion."
Even when it comes to Kim Taehyung and V, there are some differences (and an intentional separation). The artist explained that he illustrated his stage persona with the "Singularity" music video. There, V puppeteered a coat rack to appear as a second person. 
That idea of a stage character was further explored with BTS' Map of the Soul: Persona, which included "Intro: Persona," and Map of the Soul: 7, which highlighted Suga's "Interlude: Shadow."
RELATED: How BTS' V Differentiates Between His Stage Persona and Kim Taehyung