Val Kilmer Paid Ex Ellen Barkin a Hyperspecific Compliment
Val Kilmer and Ellen Barkin were icons of 1990s films that are still cult classics today. Kilmer starred as Batman in the film Batman Forever in 1995 and is well known for his role in Top Gun. Barkin is most known for her role as Annette Atkins in the film Drop Dead Gorgeous.
While Kilmer hasn't appeared in many starring roles since Batman Forever, he has battled throat cancer and written a memoir. He's set to appear in several new projects in the near future. Barkin has gone on to work steadily after Drop Dead Gorgeous.
She has appeared most recently in the film The Immortal Life of Henrietta Lacks in 2017 and the series Animal Kingdom about a Southern California crime family from 2016 to 2019. 
Val Kilmer's memoir sheds light on his recent absence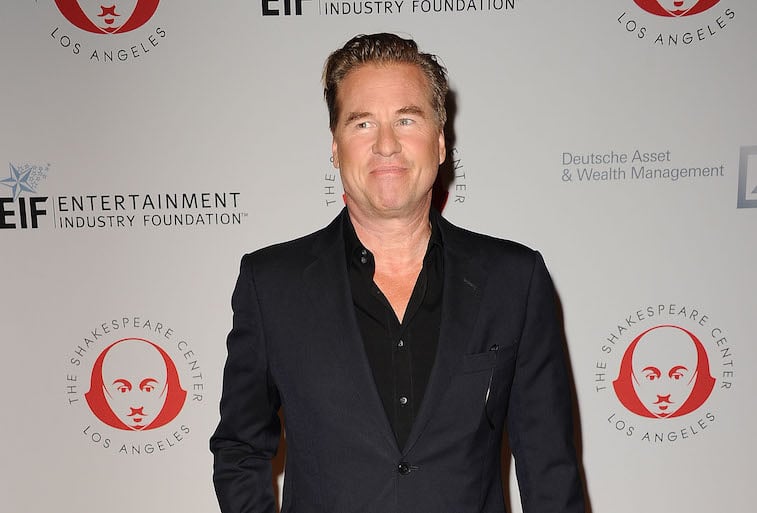 The book I'm Your Huckleberry is a memoir written by Kilmer about his life, the celebrity girlfriends of his past, and going through cancer. His treatment in 2015 resulted in a tracheotomy that stole his voice and changed a lot about who he is today.
The memoir also talks about Kilmer's relationships of the past and he had something sweet but also hyperspecific to say about Barkin and their short-lived but memorable relationship. Aside from talking about how Barkin had "the best smile in all five boroughs," Page Six also reported that his memoir describes Barkin's hair in great detail.
Kilmer writes, "'And her hair. Who remembers the softness of a woman's hair? If you ever have a chance to consensually ever so gently touch Ellen's hair, it will be worth the look she's gonna drop on you.'" He goes on to describe her as "'one of the enchantresses who got away.'"
Of all the relationships described in the book, this one has fans seeing Barkin and Kilmer as a sweet couple strolling and window shopping on a Sunday afternoon. 
Kilmer's past reputation hasn't stopped him from making a name for himself
After Batman Forever, Kilmer gained a reputation as "difficult to work with" in many ways. On the set of The Island of Dr. Moreau, he reportedly started arguments constantly and was unprofessional.
Director John Frankenheimer told EW in 1996, "I don't like Val Kilmer, I don't like his work ethic, and I don't want to be associated with him ever again." Kilmer went on to play several minor roles, including the voice of K.I.T.T. in the T.V. show The Knight Rider and the role of Mark Twain in The Adventures of Huckleberry Finn, his last project before being diagnosed with cancer in 2015.
After treatment, he went right back to work with a new perspective. He told The Hollywood Reporter, "I'd get upset when things like Oscars and recognition failed to come my way." 
Ex-wife Joanne Whalley has her own story to tell
In his memoir, Kilmer describes many relationships with celebrity girlfriends like Cher and Drew Barrymore who helped him through various issues and tough times. He had been married to Whalley from 1988 -1998 and they had two children together, Jack and Mercedes. 
Whalley claims that Kilmer left her homeless with their two children after filming Batman Forever in 1996. The relationship ended after a tumultuous fight and Kilmer went down in film history as one of the worst actors to work with in Hollywood. 
Today, Mercedes Kilmer has followed in her father's footsteps as an actress. After his cancer treatment, the children have appeared on the red carpet and in interviews with Kilmer. At least according to Hollywood, it appears that they at least have mended fences over the years.
There is no concrete information that Kilmer has dated anyone in several years. He appears to have lived a more private life since his cancer treatment in 2015. As of 2020, the reboot of Top Gun, the film that gave him the iconic role of Iceman alongside Tom Cruise. The film is in post-production and there is currently no release date.