Valerie Bertinelli Lemon Blueberry Snacking Cake Is the Perfectly Portable Dessert
For the perfect anytime tea-or-coffee accompaniment, try Valerie Bertinelli's Lemon Blueberry Snacking Cake recipe.
Food Network personality Valerie Bertinelli has just what you need for your next coffee break: her not-too-sweet snacking cake recipe bursting with blueberries and a hint of citrus flavor.
Light and moist, this is one cake you'll be asked to make again and again.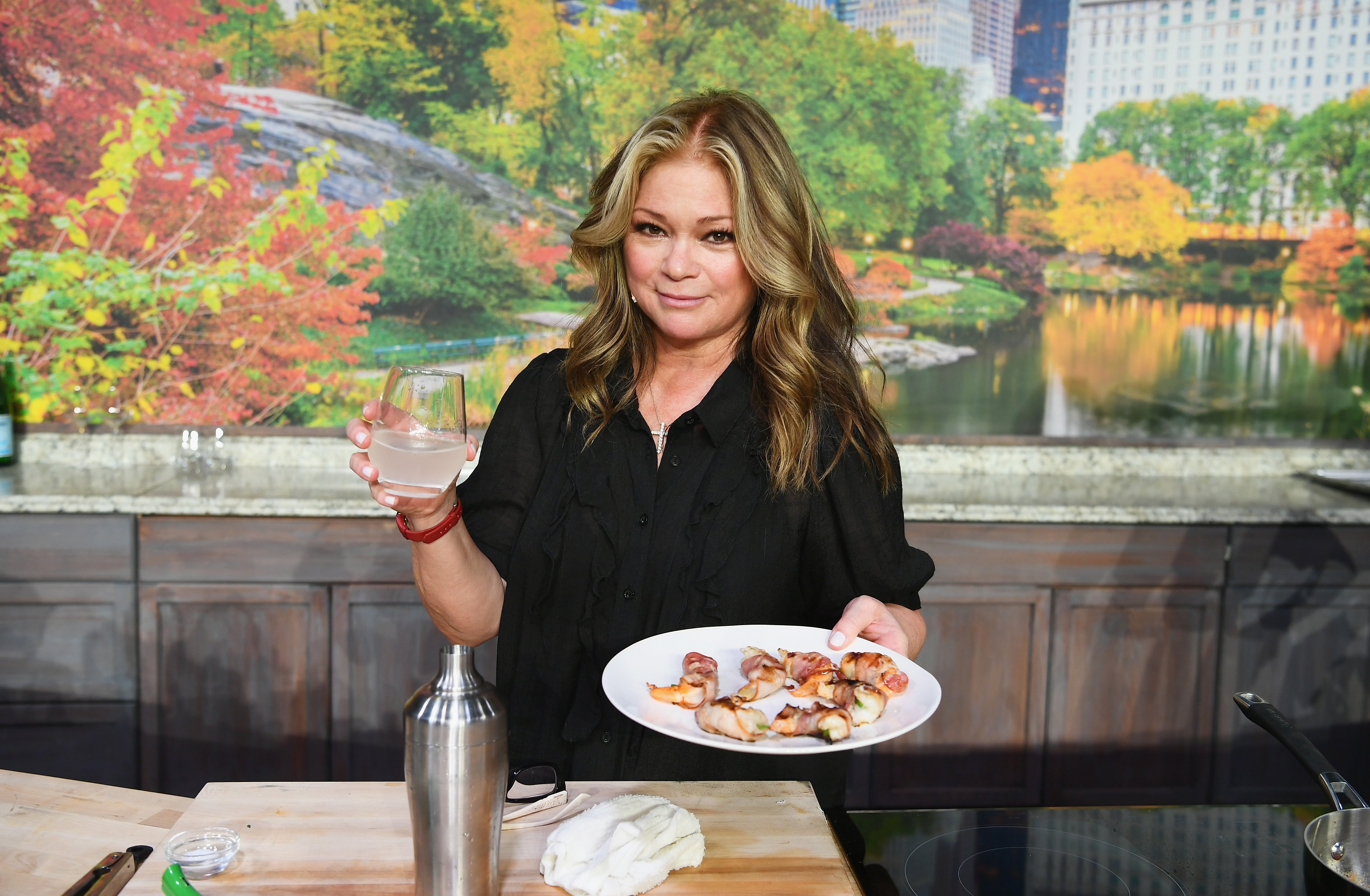 Valerie Bertinelli's Lemon Blueberry Snacking Cake has pantry-friendly ingredients
Bertinelli's creation doesn't require any fancy ingredients and has three components: a blueberry compote, a lemon cream cheese frosting, and the lemon cake itself.
The compote calls for fresh blueberries, lemon juice, and granulated sugar, while the frosting needs cream cheese, unsalted butter, lemon zest, vanilla extract, and confectioners' sugar.
For the cake, be sure to have on-hand flour, baking powder, baking soda, kosher salt, whole milk, lemon zest and juice, vanilla extract, unsalted butter, granulated sugar, eggs, and fresh blueberries.
As the culinary personality explained in the Food Network video, below, for this recipe: "The reason I love making my own cakes from scratch is because your imagination is the only thing that's going to stop you. Because you can add any flavor that you want to add.
"So, making a cake is really easy; it just takes this little road map. You want to cream your butter and sugar. You want to have dry ingredients with a leavener in it and a little bit of salt. And then you want your wet ingredients to have some flavor in it, so that's what we're going to do."
Bertinelli's easy cake comes together quickly
The Valerie's Home Cooking host starts with the compote. The fresh blueberries go into a saucepot, followed by the lemon juice "just to break up the blueberries as they heat up."
Compote, Bertinelli says, "is a thickened fruit sauce. You really want the beautiful flavor of the fruit. You also want a little sugar," which she adds to the mixture.
The flour, baking powder, baking soda, and salt are whisked together "so they blend."
Now the wet ingredients of lemon juice, milk, and vanilla are combined. Bertinelli creams the butter and sugar, turning up the speed so it gets "really nice and creamy." She adds the eggs, letting each one "incorporate before you add the next one." Now, the former One Day at a Time star adds the lemon zest, followed by the dry ingredients.
Here's the fun part: spread the batter into a 9 x 13 cake pan; then pour the blueberry compote over it and "kind of stir it" into the batter with a butter knife.
Bake at 350 degrees for about half an hour. When the cake is done and while it's cooling is a great time, Bertinelli says, to assemble the frosting ingredients. Glaze the cooled cake and then dot with more fresh blueberries.
Get the full recipe and reviews on Food Network's site.
Reviewers loved Bertinelli's sunny cake
Teeming with citrusy flavor and fresh blueberries, Bertinelli's cake is a portable snack perfect with coffee, chocolate milk, or just on its own, as Food Network reviewers pointed out.
"I just made this today it was fantastic! My husband loves anything lemon and this did not disappoint. Will definitely make again. Thanks Valerie!!," said one home cook.
Another fan of the recipe tried it with an entirely different citrus flavoring with great results: "Delicious! The cake turned out light and moist … I ended up using fresh orange juice and peel as I thought I had lemon and didn't.  I used about 1/2 the frosting recipe and then folded it into whipped cream. I added slivered almonds to the top along with the blueberries. Looked and tasted great!"