Valerie Bertinelli Said Canceling 'Hot in Cleveland' Was the 'Stupidest Thing' TV Land Ever Did
Betty White, Valerie Bertinelli, Janes Leeves, and Wendie Malick joined together in 2010 for 'Hot in Cleveland.' The series was a success, but a network move toward younger programming caused its demise. Bertinelli has been outspoken about the decision.
Hot in Cleveland was TV Land's very first attempt at original programming. As far as first tries go, it was as successful as possible. The show had everything it needed to succeed. It had an interesting premise and plenty of recognizable names in the cast. Success, however, is fickle. After six seasons, TV Land pulled the show from its lineup. While many fans believe the series went out on top, Valerie Bertinelli, one of the show's stars, is still pretty salty about it. In fact, she had thoughts about the cancelation in 2019, four years after the finale aired on the niche network. 
What was 'Hot in Cleveland' about? 
Hot in Cleveland was the first scripted original content by TV Land. The series premiered in 2010 and followed three women, Melanie Moretti, played by Bertinelli, Joy Scroggs, portrayed by Jane Leeves, and Victoria Chase, played by Wendie Malick. They decide to hang up their Holywood life and settle down in Cleveland after their plane makes an emergency landing there. They theorize that while they are over the hill in California, they are still hot in Cleveland. 
The trio leases a house and encounters Elka Ostrovsky, the property's caretaker, with many secrets besides her affinity for Marijuana. Betty White portrayed Elka. TV Land filmed 128 episodes of Hot In Cleveland were filmed before canceling the show. To binge the series, it would take two days, 17 hours, and 30 minutes. Fans seem to agree that it is well worth the time. 
Valerie Bertinelli said canceling 'Hot in Cleveland' was stupid 
Bertinelli spent six seasons dedicating herself to Hot in Cleveland and liked the role quite a bit. In fact, she enjoyed playing Melanie Moretti so much that she still felt a bit sad about the series ending several years after the fact. In 2019, Bertinelli was working for the Food Network, but she couldn't help but comment on the end of Hot in Cleveland. During the Food Network panel at the 2019 TCA Press Tour, Bertinelli took a jab at TV Land.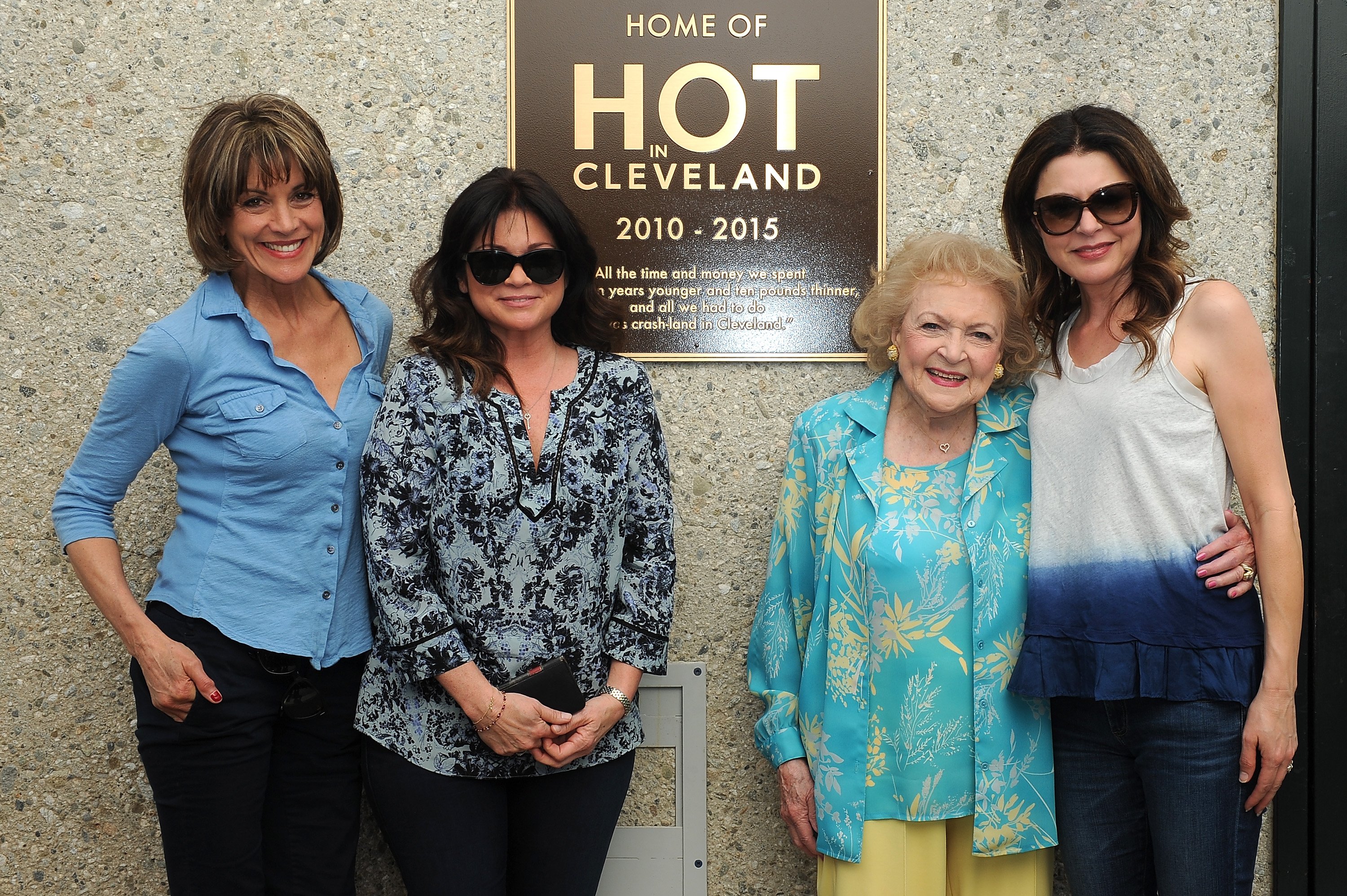 According to The Wrap, Bertinelli discussed her long-defunct sitcom. The Food Network star said that she was still "pissed off" at the network and called the cancelation of Hot in Cleveland "the stupidest thing they ever did." Bertinelli's career certainly hasn't been hurt by the cancelation, though. TV Land's loss was The Food Network's gain. In 2015 she began hosting Valerie's Home Cooking and joined the cast of Kids Baking Championship. 
Why did TV Land cancel the series? 
Bertinelli and her co-stars were certainly enjoying making the show. White even told Oprah Winfrey that playing Elka was one of her favorite roles of all time. Fans were enjoying the series, too. Series creator, Suzanne Martin, was on board to write plenty more. Just three months before the cancelation was announced, Martin told The Hollywood Reporter that she would have liked to craft eight seasons. So, why did TV Land cancel the successful sitcom? 
A change in network direction seems to be largely to blame. TV Land decided to pull the plug on Hot in Cleveland after deciding to gear programming toward a younger demographic. Shows like Impastor and Nobodies followed. Still, Hot in Cleveland is considered the network's most successful scripted series to date.