Valerie Bertinelli on Working With Giada De Laurentiis: 'Her Talent and Knowledge Intimidates Me'
In her new memoir 'Enough Already,' actor Valerie Bertinelli opened up about the insecurity she felt working with Food Network veterans Giada De Laurentiis and Alex Guarnaschelli.
Valerie Bertinelli joined Food Network in 2015 as host of Valerie's Home Cooking. While she may be starting her seventh year with the culinary cable channel, she recently admitted in her highly-anticipated memoir Enough Already that, as recently as 2020, she felt "anxiety" working with network veterans such as chef Giada De Laurentiis.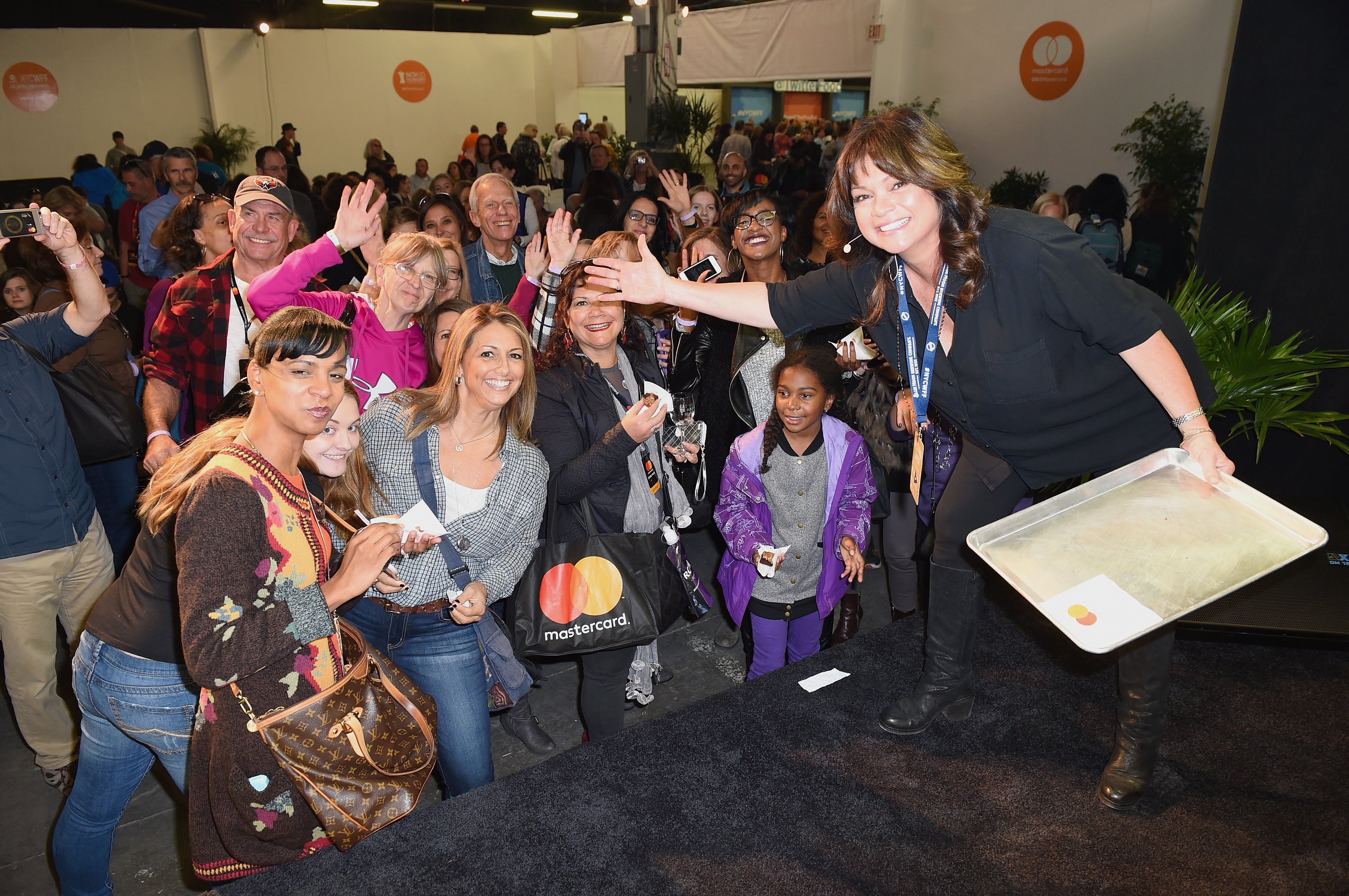 Valerie Bertinelli felt 'insecure' when she joined Food Network
The actor, who's been hosting Valerie's Home Cooking since 2015, shared in her cookbook by the same name the initial discomfort she felt as a non-trained cook joining the crew of accomplished chefs on the culinary channel.
She wasn't sure how her dishes would be received by others with much more experience in a professional kitchen than she had.
"Before the first season of my cooking show, I was in the Food Network test kitchen, trying to invent a recipe," Bertinelli wrote. "I had in mind something that was both healthy and decadent. Nearby, several notable chefs were working on their own creations. As an actor with a passion for cooking, I was a trifle insecure, until everybody tasted my dish and gave it rave reviews."
Bertinelli wrote in her latest memoir of initially feeling intimidated by Giada De Laurentiis' accomplishments
As the former One Day at a Time actor explained in Enough Already, De Laurentiis reached out to her at the start of the pandemic in 2020 in a cryptic text message that read, "Do you have some time? I have a fun idea. Let me know, G."
Bertinelli wasn't sure who "G" was, writing, "It turns out that G is Food Network star chef Giada De Laurentiis, and she wants me to join her and fellow star chef Alex Guarnaschelli in a Zoom-only special called Three Italian Chicks Helping a Home Cook."
The junior Food Network personality wasn't sure what to make of it but was determined that "I am in, no matter what the idea," adding that she felt as though "the cool kids have invited me to hang out with them. I can't wait."
Still, while she felt excitement, Bertinelli writes, "the anxiety hits. Can I do it? Am I really going to be able to contribute? Or will I be exposed as a fraud?"
Calling herself "more of a fan than a friend" of De Laurentiis," Bertinelli noted she hasn't worked a great deal with the Italian-born chef.
"She is awesome and her talent and knowledge intimidates me … And yes, on top of all that intelligence and talent, she is also that naturally beautiful," she added.
Bertinelli continued: "If multisyllabic last names were the only requirement to join this exclusive club, I would be a shoo-in and not feel so immediately insecure after I speak with Giada …
"'It will be fun,' Giada says. I am sure it will be for her and Alex. As for me, I will have to put myself through the mental gymnastics and imaginary freak-out of hoping I don't say the wrong thing."
'Three Italian Chicks Helping a Home Cook' was a success for all involved
The three Food Network stars of Italian heritage got together at the start of what was eventually categorized as a pandemic.
The three spent 30 minutes virtually helping a home cook having trouble knowing what to make for a meal without everything she needed on hand.
Once the novice cook, a mother of two young children and starstruck by the three celebrity chefs, got on the call, everyone got down to helping the fan successfully prepare a meal for her family.