Valerie Bertinelli's 'Enough Already': 7 Most Surprising Takeaways from the Actor's New Memoir
Actor Valerie Bertinelli's new memoir 'Enough Already' is out and here are 7 surprising reveals from the Food Network star's book.
Valerie Bertinelli's anticipated new memoir Enough Already: Learning to Love the Way I Am Today published today. Here are 7 reveals from the Food Network star.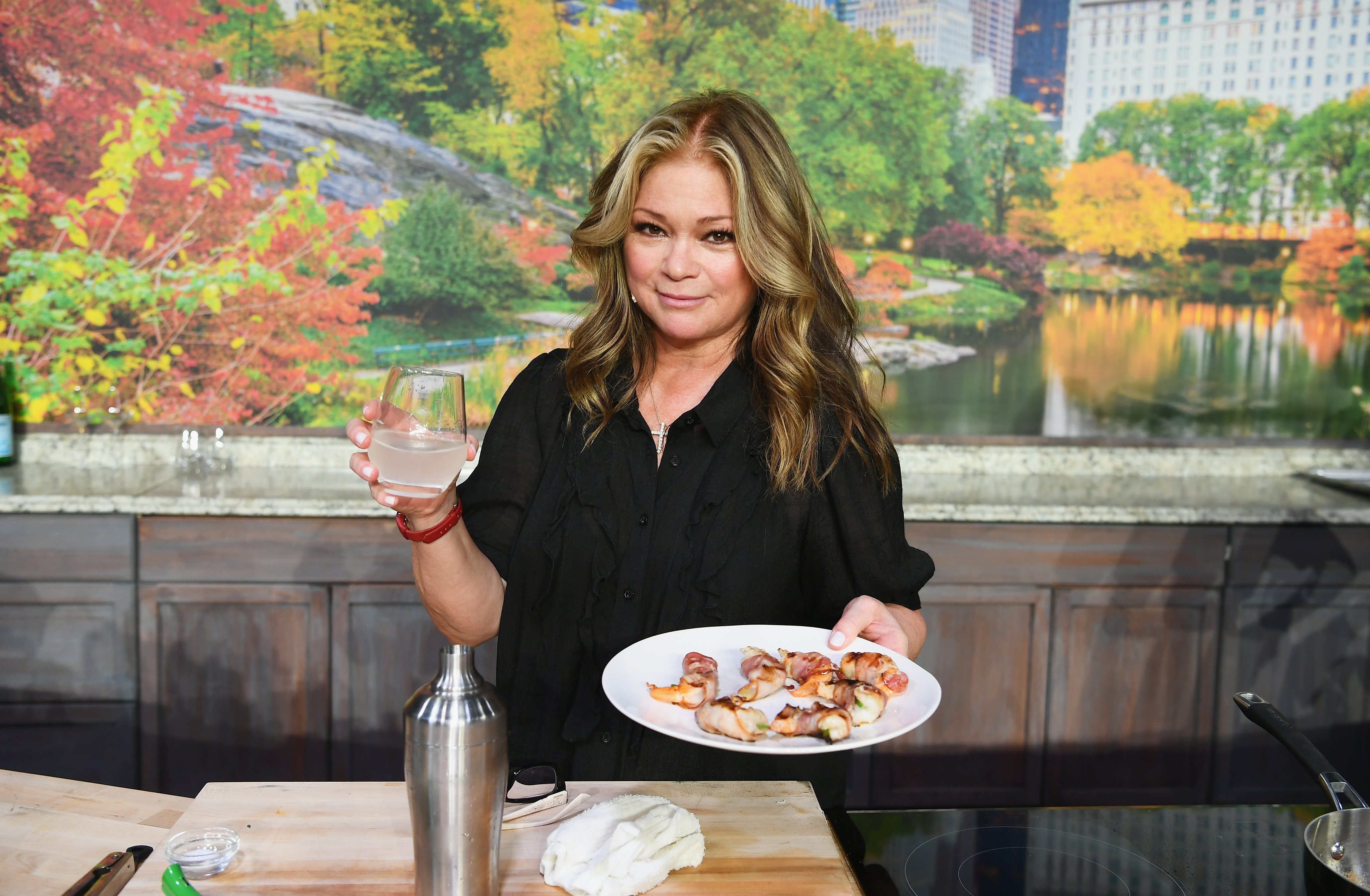 The 'wall' she recently hit
Enough Already, Bertinelli revealed, was inspired by her journey for joy in her life and self-acceptance.
"In the past, I have shared my efforts to lose weight … Then I hit a wall," she wrote. "I was about to begin 2020 resolved to lose 10 pounds — the same 10 or so pounds I had been trying to lose for more than 40 years — and one day, as I embarked on the same morning path from bed to bathroom to scale, I stopped, looked at myself in the mirror, and in a 'before coffee' moment of sanity, I said, 'No. Stop. I can't be doing this again.' And I didn't."
Eddie Van Halen told Bertinelli his 2nd marriage was 'basically over'
Bertinelli and her first husband, rock star Eddie Van Halen, remained on friendly terms even after their 2007 divorce. Van Halen had gone on to marry Janie Liszewski and Bertinelli wed businessman Tom Vitale.
The former power couple arrived separately to visit their adult son Wolfgang at his home in 2019. Bertinelli writes that as much as she wanted to give her ex-husband "a friendly, affectionate squeeze," she couldn't do it, thinking it would be inappropriate. For his part, Van Halen, when he saw Bertinelli, "gave me a kiss and a hug, and asked 'How ya doing?'"
Bertinelli attributed her "weird and uptight" feelings to her "awareness that [Van Halen's] second marriage is basically over, as he confided a while ago, and also with the fact that my own second marriage is in trouble." The actor also noted in her book that "Ed mentioned that his [marriage] was likely headed for divorce." At the time of Eddie Van Halen's death, however, he and Liszewski were still married.
What caused the end of her own marriage
"We have separated," Bertinelli writes of her marriage to Vitale. "Fissures in the relationship surfaced years ago, and like what happened to nearly everyone I know, the lockdown led to a serious reassessment of priorities … In my search to experience more joy, I have to identify and move past ideas and behavior that no longer serve me, and my 11-year marriage to Tom is one of those things."
Joining Food Network excited and terrified Bertinelli
When Food Network approached Bertinelli to host an "in the kitchen" show in 2015, she "traded a script for a skillet" and confessed she found it "nerve-wracking. It was hard. It had the potential to embarrass me." Eventually winning two Daytime Emmy awards in 2019 for Valerie's Home Cooking finally silenced her inner critic.
Bertinelli on seeing Van Halen after his death
The actor writes that a few days after her ex-husband died in Oct. 2020 from cancer, she "felt a presence in the room and I knew it was him. I cried, and said, 'I love you. I miss you. I hope you know how much you were loved.'"
While she admitted it would have been "so much easier to tell myself that I was making this up," she is certain that "I saw him clearly. I heard him, too. He looked at me, and said, 'Oh,' in the cute, empathetic manner that was his way of reacting to sensitive moments. Then I felt pressure in the middle of my forehead, as if he were pressing on it with his finger."
Bertinelli had an older brother she never met who died as a toddler
The actor opened up about finding out in her teens that she had had an older brother. She wrote: "While my mother was pregnant with me, my older brother, Mark, died after wandering unwatched into a friend's barn and drinking poison out of a soda bottle. He was 17 months old."
Bertinelli added that her birth just a few months after his death was one of "grief. My young parents were still trying to get through that horrendous experience … I didn't learn about it until I was in my early teens."
Her tearful final moments with Eddie Van Halen
During the rock guitarist's final days, Bertinelli wrote, "Wolfie and I are together in Ed's hospital every day. We sit on either side of him and share stories, make sure he is comfortable, and tell him that we love him."
Van Halen's brother Alex and his wife Janie also were there with Van Halen.
At one point, Bertinelli revealed, "It is just the two of us. I hold his hand. I stroke his forehead. I smile into his eyes. 'Maybe next time, right?' I say. Both of us are crying. 'Maybe next time we'll get it right.'"
Valerie Bertinelli's 'Enough Already' is available wherever books are sold.