Valerie Bertinelli's Light and Hearty Quinoa, Sweet Potato, and Black Bean Bowls
Try Valerie Bertinelli's Quinoa, Sweet Potato, and Black Bean Bowls for an easy and filling vegetarian dish.
Hearty, healthy, and very vegetarian, Food Network host Valerie Bertinelli's Quinoa, Sweet Potato, and Black Bean Bowl recipe makes for a great anytime meal.
This dish is packed with good-for-you ingredients — and flavor. In fact, the former One Day at a Time star's dish is so good, you won't miss the meat.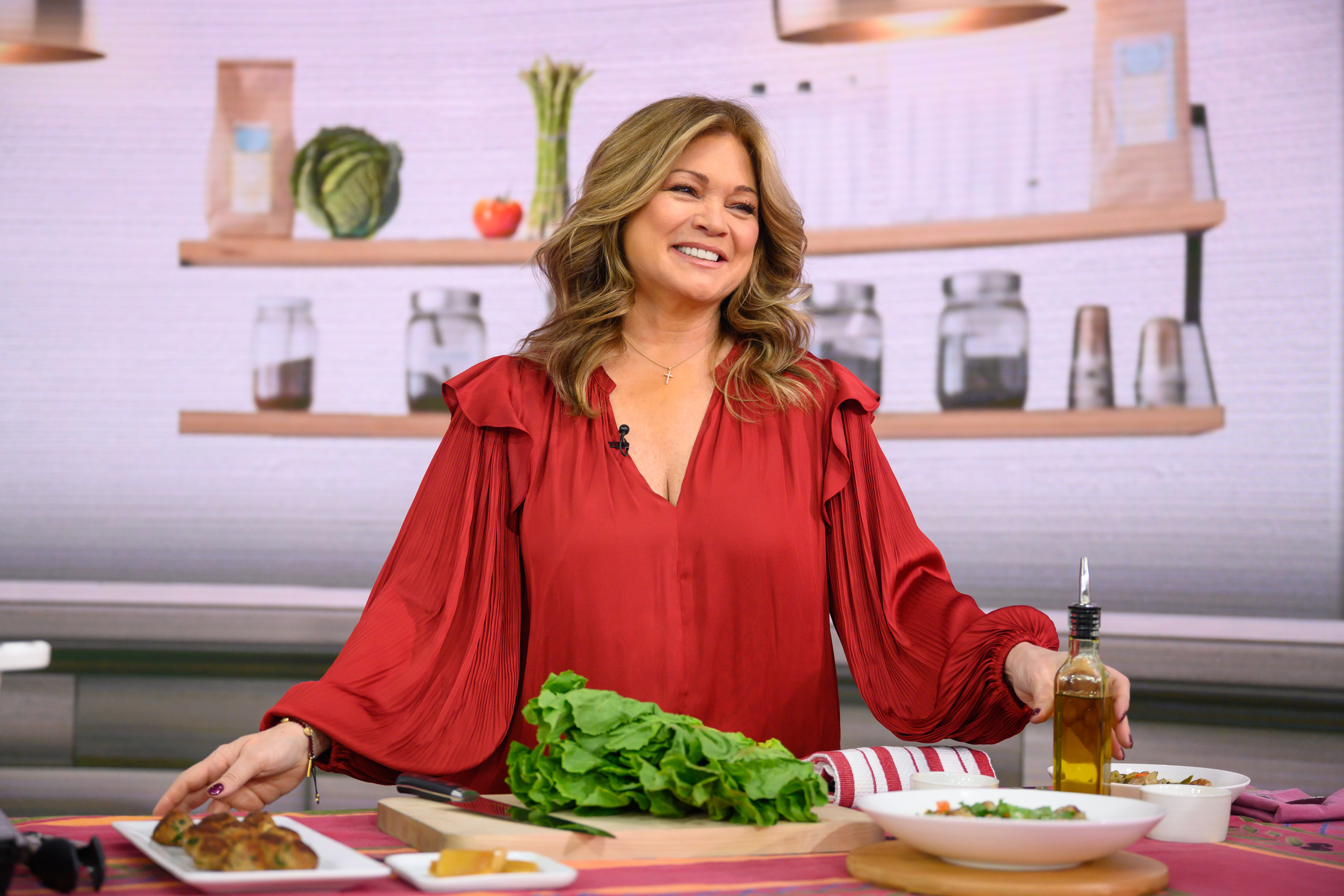 Bertinelli's quinoa bowls are hearty and healthy
With a dash of chipotle hot sauce and zesty lime-infused dressing on the side (which you can skip or use non-dairy yogurt to make this dish vegan), the Valerie's Home Cooking host's vegetarian recipe is filled with flavor. Plus, it's a truly simple dish to put together.
"My quinoa bowl has sweet potato in it, and quinoa, and black beans, all really amazing foods that have a lot of protein and have a lot of fiber, magnesium, potassium," Bertinelli says in the Food Network video for this recipe.
You'll need for this dish quinoa, diced sweet potato, ground coriander, a can of black beans, soy sauce, hot sauce, one avocado, and pumpkin seeds. For the accompanying yogurt dressing, have on hand: plain yogurt (not Greek yogurt), fresh parsley or cilantro, lime juice, and garlic. And of course, salt and pepper to season throughout.
Get the complete recipe, video, and reviews on Food Network's site.
The Food Network star's dish is accompanied by a tangy yogurt sauce
Bertinelli starts this dish by preparing its yogurt dressing. Plain yogurt is mixed in a bowl with freshly squeezed lime juice, a small grated garlic clove ("I really want the garlic to kind of really dissipate in the whole dressing, so it's really important to grate it first"), chopped fresh parsley, salt, and pepper. "I always like extra dressing," she adds.
Peel and chop the potatoes into "nice, bite-sized pieces so they roast in the oven a lot quicker." Toss them with olive oil and sprinkle with coriander. Place the potatoes on a baking sheet and roast in a preheated 450-degree F oven for about 20 minutes "until they're nice and caramelized."
Once the sweet potatoes are done roasting, the baking sheet is removed from the oven and black beans (canned is fine, rinse them first) are placed right on the sheet with the potatoes. Toss everything together, along with a few dashes of soy sauce ("That's going to add some nice saltiness in there") and hot sauce.
Prepare your bowl with a base of cooked quinoa, followed by the sweet potatoes and black beans, chopped ripe avocadoes, and toasted pepitas. Top with the yogurt dressing for an amazingly flavorful meal.
Bertinelli's quinoa bowl wowed reviewers
With its burst of flavors and textures, it's easy to see why Food Network reviewers liked Bertinelli's recipe so much.
"Made this yesterday and it was a big hit! … don't skip the pepitas that crunch was perfect. Will definitely make again!," one home cook wrote.
"Loved it! I added some spicy salsa to give it an extra kick. I especially like the dressing using fresh cilantro, lime and garlic," another reviewer said.
Try Valerie Bertinelli's quinoa bowl for your next Meatless Monday!