The Star of Valerie Bertinelli's Oatmeal Raisin Walnut Cookie Sandwiches Is Its Indulgent Cream Cheese Filling
Once you try Food Network star Valerie Bertinelli's soft, chewy, and indulgently creamy Oatmeal Raisin Walnut Cookie Sandwiches, you won't go back to those other store-bought sandwich cookies. They're easy to make and delicious as an afternoon treat. Here's her recipe.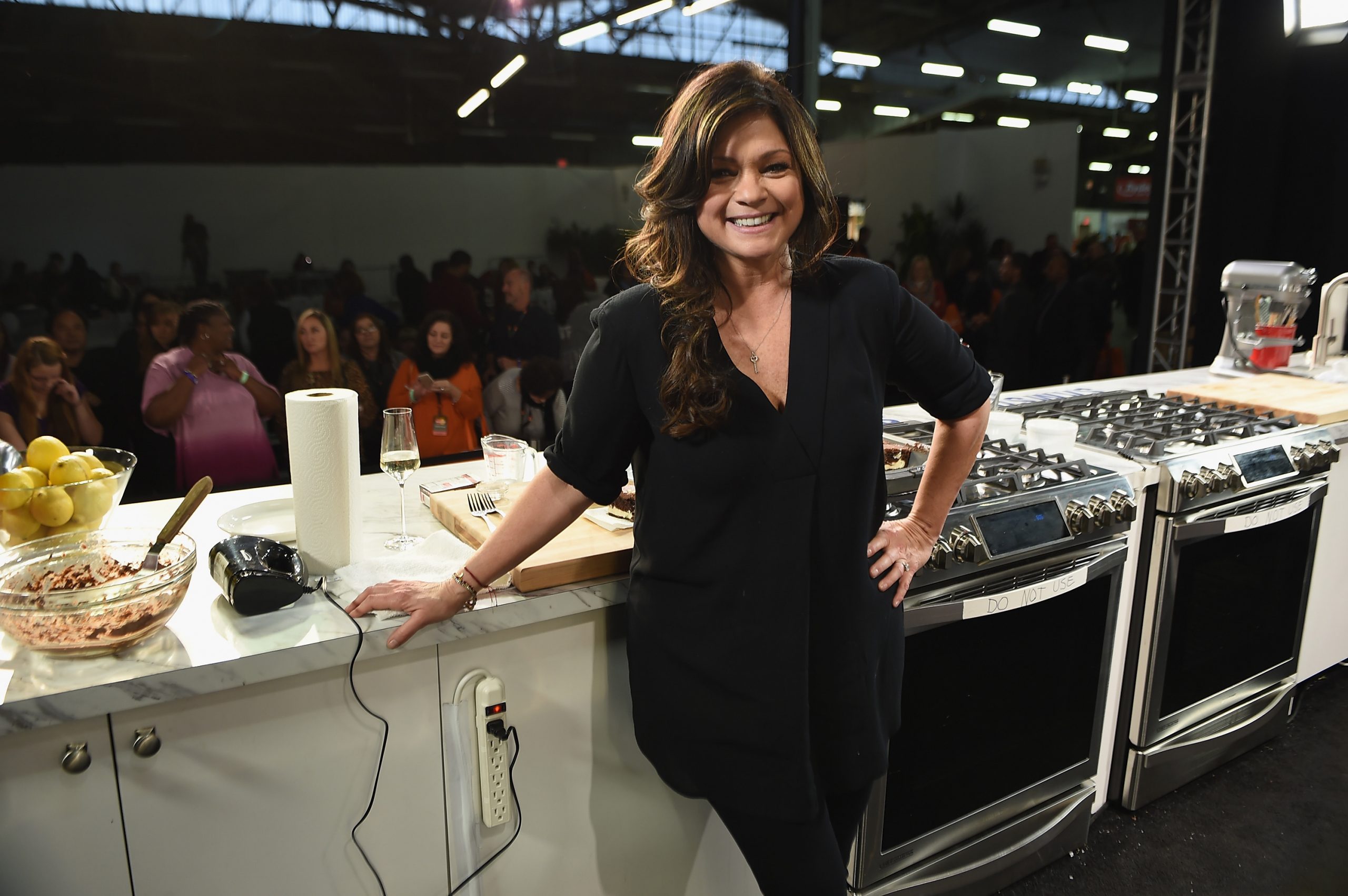 What you'll need for Bertinelli's sandwich cookies
For the former One Day at a Time star's recipe (full ingredient quantities can be found here), you'll need pantry items you may already have on hand. The cookies will need: golden raisins, warm rum or water, flour, baking soda, baking powder, ground cinnamon, ground allspice, salt, unsalted butter, light brown sugar, granulated sugar, one egg, vanilla extract, rolled oats, and chopped walnuts. The cookie filling will need: cream cheese, unsalted butter, powdered sugar, vanilla extract, and unsweetened shredded coconut.
How to put these cookies together
First things first: Bertinelli advises getting your butter out now so that when you're ready to use it, it's already at room temperature. The cook starts by rehydrating the raisins in the warm water or rum ("It makes for a nice soft texture," the television personality says in the Food Network video for this recipe, reassuring that if you choose to use the rum, "You won't taste the alcohol; it'll cook off").
Blend together the flour, baking soda, baking powder, cinnamon, allspice ("I really like the way allspice warms up a cookie"), and salt in a bowl. The walnuts are chopped and set aside.
Now for the wet ingredients: the butter and sugars are creamed in a bowl using a hand mixer. "The brown sugar,"' Bertinelli says, "adds this beautiful, full flavor, like a caramelization." Vanilla is added to the mixture ("As soon as the vanilla hits, it really starts to smell like baking to me"). The dry ingredients are incorporated into the creamed sugar and butter, along with the rolled oats ("If you have quick-cooking oats, you can use those, too"), the rehydrated raisins, and the chopped walnuts.
Bertinelli uses a small melon-ball-sized scooper to scoop out her dough and reminds home cooks: "Remember, once you get your scoop down, just to flatten it a little bit because we're going to be making these into sammies."
The cookies are baked in a preheated 350-degree oven for "about 14, 15, 16 minutes, depending on your oven." Once they're done, the cookies are cooled and the filling can be prepared.
The cream cheese, butter, powdered sugar, and vanilla are combined with the hand mixer ("Starting slow so you don't get powdered sugar all over you"). Now the shredded coconut is added and mixed in with a spoon. The filling is scooped onto one cooled cookie and topped with another cookie to make a sandwich.
Home cooks loved Bertinelli's 'sammies'
The creamy, crunchy cookies got rave reviews from Bertinelli's followers.
"Just what I was looking for! This looks perfect for my Fall festivities!," said one home cook.
Another reviewer said, "The shredded coconut in the filling is such a nice touch!"
Try Bertinelli's sandwich cookies with a cup of tea or coffee today!