Valerie Bertinelli's Salted Caramel Chocolate Chip Cookies Are the Perfectly Sweet Afternoon Treat
If you're looking for the perfect afternoon pick-me-up, try Food Network star Valerie Bertinelli's hits-the-right-spot Salted Caramel Chocolate Chip Cookies. A perfect union of irresistible chocolate with the creaminess of caramel, Bertinelli's cookies are chewy, gooey, with flavor-enhancing sea salt. Let's just say this sweet treat is superbly satisfying.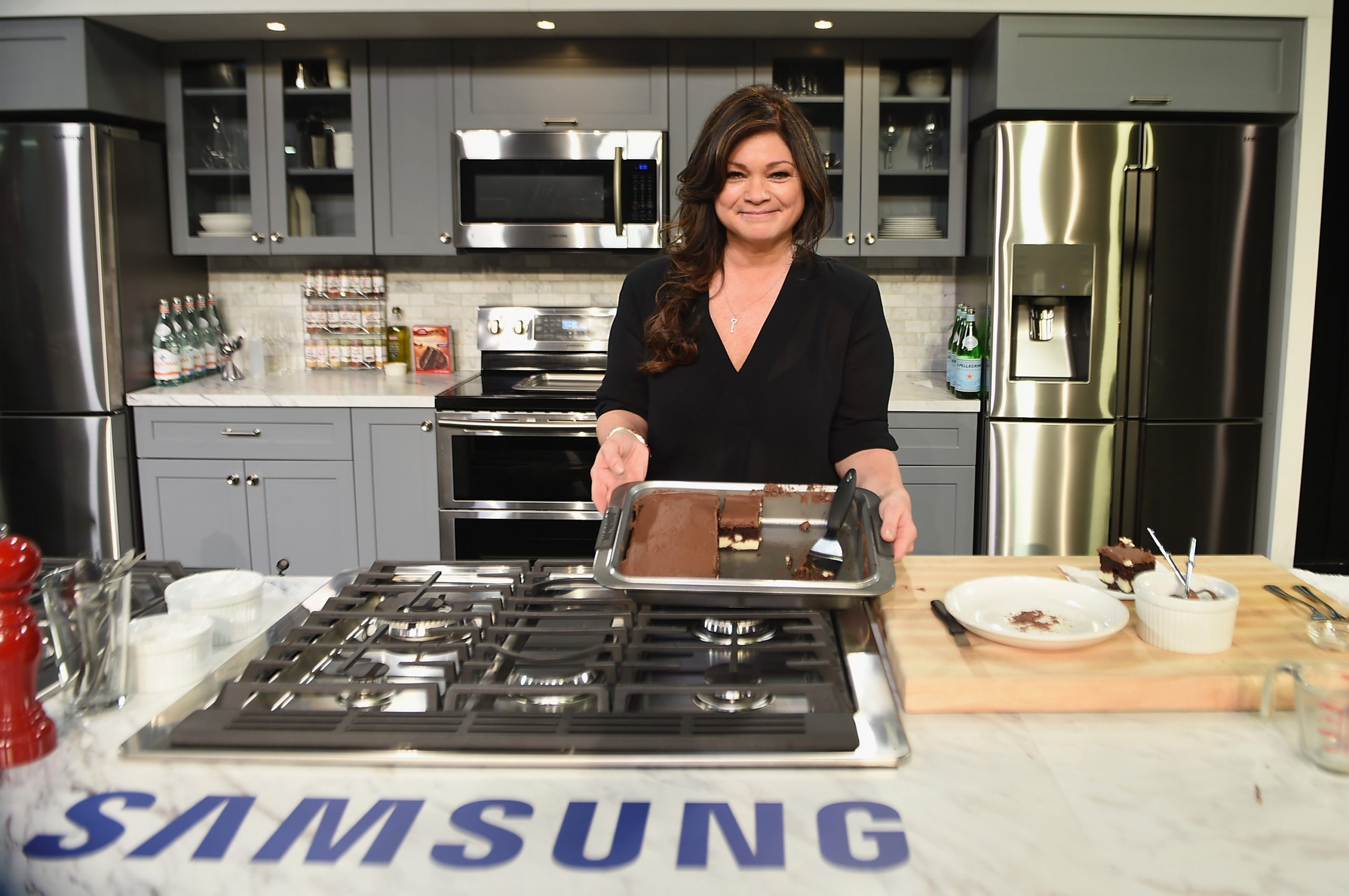 What you'll need for Bertinelli's hint-of-salt cookies
To make these satisfying cookies (full recipe here), you'll need to have on hand: flour, baking powder, baking soda, salt, light brown sugar, granulated sugar, butter, eggs, vanilla extract, semisweet chocolate chips, caramel bits, or candies, and flaky sea salt.
Bertinelli, calling chocolate and salted caramel "the Astaire and Rogers of dessert ingredients," on her website explained how she created these decadent baked goods: "To me, the marriage of these two in a cookie was inevitable. It happened when I was at a farmers' market one Sunday and saw a booth with homemade candy, including perhaps the best caramel I'd ever tasted. A light went off. 'I'm going to get the best caramel,' I told myself, 'slice it up into little chunks, and put it in chocolate chip cookies. It's going to be amazing.' 
As it turned out, the caramel chunks burned "around the edges" of her cookies on Bertinelli's trial run. She decided to go with the kind of caramel candies you find in the baking section of most stores. "They held their shape and the taste was everything I found in the original try," she said.
How to put together Bertinelli's cookies
Before you do anything with the ingredients, make sure you preheat your oven to 375 degrees and arrange two cookie sheets with parchment paper.
The dry ingredients – flour, baking powder, baking soda, and the fine salt are mixed in a bowl.
Bertinelli now calls for the brown sugar, white sugar, and butter to be creamed in a mixer. Two eggs are added one at a time, as well as the vanilla extract. Now, the dry ingredients are added; Bertinelli reminds home cooks to take care to just mix until the items are blended. Finally, just stir in the chocolate chips and the caramel pieces.
Place the dough by the tablespoon on the cookie sheets and dust the cookies with sea salt. Bake the cookies for about 12 minutes.
Reviewers went ga-ga for Bertinelli's chewy, chocolatey treats
On the Food Network website, home cooks confirmed chocolate and caramel are, indeed, a kitchen's happy place.
"Delicious……Easy to make, beautiful on a plate, melt in your mouth. Wonderful recipe," said one reviewer. 
Another home cook wrote, "I made these today! Excellent! There is only one problem, it's hard to stop eating them! Thank you Valerie!"
"These cookies are awesome and have delighted everyone I have made them for. They are easy to make and very tasty," said another happy cookie reviewer.
And another fan wrote in their review, "This was a really great cookie! Lots of great compliments when I made it. One woman even said it was the best cookie she ever had in her life! Wow! I loved the mix of salty and not so sweet."
RELATED: Valerie Bertinelli's Mom's Chicken Cacciatore Delivers With a One-Skillet Wonder of the Ultimate Italian Comfort Food