Valerie Bertinelli's Stunning Orange Vanilla Bean Angel Food Cake Only Needs a Handful of Ingredients: 'Prepare for Oohs and Aahs'
Tart, simple, and not too sweet, Valerie Bertinelli's Orange Vanilla Bean Angel Food Cake presents angel food cake in all its glory with a citrusy zing of flavor. Here's how to make the Food Network star's striking dessert that will impress friends and family alike.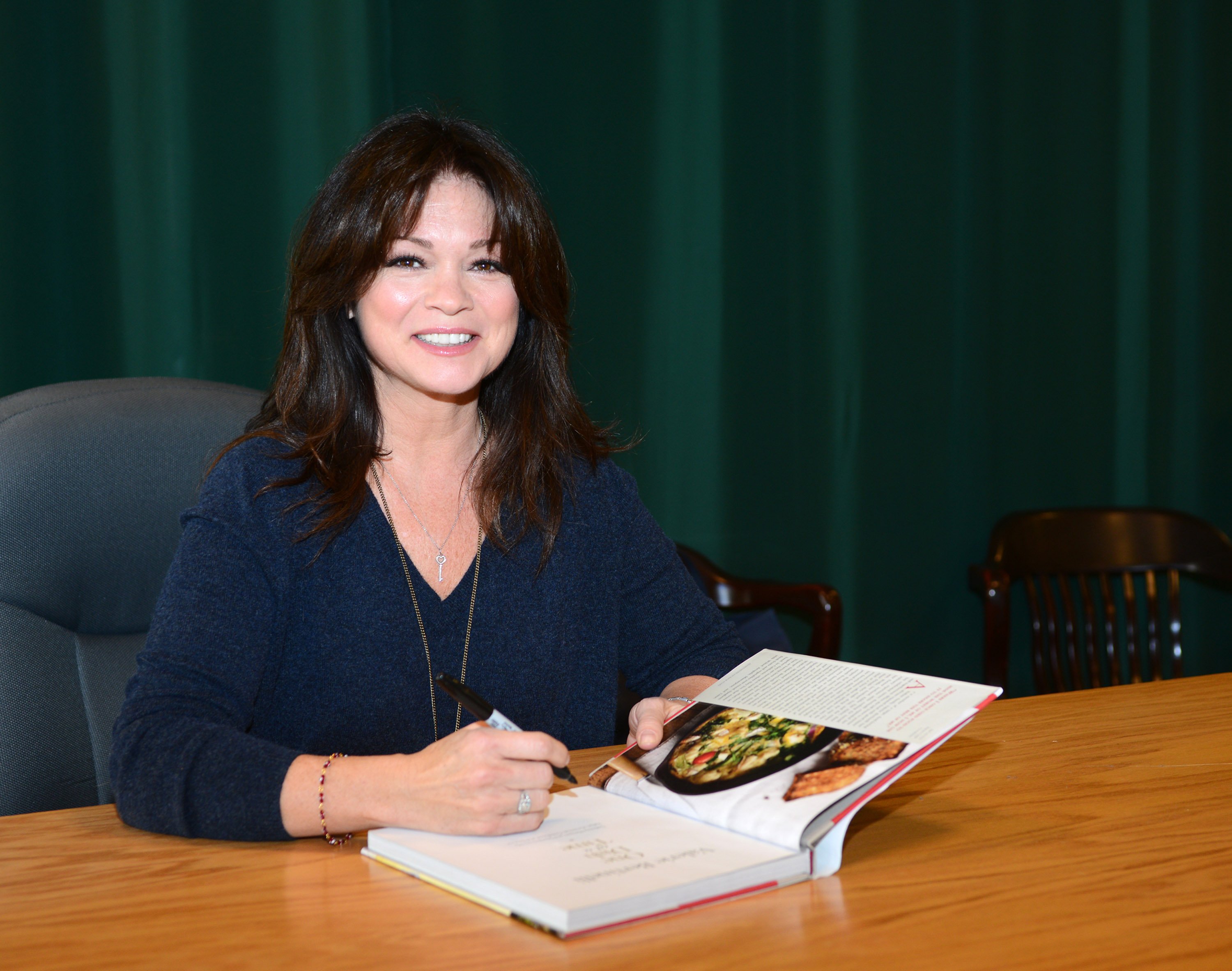 Bertinelli's Orange Vanilla Bean Angel Food Cake needs just 7 ingredients
"The interesting thing about angel food cake," the former Hot in Cleveland actor noted in the Food Network video for this recipe (full ingredient quantities can be found here), "is it's very low fat in there because there are no egg yolks, it's all egg whites, and there's no butter."
For this recipe, you'll need just seven ingredients that you may already have in your pantry: granulated sugar, cake flour, salt, orange zest, cream of tartar, egg whites, and one vanilla bean.
Bertinelli also recommends the use of a food processor, flour sifter, hand mixer, and an angel food cake baking pan for this cake recipe.
How to put this pretty cake together
"We're going to start by sifting cake flour": The reason cake flour is used in the recipe, the Valerie's Home Cooking host explained, is because "it's a super fine flour and it makes for a tender cake."
Fine sugar and salt are added with the flour in the sifter "and then we just start sifting away." Using the sifter injects air into the ingredients, creating a fluffiness.
Next, the cook begins separating the egg whites and yolks from a dozen eggs: "Do not waste those yolks, you guys. You can make some custard, you can make pasta dough, so save the yolks," she said, adding, "The most important thing when you're separating the eggs is to make sure that none of the yolks get in with the whites."
Flavor is added to the whites with the inclusion of one vanilla bean ("If you don't have a vanilla bean that's OK; you can definitely use extract. But I really love the beautiful black speckles it adds to the cake when you use a vanilla bean"). The vanilla is scraped out of its pod with the back of a knife ("That's like vanilla caviar right there!") and placed in the bowl with the egg whites. Cream of tartar is added to the whites to "keep the whites nice and light and fluffy," along with the zest of an orange. With the hand mixer, "we just start whipping them up and get it going." Bertinelli suggests starting at a low setting on the mixer and then building up.
As the mixer continues combining the whites mixture, the sugar is gradually added until it becomes "fluffy white peaks."
Angel food cake requires a soft touch, Bertinelli says
At this point, the sifted flour, salt, and sugar are added to the whites but the cook cautions it needs to be worked in through the sifter because "you don't want to weigh down the egg whites you just spent all this time fluffing up." Slowly, a cupful of the flour mixture at a time is sifted onto the egg whites and oh-so-carefully folded in with a spatula. "It's just about being gentle with it."
The batter is spooned into the baking pan and then baked in a preheated 350-degree oven for 30 minutes.
Enjoy this light, flavorful dessert, and as the Food Network's Instagram post expressed, "prepare for tons of oohs and aahs."